It's here! It's here! It's here! Today is the day that The Paleo Approach Cookbook is finally available in stores and from online retailers!!! Happy Release Day!!!!
This has been a very long labor of love. I started working on both books in October, 2012… yes, the creation of the New York Times Bestselling The Paleo Approach and The Paleo Approach Cookbook have occupied the last nearly two years of my life. So, today is a very special day. I get to celebrate a massive project finally seen to fruition. I get to celebrate the accomplishment that is these two enormous and invaluable resources for the autoimmune disease community.
And boy, do I plan to celebrate! If you live in the Atlanta area and don't mind last minute plans, come out to my Release Party tonight!!! All the details here.
But don't worry if you don't live nearby, because I'm celebrating internationally too!!!!! With GIVEAWAYS!!!! Woot!
Let's Celebrate with
TWO

EPIC giveaways!!!!!
The Paleo Approach Cookbook is the highly anticipated companion to the groundbreaking guidebook The Paleo Approach.
To summarize:
Reviews of The Paleo Approach Cookbook
But, you don't need to take my word for it! Here are quotes from and links to reviews which have been posted so far!!!!
"If The Paleo Approach is the autoimmune bible, its sequel is the food bible. Not only does Sarah provide a complete list of foods to eat if you're out to bring balance to your immune system, hormones, and gut flora and then explain where to find them and how to afford them, she also provides more than 200 recipes to get those foods onto your table and into your belly. I cannot speak highly enough of this cookbook. Get ready for some of the best food of your life!" – A Clean Plate
"Sarah has crafted a masterpiece. 400 pages of AIP Basics, kitchen tips, recipes, nutrient profiles, and beautiful photography. Whether you have mastered the AIP diet or are a newbie, this is a must buy. Cancel your standing appointments. Order this book. Overnight ship it and call in sick tomorrow, so you can spend the entire day reading and cooking and eating and reading and cooking and eating."- Grazed and Enthused
"The beginning of the cookbook is full of helpful charts like meat cuts and cooking times, measurement conversions, grilling tips, oil smoke points, and alcohol burn-off times. It's information helpful to any cook, Paleo or not… [The book] contains over 200 autoimmune-friendly recipes. [Sarah] will be the first to tell you that she writes BIG BOOKS! And they're beautiful." – Phoenix Helix
"This

is more than a traditional Paleo cookbook. Consider this volume to be as much a resource (shopping, Fodmap alerts, meal plans, and over 100 pages of basic research and near-encyclopedic Paleo information) as it is a cookbook. For most Paleo people, or those who appreciate the Paleo attitude, this is a winner.

." – John Koenig
"You can dive right into this book and get started, even if you haven't read the first book or if you have little cooking experience. My favorite feature of all is that every recipe includes detailed nutritional information, right on the same page! And I don't mean just basic information like how many calories or grams of fat. No, this is nutritional science for true nutrition geeks!" – Gutsy by Nature
"I was absolutely overjoyed to have received a [The Paleo Approach Cookbook], and am loving it! I cooked a bunch of the recipes [and] we ate well this weekend! And we feel amazing, also! Thanks so much Sarah Ballantyne (and her crew!) for your lovely and delicious cookbook! We loved it!" – Simple and Merry
"The recipes are nutritious, budget friendly, and well explained with an emphasis on nutrient dense, quality foods – all within the confines of the Paleo AIP. Quite an accomplishment! Beyond all the real food recipes in this book are also some snacks and treats that anyone will enjoy! Take these Plantain and Apple Fritters that I just made – they were devoured before I could say The Paleo Approach Cookbook is awesome!" – Real Food Forager
"I love the meal plans and shopping guides. Sometimes the grocery store can seem overwhelming especially when you are on a restrictive diet. Sarah breaks it down to make AIP a manageable lifestyle." – Plaid and Paleo
"This book gives the perfect amount of information and application, allowing you to follow the diet and be successful even if you aren't ready to dive into the whys' behind every element. You no longer have to wonder if there will be anything left for you to eat because there are over 200 recipes staring you in the face, there is even a section of treats for events like birthdays and holidays." – Sweet Potatoes and Social Change
Sarah's recipes are written so that anyone can follow the steps simply and correctly, and end up with a delicious meal. Some recipes are a bit divergent from mainstream cooking (fritters that may replace pancakes, for example–awesome, btw), but the bulk of the recipes are simply good old-fashioned protein and vegetable combinations, stepped up with appetizing flavor combinations and subtle substitutions to keep autoimmune flares at bay. -Dare You To Blog
Sarah is an incredibly meticulous researcher & writer & that style applies to her cookbook too. Using a dietary & lifestyle protocol as restrictive as this one can feel isolating, but with yet another incredible resource from Sarah I am again reminded that I can find health & still eat scrumptious food. –Alt-Ternative Autoimmune
Sarah's book truly gives you all you need to start (or continue on) your AIP journey. I was most impressed by the extreme range of foods offered in her book. If you are in a rut with your meals, this book will certainly force you out! –He Won't Know It's Paleo
While The Paleo Approach was masterfully put together with an incredible amount of information, made easily understandable by Sarah's own diagrams and illustrations, the companion cookbook is equally the treasure trove of gourmet recipes. –Bedrock Living
Book Tour Info:
I will be doing only a handful of book signings over the next few months (I am unable to do more traveling due to the fact that my children are young, we have no family close by, and my husband has his own career). If you live close to any of the cities that I'll be traveling to, I encourage you to take the opportunity to come meet me and get your book signed in person!
A current list of events and links to RSVP can always be found here.
Save 70% Off the AIP Lecture Series!
Learn everything you need to know about the Autoimmune Protocol to regain your health!
I am loving this AIP course and all the information I am receiving. The amount of work you have put into this is amazing and greatly, GREATLY, appreciated. Thank you so much. Taking this course gives me the knowledge I need to understand why my body is doing what it is doing and reinforces my determination to continue along this dietary path to heal it. Invaluable!

Carmen Maier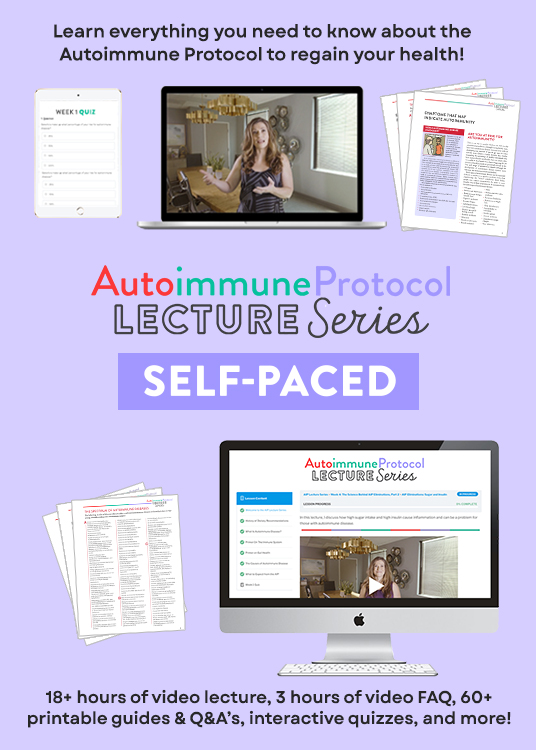 ---
Where can you get my books?
If you're looking for an independent bookstore that carries my books, use Indiebound to find my books at bookstores in your area. This site is a great resource! You can even find a bookstore near you and contact them to request that they stock my book!
My books are also being sold in every Barnes&Noble in the country.
You can also order my books from all major online retailers, including Barnes&Noble, Target.com, Walmart.com, and Amazon.com. The book is also available on Kindle, Nook, and iBooks.
Amazon.com just dropped the priced on The Paleo Approach Cookbook THIS MORNING! It's now 38% off! If you pre-ordered the book, you will automatically be charged this lower price (Amazon policy is to charge you the lowest price the book drops to between the time you order it and the end of the day on release day).
If you are outside the US and having trouble finding my books locally, Book Depository has free international shipping!
Hashtag GIVEAWAY!!!! Valued at over $650
I'm trying something new for this giveaway! And this giveaway is open to everyone! This prize package is designed to compliment your efforts with diet with some amazing natural beauty products. Plus, order whatever you need with an Amazon gift certificate valued at $500USD!!!!!
The Prize:
Who can enter:
This giveaway is open everyone who is able to order from Amazon. The winner may choose any domestic Amazon site including in USA, Canada, Australia, the United Kingdom, Brazil, China, France, Germany, India, Italy, Japan, Mexico, and Spain. If the winner chooses an Amazon site other than Amazon.com, the gift certificate will be worth the equivalent of $500USD. Winner will be responsible for any shipping and duty charges if choosing an Amazon site other than their country's domestic Amazon site. Normal restrictions for Amazon Gift Card use apply.
How to Enter:
To enter, cook a recipe from The Paleo Approach Cookbook and post a photo on social media using the hashtags #thePaleoapproachcookbook and #tpacgiveaway (it doesn't matter if you post on Instagram, Facebook, Twitter, Google+, or Vine!).
That's it! The more recipes you cook, the more entries you can earn!
I'm going to run this giveaway for a whole month, so it gives you an opportunity to get a copy of The Paleo Approach Cookbook to cook from (if you live outside the US, you can try Amazon or Book Depository ). But, don't think that you have to buy the book to enter this giveaway. Besides borrowing from a library or a friend, you can also cook from the preview recipes that have been included on social media, in book reviews, in my newsletter and on the blog! In fact, I'll be continuing to post Sneak Peek preview recipes from the blog over the next month, so watch for those!
Here are recipes that have been posted so far on my blog:
A winner will be chosen at random from every photo of The Paleo Approach Cookbook recipes posted on social media using the hashtags #thePaleoapproachcookbook and #tpacgiveaway on September 30th, 2014.
Bonus savings for EVERYONE!

Big CELEBRATION GIVEAWAY!!!! Valued at over $1600!
This prize package is designed to fill your kitchen with amazing tools so you can get started with all the amazing recipes in The Paleo Approach Cookbook. It's a HUGE prize package worth over $1600!!!!!!
A big thank you to the amazing companies who are sponsoring this giveaway!!!!
The Prize:
Who can enter:
Due to shipping limitations and customs regulations, this giveaway is limited to residents of the USA.
How to enter:
There's lots of ways to enter so there's something for everyone!! Come back every day and tweet again!
Update 09/22/14: Congratulations to Kelly G.! Her name was randomly selected from all the Rafflcopter entries.