In this episode, Stacy and Sarah answer your questions on how to live Paleo in a non-Paleo world. Diane Sanfilippo of Balanced Bites and Practical Paleo help them tackle eating in restaurants, eating while traveling and eating at other people's houses. Can a Paleo lifestyle be maintained when you're not in your own kitchen? We answer a resounding "YES!" And if not, well tell you how to heal your gut from accidental gluten exposure.
The AIP Lecture Series
RETIREMENT SALE! SAVE 70% OFF!
I am loving this AIP course and all the information I am receiving. The amount of work you have put into this is amazing and greatly, GREATLY, appreciated. Thank you so much. Taking this course gives me the knowledge I need to understand why my body is doing what it is doing and reinforces my determination to continue along this dietary path to heal it. Invaluable!

Carmen Maier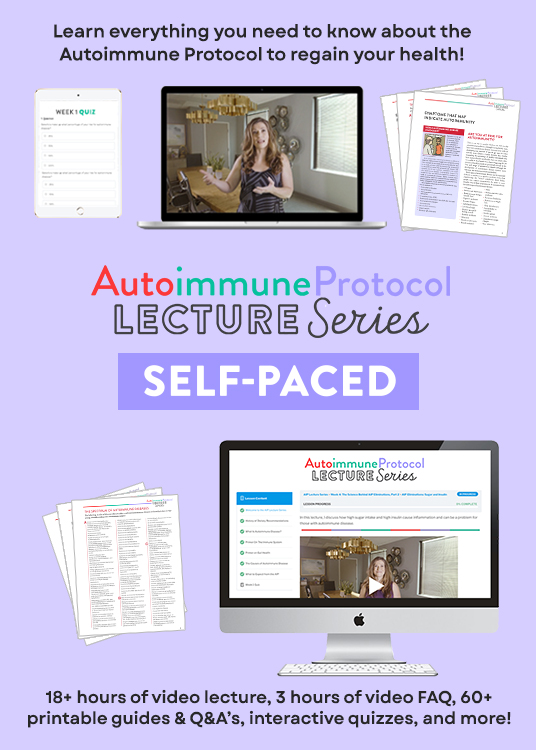 Listen in iTunes
or download and listen by clicking the PodBean player below
If you enjoy the show, please review it in iTunes!
The Paleo View (TPV), Episode 8: Paleo on the Road
0:00 – Introduction
1:18 – News and Views

Our guest this week is Diane Sanfilippo of Balanced Bites and Practical Paleo fame! If you ever want to know anything about the nutritional science of Paleo, she's your information source!

8:10 – Science with Sarah: How long does it take to heal after being exposed to gluten?
27:15 – Questions and answers

27:45 – How do you stay Paleo while traveling and staying in other's houses

49:56 – How do you eat away from the house?
1:03:17 – How do you navigate diet differences at work functions and business meetings?
1:12:05 – What can you do to heal when you accidentally consume a food that makes you sick?

1:27:13 – Outro