Plantain lasagna? Really? Yes! And what a delicious and comforting meal! Perfect for this time of year! This is another recipe modified from one that Gloria sent me (thank you Gloria!). I made this for my mother-in-law's birthday while she was visiting and it was a hit! My mother-in-law was amazed—mostly at how you don't even miss the cheese with the combination of egg and plantain. It's quite filling and my husband was delighted with a freezer full of leftovers to bring to work for lunch.
Prep time: 10 minutes
*NEW* The Gut Health Cookbook!
The Gut Health Cookbook is fantastic! Thank you for researching and creating The Gut Health Cookbook! Such wonderful recipes! I'm so excited to try them all! -Sue
The Gut Health Cookbook puts the 20 Keys to Gut Health into practice with:
180+ recipes featuring 61 gut health superfoods

Gut health food lists

Why's behind each gut health superfood
Get instant digital access for $27.99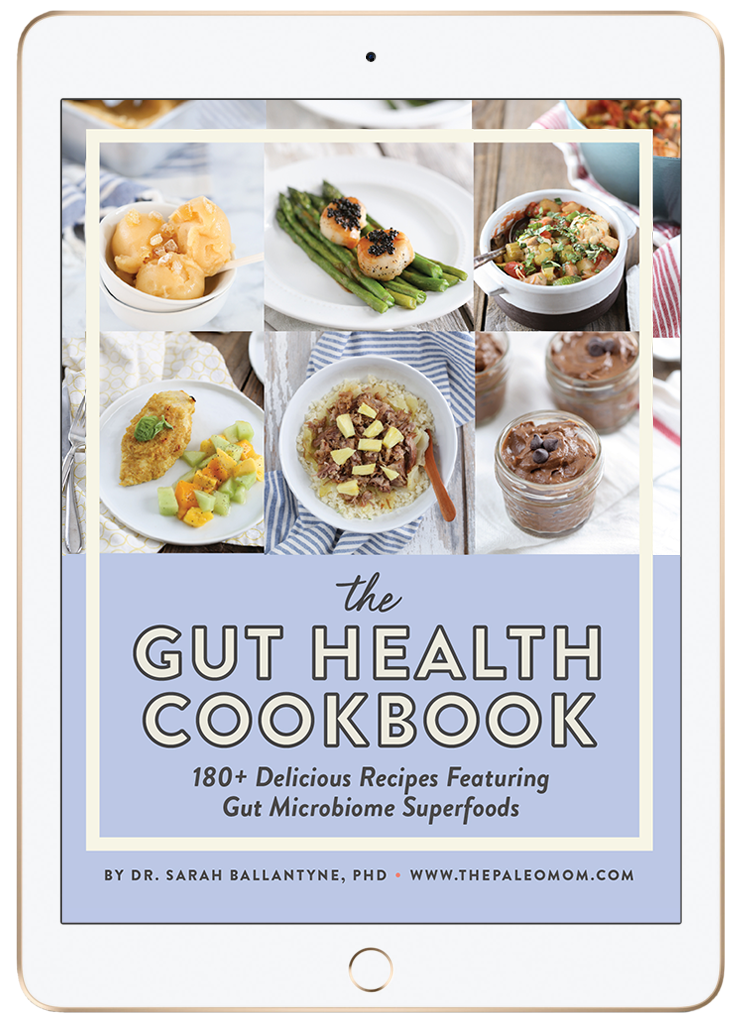 Cook time: 90 minutes
Serves: 8
Ingredients:
6 ripe plantains (should be nearly completely black)
8 eggs
2 lbs ground beef
1 medium yellow onion
½ cup red pepper, diced
½ cup green pepper, diced
½ cup of chicken broth
½ cup dry wine (white or red)
4-5 cloves fresh garlic, finely chopped
½ tsp salt, to taste
¼ tsp pepper, to taste
3-4 Tbsp coconut oil
Heat a saucepan over medium high heat. Add 1 Tbsp of coconut oil and ground beef garlic, red and green pepper, onions and bay leaf. Brown the beef, breaking up with a large spoon, 8-10 minutes.
Add broth, wine, and tomato paste. Reduce heat to a simmer and cook uncovered for 10-20 minutes while frying the plantains, stirring occasionally. Before adding to your pastelon, add ¼ tsp salt, to taste, depending on how seasoned your broth is.
Now would be a good time to preheat the oven to 350F.
Cut the plantains in half and peel. Next cut each half into ¼"-thick slices (about 4 slices per plantain—it's okay if they aren't all evenly thick).
Heat 1-2 Tbsp coconut oil in a frying pan or skillet or griddle (more if using cast iron or stainless steel, less if using non-stick). Place the slices into the hot oil and fry 3-4 minutes per side to lightly brown. Set aside. (You will probably have to work in batches, topping up the coconut oil in the pan between each batch).
Beat or whisk 4 eggs (you may wish to add a dash of salt and pepper). Pour onto the bottom of a large rectangular casserole dish or lasagna pan. Place in oven for 6-7 minutes until set, but not completely cooked. Remove the pan from the oven and prick the eggs with a fork several times all over the surface. (Alternatively, you could cook in the microwave for about 1 minute).
Lay half of your fried plantain slices over the egg in a solid layer (like noodles). Pour the meat sauce over the plantain layer (spread out to a uniform layer). Next layer the rest of the plantain slices over the top of the meat sauce (like your second layer of noodles).
Beat or whisk the last 4 eggs (again, you may wish to add a dash of salt and pepper) and pour over the top of the pastelon.
Bake for 45-50 minutes. Let rest 5 minutes before eating. Enjoy!
The Ultimate Support for Your AIP Journey!
Dr. Sarah Ballantyne has delivered an exceptional course and I highly recommend this to anyone looking to improve their health. There is something for everyone. It was extremely helpful and worth the investment. -Marie Schlichtig
The AIP Lecture Series is the ultimate Autoimmune Protocol educational experience! Learn directly from Dr. Sarah!
6-week online course
42 on-demand video lectures
dozens of printable guides
self-discovery exercises and action steps
online forum and guided discussions
support and guidance from Dr. Sarah Ballantyne!
The next session begins January 18th, 2021.
(Use code AIPLS85 to save $85 and get bonus access to the Gut Health Fundamentals online course!)
Watch this video from my YouTube Channel to learn more about green plantains: