In this episode, Stacy and Sarah return to answer your questions about autoimmunity and how to combat it! First, Sarah talks about whether it is okay to cut out an entire "food group". Then we try to track down your how far you must take the autoimmune protocol and how to deal with symptoms that remain.
Listen in iTunes
or download and listen by clicking the PodBean player below
The AIP Lecture Series
RETIREMENT SALE! SAVE 70% OFF!
I am loving this AIP course and all the information I am receiving. The amount of work you have put into this is amazing and greatly, GREATLY, appreciated. Thank you so much. Taking this course gives me the knowledge I need to understand why my body is doing what it is doing and reinforces my determination to continue along this dietary path to heal it. Invaluable!

Carmen Maier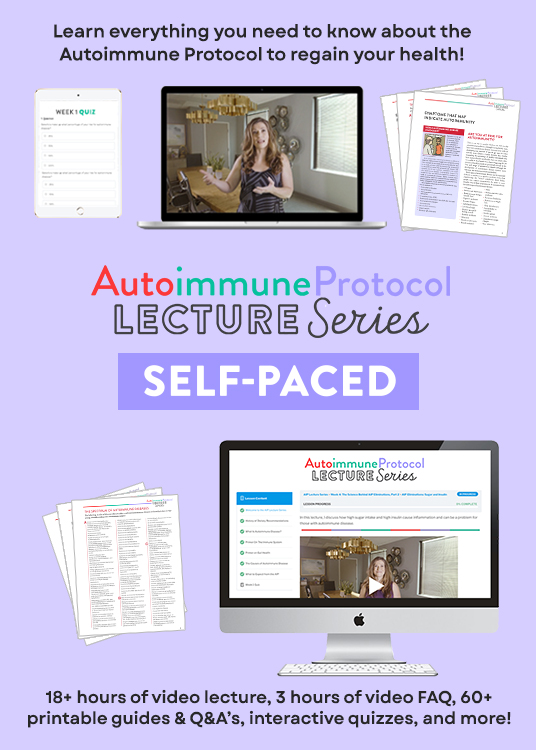 If you enjoy the show, please review it in iTunes!
The Paleo View (TPV), Episode 22: Autoimmune Part 3
0:00 – Introduction
1:07 – News and Views
25:15 – Science with Sarah: Can you eliminate a whole "food group"?
31:02 – Questions and Answers

To review: The autoimmune protocol
32:25 – How did you find out you had Coeliac Disease?
47:36 – Should I go on the autoimmune protocol with Raynaud's disease and some markers for Lupus?
56:36 – Is my back pain possibly a autoimmune disease? Should I get it diagnosed?
1:03:28 – Should my husband go further into the autoimmune protocol if his psoriasis isn't improving?

1:17:04 – Outro