In this episode, Stacy and Sarah return to answer your questions about autoimmunity and how to combat it! First, Sarah talks about whether it is okay to cut out an entire "food group". Then we try to track down your how far you must take the autoimmune protocol and how to deal with symptoms that remain.
Listen in iTunes
or download and listen by clicking the PodBean player below
If you enjoy the show, please review it in iTunes!
Nutrivore Weekly Serving Matrix
An easy-to-use and flexible weekly checklist
to help you maximize nutrient-density.
The Weekly Serving Matrix is very helpful! I've been eating along these lines but this really helps me know where to focus vs. which foods serve a more secondary role. It's super helpful and has taken a lot of worry out of my meal planning. Thanks!

Jan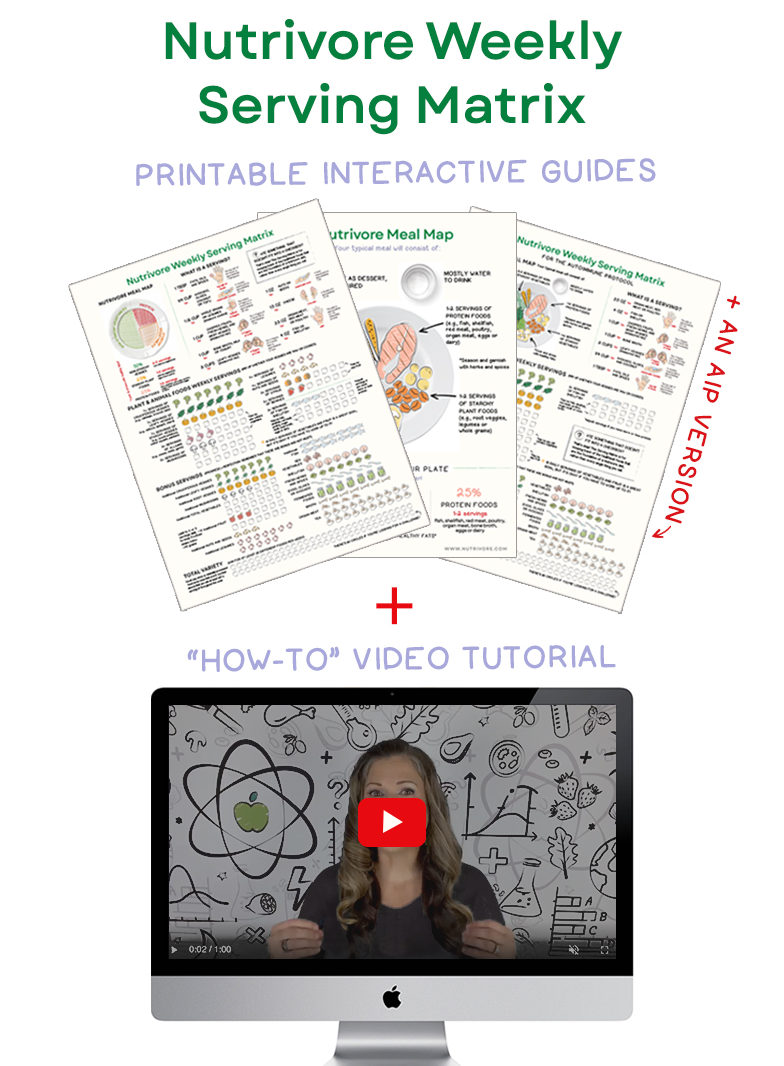 The Paleo View (TPV), Episode 22: Autoimmune Part 3
0:00 – Introduction
1:07 – News and Views
25:15 – Science with Sarah: Can you eliminate a whole "food group"?
31:02 – Questions and Answers

To review: The autoimmune protocol
32:25 – How did you find out you had Coeliac Disease?
47:36 – Should I go on the autoimmune protocol with Raynaud's disease and some markers for Lupus?
56:36 – Is my back pain possibly a autoimmune disease? Should I get it diagnosed?
1:03:28 – Should my husband go further into the autoimmune protocol if his psoriasis isn't improving?

1:17:04 – Outro