The Eat Drink Paleo Cookbook is the first cookbook by Ireana Macri of the blog Eat Drink Paleo and what a debut!  With just over 100 recipes, Eat Drink Paleo Cookbook is a general cookbook that includes a short intro to the Paleo diet.  The recipes span the spectrum from breakfasts, to mains, to a variety of amazing sides, to easy snacks, to treats, to beverages.  It has a distinctly Australian flair to the recipes (there are even a couple of recipes using kangaroo! And why yes, there is a little "shrimp on the barbie". Well, red curry barbecue prawns, but I think that counts!), which I think makes it very unique in the Paleo cookbook world.
The book is beautifully photographed, with a chalkboard art-style theme throughout book. A number of. icons on each recipe page give you quick info about the recipe (if it contains dairy, nuts, shellfish, nightshades, or eggs, if it will take under 30 minutes to prepare, if it's great for entertaining, etc.). The instructions for each recipe are fairly verbose, giving you more than just a time, but also what to look for to gauge if a step is completed in your kitchen. I love this style of directions, especially for beginner cooks because it gives you more confidence that you're on the right track.
Speaking of beginner cooks, I gave this book to my 3-year old daughter and her babysitter and asked them to cook something from it.  They chose banana muffins (we skipped the strawberry butter that is suggested to go on top because of my daughter's severe dairy sensitivity).  I was really happy that they chose this recipe because it intrigued me greatly.  The ingredients looked fairly different from my muffin recipes and I was curious about how they would turn out.  The result was quite a different texture, more densely cakey (still muffin-like, just a different style of muffin from what I typically bake), and they were absolutely delicious.  My kids both didn't like them, but between my husband, my babysitter, and some company, we managed to take care of the batch. (Confession:  I helped too even though the recipe contained almond and coconut flour!  I couldn't resist!)
Nutrivore Weekly Serving Matrix
An easy-to-use and flexible weekly checklist
to help you maximize nutrient-density.
The Weekly Serving Matrix is very helpful! I've been eating along these lines but this really helps me know where to focus vs. which foods serve a more secondary role. It's super helpful and has taken a lot of worry out of my meal planning. Thanks!

Jan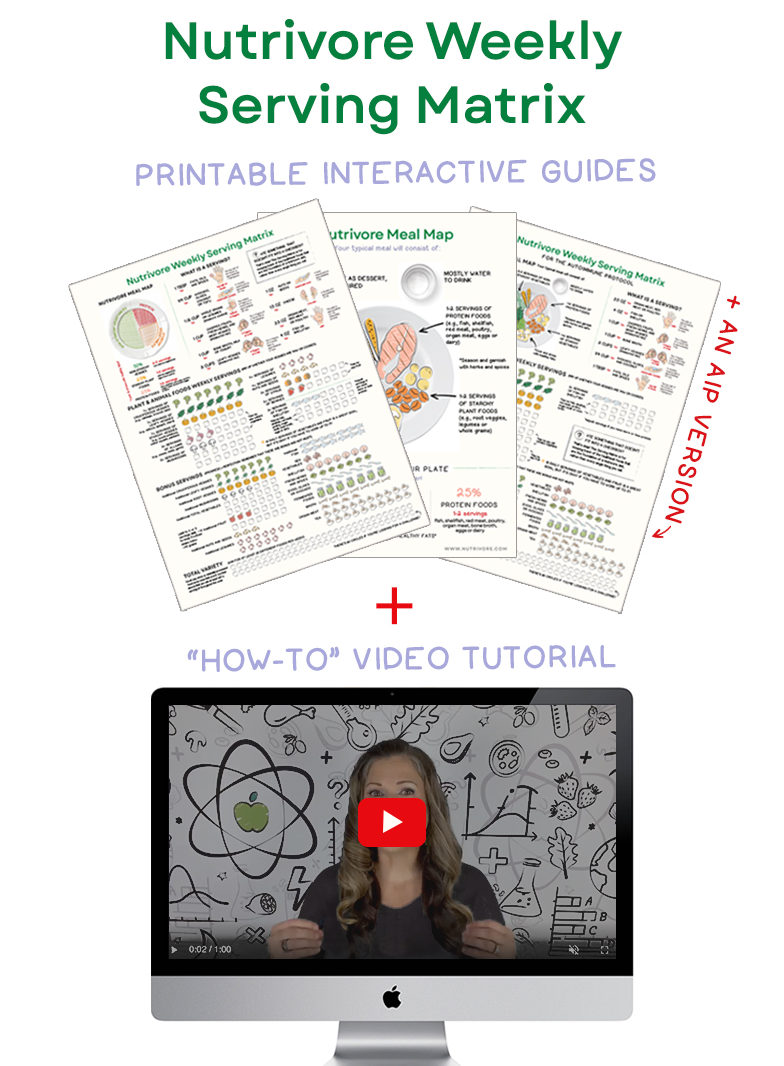 Actually, this book has some very innovative and tantalizing treat recipes, even though treats form a fairly small portion of the book.  The treat recipes remind me very much of British cooking (which I guess is because I am much more familiar with British cuisine than Australian cooking–maybe I should adjust my associations!) and I have a couple of recipes bookmarked for Christmas baking this year (double-decker lamingtons and mango & blackberry meringue roulade!).
There are some truly inspiring dishes as well, things that just tickle me pink because they use ingredients that I love in ways I've never thought of before.  A great example is using asparagus (pan fried in truffle oil!) as soldiers to dip in a soft boiled egg.  Or the pairing of smoked trout with eggs to make kedgeree deviled eggs (and since this is inspired by a British breakfast from colonial India, my association with British cuisine is clearly not completely misplaced!).
I also cooked the macadamia and herb-crusted pork chops.  They were very quick to prepare and cook and the flavor was absolutely outstanding!  I will definitely be making them again!
The majority of the recipes also include suggested pairings and/or variations.  And many also include tips for where you might find an ingredient, how you might store leftovers, or what you can do with part of an ingredient that isn't used in the recipe (like roasting pumpkin skins until crunchy after using the pumpkin flesh for a recipe!).
If you follow the autoimmune protocol, the meat main dishes are pretty generously endowed with nightshade ingredients. Howeve, there are a number of seafood dishes and some side dish options that would be AIP-friendly.  If you live in a purely AIP only household, this probably isn't the best investment.  However, if you can handle the occasional dose of nuts or eggs or if you usually cook for a standard Paleo family, this is a great book!
All-in-all, I was very impressed with the Eat Drink Paleo Cookbook –the number of post-it notes marking pages even though it now sits on my bookshelf is testament to the fact that I will be coming back to it to cook more recipes in the near future.

Become a Member for FREE!
The Paleo Mom Members' Area is resource central!  
You'll get FREE, unlimited access to dozens of quality resources, including introductory series, downloadable e-books, exclusive recipes, printables, videos and guides!
You may enjoy these related posts:
I have this big stack of cookbooks on my kitchen counter waiting for me to have …