I have this big stack of cookbooks on my kitchen counter waiting for me to have time to review them (and another big stack of resource books on my desk). For me, I don't feel like I can give a cookbook a thorough review unless I've had time to read through it and cook at least a couple of recipes from it. My review copy of Against All Grain by Danielle Walker actually arrived while I was in Canada with my daughters in July. When my husband joined us for the last week of that trip, I had him bring Against All Grain with him so I could read through it right away. Given how much excitement and anticipation I felt about this book (because I'm a huge fan of Danielle's blog which also goes by the name Against All Grain), it's a little embarrassing that I am posting my review now. I hope you (and Danielle!) will forgive me that it's taken so long.
First, Against All Grain is absolutely gorgeous. In addition to Danielle's talents in the kitchen, she is a masterful photographer. But the beauty of this book goes beyond the photography. The way it's laid out, the cute little graphics in the intro chapter and throughout the book, the color palette, and the watermarks all make this a book that is a joy to flip through. Every photo makes you want to cook that recipe. In fact, I think it's impossible to flip through this book without salivating.
The recipes themselves are divided into 9 chapters: "to start off your morning", "small bites", "soups, salads, and sides", "the main event", "for the kid in all of us", "muffins, loaves, and morning cakes", "sweet and treats", "basics", and "sip on this". All told, there are over 150 recipes that represent the full range of food that you would want to cook during everyday life. And even though the book isn't specifically geared toward families, I see this as a family cookbook. There are so many recipes that seem geared toward kids, that are perfect for lunchboxes, or afternoon snacks, or treats to help kids feel normal. If you are like me and raising kids in a Paleo household, you know just how important these types of recipes are. There's also many recipes that would fall under the category of "Paleo version of food you or your family misses", which I think makes this book a fantastic resource for anyone transitioning to Paleo or even who has been eating this way for a long time but misses waffles, cereal breakfast bars, lasagna, pizza, and sandwiches (in a bun!), not to mention cakes, donuts, and ice cream! This is a book that is geared for those of us who still need flavor, comfort and ease in our meals. Um, isn't that everybody?
One of my favorite parts of this book is the visual menu at the back of the book. I have to admit that I have a wee bit of a pet peeve with all the cookbooks released recently that don't have a complete Table of Contents (instead the TOC at the beginning of the book gives you the first page of each chapter and then each chapter has its own TOC). As someone who loves and collects cookbooks, this doesn't work for me. I want a list of all the recipes in one place. Well, even though this is how Against All Grain is organized, the visual menus are in addition to the various TOCs for each chapter and provides the complete recipe list for me and even includes thumbnail photos of each recipe. It makes navigating the book so much easier! There's also a separate visual menu with themed menu ideas, including "game day", "cocktail party", "fiesta night", and "sunday brunch". Very cool!
Save 80% Off the Foundations of Health
Expand your health knowledge on a wide range of topics relevant to you, from how to evaluate scientific studies, to therapeutic diet and lifestyle, to leaky gut and gut microbiome health, to sustainable weight loss, and much more!!!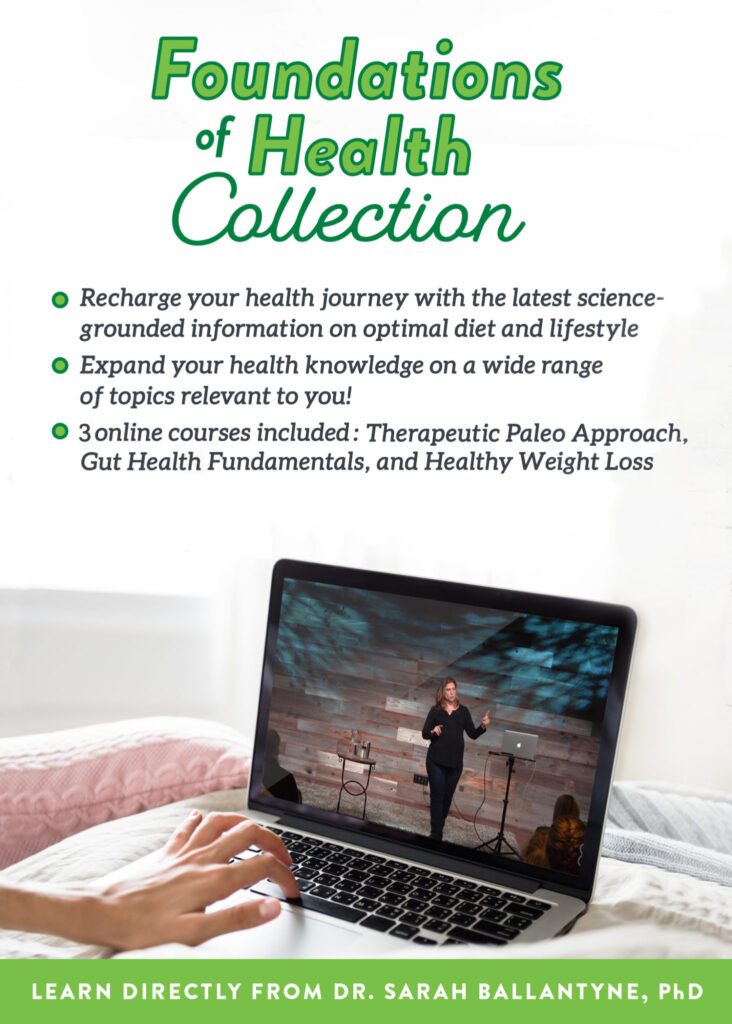 So, what about the recipes? Are they any good? Well, of course they are! I have never disliked one of Danielle's recipes. But, I still cooked three from Against All Grain for my review. Actually, let me amend that. I cooked one and my babysitter cooked two!
Since time seems to be the one thing I never have enough of these days (well, maybe bacon and time, but can you ever have enough bacon?!), I asked if my babysitter and my 3-year old would like to flip through the book and choose a recipe or two to make together. This worked even better than I could have hoped. It gave my 3-year old something fun and enriching to do with her babysitter, introduced the babysitter to grain-free baking, produced some special afternoon snacks for my oldest when she got home from school, and all while I cloistered myself in the office working on my book. Plus, having a 3-year old and a 16-year old cook together really tested the ease of the recipes! Of course, they chose two sweet recipes: vanilla-almond granola and real-deal chocolate-chip cookies.
The real-deal chocolate-chip cookies were one of the greatest hits ever in my home. They vanished. My kids asked me to make them again. My husband devoured them. The babysitter ate them. I shared them on a playdate. You would never know that they were grain-free, dairy-free, and refined-sugar free. Absolutely awesome. The vanilla-almond granola was met with mixed reviews. Neither of my girls liked it (to be fair, they dislike most homemade nut-based granola recipes including my own!), but my babysitter and husband consumed the entire batch between the two of them in two days.
I normally try to cook a main dish from cookbooks I'm reviewing, but I was actually inspired to cook coconut-lime rice (a cauliflower rice recipe). I was initially a little hesitant since the recipe called for a much longer cooking time than I usually do when I make cauliflower rice, but the flavor and texture turned out to be amazing!
I think that Against All Grain is a wonderfully well-rounded cookbook. If you are following the Autoimmune Protocol, you will find that many of the recipes do not comply with the restrictions since nightshades are included in many of the main dishes, and nuts and eggs feature prominently in the breakfast and treat recipes (although there are large number of AIP-friendly options in the soups, salads, and sides chapter). I also think that the collection of treat-type recipes alone makes this a tremendous resource for families just because of how innovative Danielle's recipes are and because of the variety of really useful treat recipes to have at your fingertips (for birthdays, company, celebration and battling those feelings of deprivation that can creep up on all of us). All in all, yet another cookbook raising the bar while making the list of "must-have" Paleo cookbooks another title longer.