On this episode of The Paleo View, Stacy and Sarah share on when exercise surpasses the point of 'beneficial to your health' and become damaging to your overall well-being.
The AIP Lecture Series
RETIREMENT SALE! SAVE 70% OFF!
I am loving this AIP course and all the information I am receiving. The amount of work you have put into this is amazing and greatly, GREATLY, appreciated. Thank you so much. Taking this course gives me the knowledge I need to understand why my body is doing what it is doing and reinforces my determination to continue along this dietary path to heal it. Invaluable!

Carmen Maier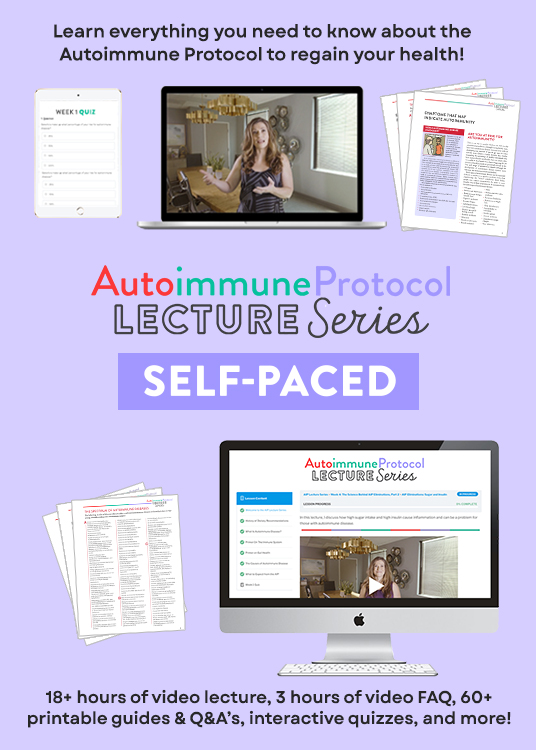 Listen in iTunes
or download and listen by clicking the PodBean Player below
If you enjoy the show, please review it in iTunes!
The Paleo View (TPV), Episode 132, The Too Much of Exercise
Intro (0:00)
News and Views (0:56)

Welcome to episode 132! Not to be confused with episode 131
Stacy's epic post on her health diagnosis and things she is working through and why
How people have been responding to this news and the feedback
This week we will talk about when exercise exceeds beneficial
The best kind of activities for health benefits
Overactivity means a different thing to different people
The addiction to exercise – the highs and lows
Balancing extended sedentary periods

Science with Sarah (38:42)

What it is about intense and strenuous activity that can impact the gut?
How the adrenals are impacted by exercise
What else will increase the effects
The benefits of physical activity
Stephanie's and Stacy's presentation from AHS on this topic

Questions and Answers (52:08)

Marinka – how do you incorporate exercise when you have so much on your plate?

Melissa's article on when to scale back on the level of activity
Stacy and Sarah's experiences when they knew they crossed the line, how they scaled back, and how they find a balance

Sarah's love for CrossFit
A study on the impact of making noise to reduce pain
Want more information on exercise, check out Strong Woman Radio
Outro (1:16:42)