On this episode of The Paleo View, Stacy and Sarah have a part-two discussion on autoimmune diseases, specifically Hashimoto's, and are joined by Mickey Trescott to help answer questions related to weight-loss when one has Hashimoto's disease.
Listen in iTunes
or download and listen by clicking the PodBean Player below
Nutrivore Weekly Serving Matrix
An easy-to-use and flexible weekly checklist
to help you maximize nutrient-density.
The Weekly Serving Matrix is very helpful! I've been eating along these lines but this really helps me know where to focus vs. which foods serve a more secondary role. It's super helpful and has taken a lot of worry out of my meal planning. Thanks!

Jan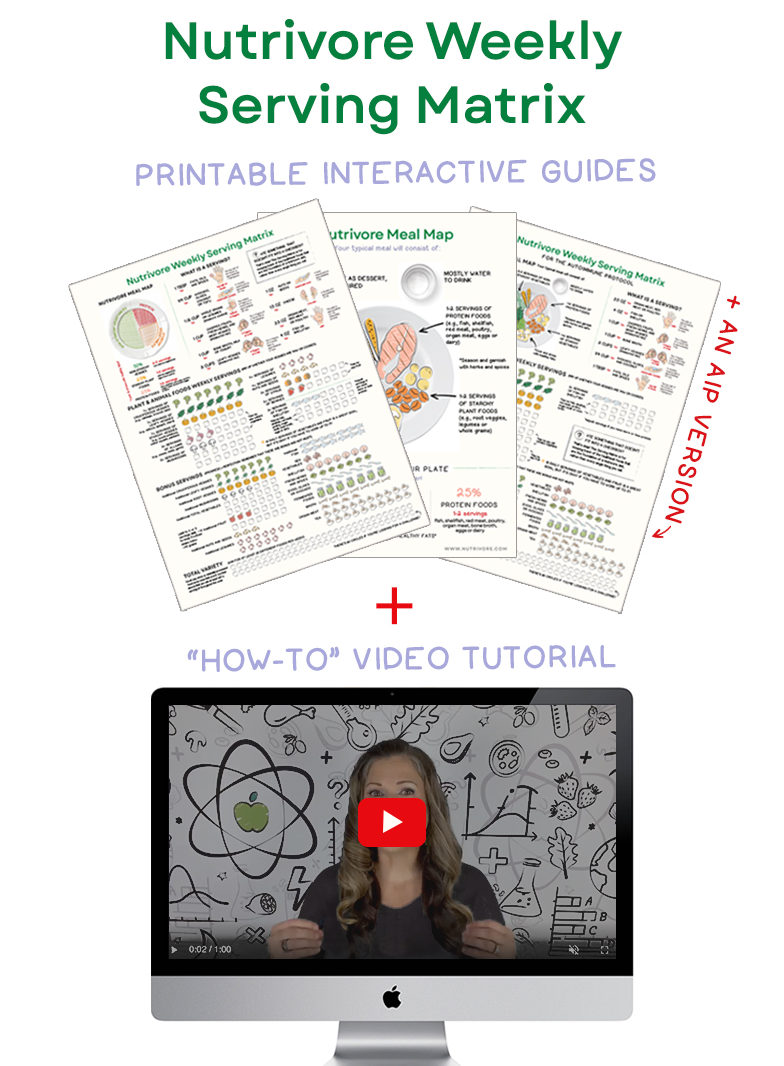 If you enjoy the show, please review it in iTunes!
The Paleo View (TPV), Episode 127, Hashimoto's Disease
Intro (0:00)
News and Views (0:56)

Stacy is not feeling well, but thinks she brought this one on herself
Sarah is back at Crossfit and incredibly excited about it
This week's guest is Mickey to help us have a part-2 discussion on autoimmune diseases, specifically Hashimoto's
Sarah will be starting IV nutritional therapy
More from Mickey

Science with Sarah (25:30)

What the thyroid does and why there are certain symptoms of hyperthyroidism
The red flags and why of weight gain with Hashimoto's
Tests to confirm

Questions & Answers (44:35)

Cali – belly aches have returned despite improvement when first going AIP, thoughts on how to figure out what caused the return?
Molly – appear to be unable to lose weight despite how deep she is digging into her health and lab tests – thoughts on what other paths to explore?

Thank you Mickey for coming on this week's show!
Outro (1:18:01)

Become a Member for FREE!
The Paleo Mom Members' Area is resource central!  
You'll get FREE, unlimited access to dozens of quality resources, including introductory series, downloadable e-books, exclusive recipes, printables, videos and guides!
You may enjoy these related posts:
On this episode of The Paleo View, Stacy and Sarah discuss autoimmune diseases …