On this episode of The Paleo View, Stacy and Sarah are joined by Summer Innanen to talk about a favorite topic of The Paleo View, self-love and body image acceptance. The crew also answers questions around weight-loss and Sarah's science shares touches on weight-loss resistance.
Listen in iTunes 
or download and listen by clicking the PodBean Player below
Nutrivore Weekly Serving Matrix
An easy-to-use and flexible weekly checklist
to help you maximize nutrient-density.
The Weekly Serving Matrix is very helpful! I've been eating along these lines but this really helps me know where to focus vs. which foods serve a more secondary role. It's super helpful and has taken a lot of worry out of my meal planning. Thanks!

Jan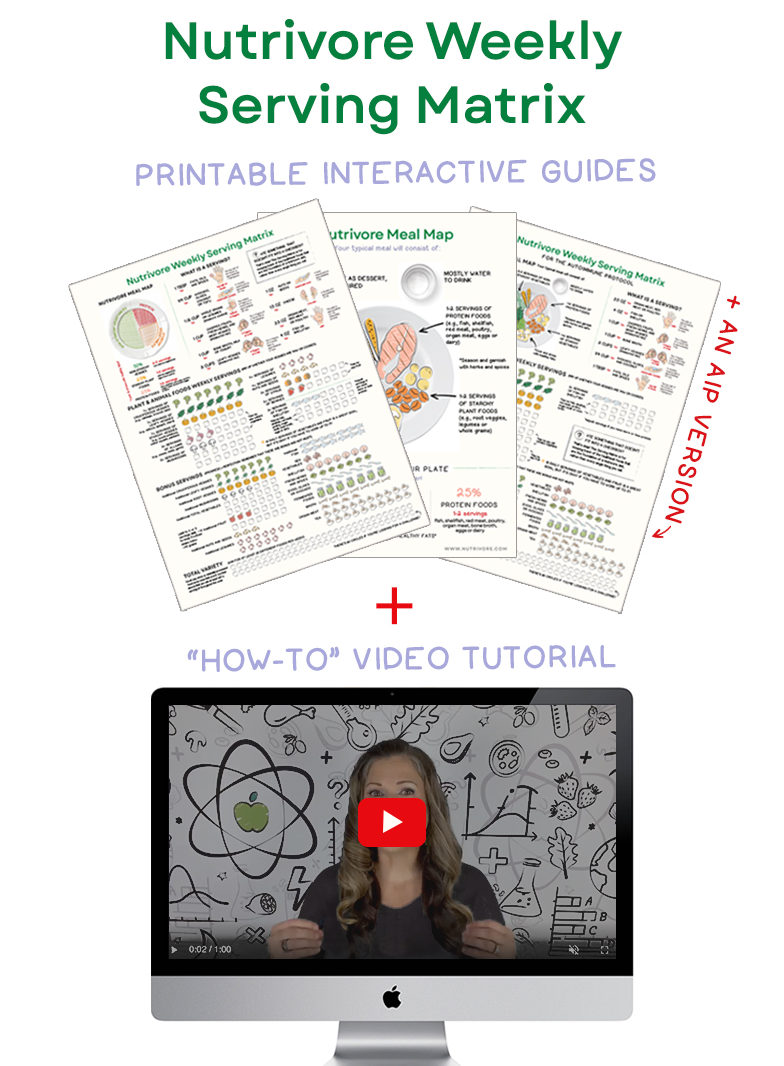 If you enjoy the show, please review it in iTunes!
The Paleo View (TPV), Episode 128, Body Image & Self-Love
Intro (0:00)
News and Views (0:56)

Welcome Summer Innanen!
First met at Paleo f(x) last year when they lifted together
Hoping to inspire the community to think about loving and respecting your body, and not just the weight-loss aspect to Paleo
Summer is a pioneer in this space and has a great program called 21 Step Body Image Remix, this is also a favorite topic of Stacy's and Sarah's
Sarah received four plaques from the Paleo Magazine Best of 2014 awards
Two of Stacy's posts created buzz around this topic – Challenges Leading to Disordered Eating and Self-Respect

What inspired Stacy to write these posts
Wanting to be healthy 100% of the time and not just when a challenge is happening
The catalyst for all of this was Summer's guest post on Paleo Parents

Excepting yourself and loving yourself for where you are in your journey
There are many shares of healthy
Self-love can be viewed as complacency
Self-esteem vs. self-love

Science with Sarah (32:08)

Resistance to weight-loss
Three different categories that could be going wrong – something off with diet, something off with lifestyle, or a medical condition
The biggest culprits to weight-loss
As you troubleshoot these culprits, how to continue to practice self-love
Asking the question 'why do you want to lose weight'
Important metrics of health

Questions & Answers (46:12)

Alex – how to tell if I am metabolically broken?

Finding a way to still live your life while finding health and happiness
Strong feelings on Bullet Proof Coffee and how people are using this food

Catherine – what does "eating enough" mean?

Thank you so much to Summer for coming on this week's show!
If you like what Summer had to say you can check out her free e-book here

The Rock Your Body program – keep an eye out for it! It will be online, group based program and will be coming out at the end of February!
Also check out Summer's podcast here

Please don't forget to leave those reviews here
Outro (1:18:58)

Become a Member for FREE!
The Paleo Mom Members' Area is resource central!  
You'll get FREE, unlimited access to dozens of quality resources, including introductory series, downloadable e-books, exclusive recipes, printables, videos and guides!
You may enjoy these related posts:
In this episode, Stacy and Sarah invite George of Civilized Caveman Cooking …