On this episode of The Paleo View, Stacy and Sarah talk about their plans for the holidays and how to maneuver holiday eats, including the gray zone Paleo ingredients.
Listen in iTunes 
or download and listen by clicking the PodBean Player below
Nutrivore Weekly Serving Matrix
An easy-to-use and flexible weekly checklist
to help you maximize nutrient-density.
The Weekly Serving Matrix is very helpful! I've been eating along these lines but this really helps me know where to focus vs. which foods serve a more secondary role. It's super helpful and has taken a lot of worry out of my meal planning. Thanks!

Jan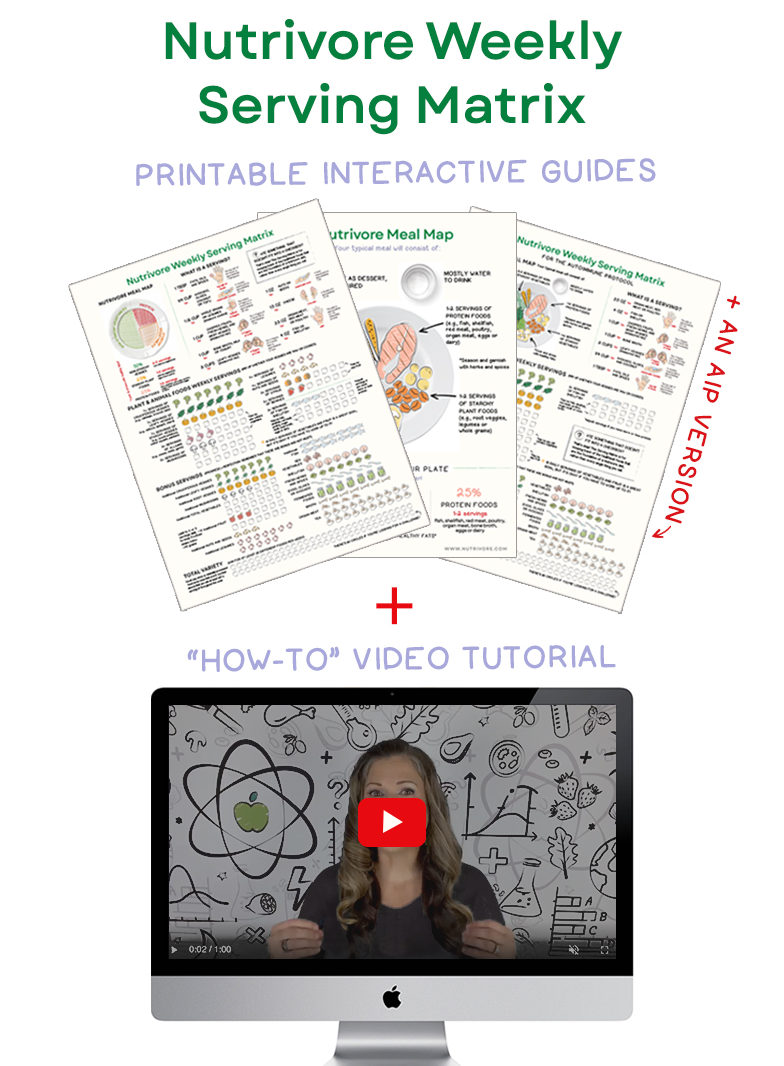 If you enjoy the show, please review it in iTunes!
The Paleo View (TPV), Episode 121: The Holidays
Intro (0:00)
News and Views (0:56)

Getting into the holiday spirit, but feeling the time crunch to get things done before Christmas
Stacy's recent happenings, including a date with Matt, returning to the gym and gingerbread house making
Sarah's recent tree decorating and visit to see Santa with the girls
Sarah and Stacy's Christmas plans
Sharing healthy living inspiration for the holidays with those you love
Paleo Parents upcoming Family Resolution Revolution bundle, which will go live the day after Christmas and will feature e-books, magazine subscriptions, planning printouts and calendars, meal plans and workout templates, and so much more! It isn't Paleo specific, but focuses on total wellness for the whole family
Sarah thanks everyone who posted pictures of her books in Costco
Sarah is carving out more time to write articles on her blog focusing on the topic of 'is it Paleo' – Sarah's recent article
The evolution of this 'is it Paleo' discussion and how it helps and hurts the Paleo community at large

Science with Sarah (50:05)

How to read a label to see if a treat will be acceptable and supportive of your health
What these gray area ingredients do to your health

Questions & Answers (1:12:32)

Adrian – how to handle unsupportive family members during holiday gatherings?
Steve – how harmful can a communion wafer be to gut health?

If the holidays leave you feeling a little less than optimal – check out our holiday recovery episode
Outro (1:28:27)

Become a Member for FREE!
The Paleo Mom Members' Area is resource central!  
You'll get FREE, unlimited access to dozens of quality resources, including introductory series, downloadable e-books, exclusive recipes, printables, videos and guides!
You may enjoy these related posts:
On this episode of The Paleo View, Stacy and Sarah share on their holiday plans, …