Kiersten is a 20 something self proclaimed nutrition nerd with a love for real food, homemade beauty care, and natural healing. She is also an army wife living in Fort Hood, TX with her handsome husband and two fur babies and is passionate about helping other military spouses thrive. She is currently pursuing certification as a Nutritional Therapy Practitioner with the goal of helping others find true healing and vibrant health through real food as she has. When she's not studying or spending time with her family, Kiersten shares delicious recipes and tips for how to live this real food lifestyle on her blog Vibrant Life Army Wife. Connect with Kiersten on Facebok, Instagram, Pinterest and Twitter.
---
Hello everyone! I'm super honored to be sharing my recipe with you today. After being diagnosed with Hashimoto's Thyroiditis while my husband was deployed last spring, The Paleo Approach and The Paleo Approach Cookbook were lifesavers for me as I tried to navigate my new found illness without the help of my wonderful spouse. After my diagnosis my doctor sent me to an endocrinologist who told me there was nothing that I could do and that I would have to deal with my symptoms for the rest of my life. Obviously, I wasn't going to let this get me down and instead I took things into my own hands.  I dove right in to Sarah's books and blog, learning as much as I possibly could about my autoimmune disease and how I could heal my body with real food and a healthy lifestyle. I had already been Paleo for almost a year at this point so switching to the autoimmune protocol was not a huge change for me, but getting rid of my beloved eggs (and the mayo I love to make with them) was really hard. I know myself well enough to know that when I feel deprived I have a horrible tendency to rebel and eat ALL THE THINGS I shouldn't be eating. So I set out on a mission to remake all my favorite foods sans eggs, nuts, seeds, nightshades, and all the other non-AIP approved things.
Apple pie was always one of my favorite desserts growing up so I quickly added that to my list of things to AIP-ify. Growing up, I would go to Marie Callender's with my grandma at least once a month, probably more. And as I'm sure you all know, Marie Callender's is famous for their pie. Whenever it was someone's birthday they would send you a coupon in the mail for a free slice of pie for everyone in the party. I would get their dutch apple pie every single time. I loved it!
Nutrivore Weekly Serving Matrix
An easy-to-use and flexible weekly checklist
to help you maximize nutrient-density.
The Weekly Serving Matrix is very helpful! I've been eating along these lines but this really helps me know where to focus vs. which foods serve a more secondary role. It's super helpful and has taken a lot of worry out of my meal planning. Thanks!

Jan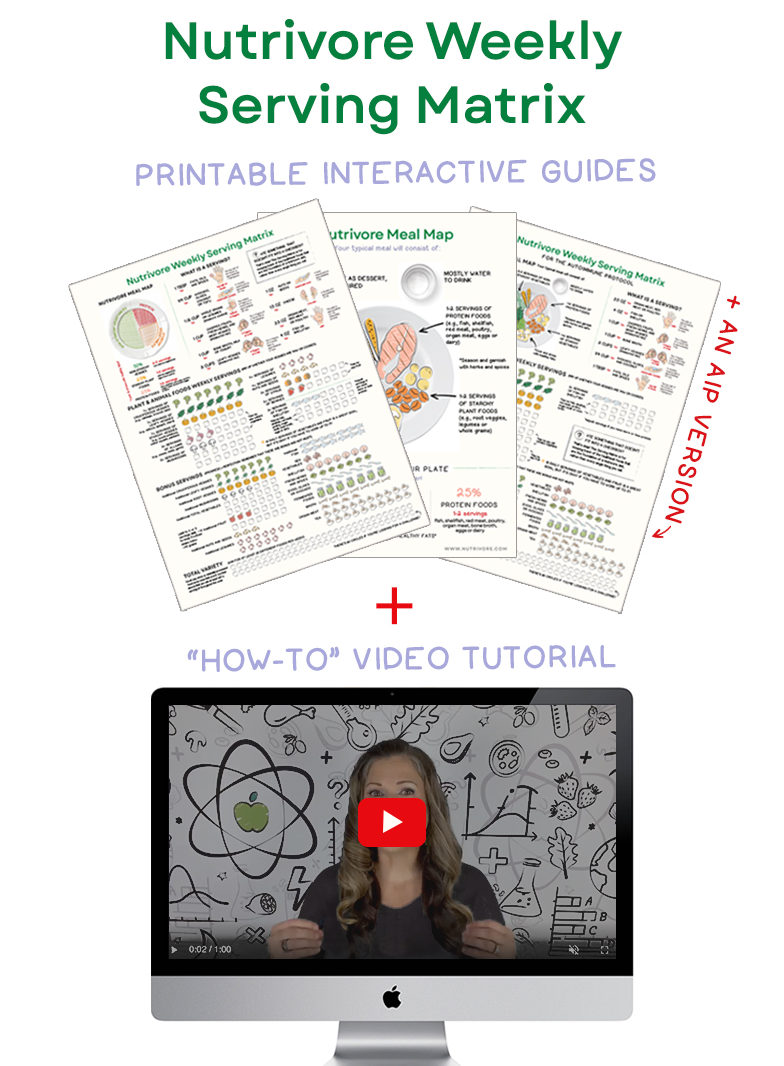 Personally, I think these AIP Mini Rustic Apple Pies are even better than the Marie Callender's version. And obviously they are much healthier! The pie crust is, in my husbands word's, "the real deal" and he doesn't give compliments like that often. It is flaky and buttery and acts very much like the traditional pie crust you may have been used to in your past, non real food eating life. I developed the pie crust when trying to create an AIP version of my pumpkin pie recipe for Thanksgiving and it is equally fantastic whether you are filling it with apples or pumpkin.
I have also made these using the yuca dough from Jennifer at Predominately Paleo and that worked wonderfully as well. So if you're looking for something a little simpler but less traditional, give that a try. Jennifer has created a step by step how to video here.
I hope these AIP Mini Rustic Apple Pies fill your holidays with a little extra joy, whether you are on the autoimmune protocol or not. No one should have to feel deprived, especially during this time of year!
Prep time: one hour
Cook time: 20 minutes
Servings: 12
For the crust:
For the Filling:
For the crumble topping:
Combine flour, salt and gelatin in a mixing bowl
Cut shortening into flour mixture with a pastry cutter or two knives until it is roughly the size of a pea
Add applesauce, ice water and vinegar and mix with a spoon until combined
Chill dough until chilled but not hard, about 30 mins
Roll out dough between two pieces of parchment paper until it's about 1/4 inch thick
Using the ring of a mason jar lid, cut dough into circles
Press dough into a greased muffin tin, making sure there are no cracks in dough
Using a fork, poke several little holes in the bottom of the dough
Mix the chopped apples, coconut sugar, cinnamon, and arrowroot powder in a bowl until combined
Add about 1/4 cup filling mixture per crust
Combine topping ingredients in a small bowl and mix together with a fork until combined
Sprinkle the topping mixture onto each pie
Bake at 400 degrees for 18-20 minutes