In this episode, it's all about the gallbladder! Stacy doesn't have one and shares her experiences and how it was certainly linked to gluten intolerance. We invite over the nutritionist who convinced her to use supplements to make up for her gall functions, Diana Rodgers of Radiance Nutrition!
*NEW* The Gut Health Cookbook!
The Gut Health Cookbook is fantastic! Thank you for researching and creating The Gut Health Cookbook! Such wonderful recipes! I'm so excited to try them all! -Sue
The Gut Health Cookbook puts the 20 Keys to Gut Health into practice with:
180+ recipes featuring 61 gut health superfoods

Gut health food lists

Why's behind each gut health superfood
Get instant digital access for $27.99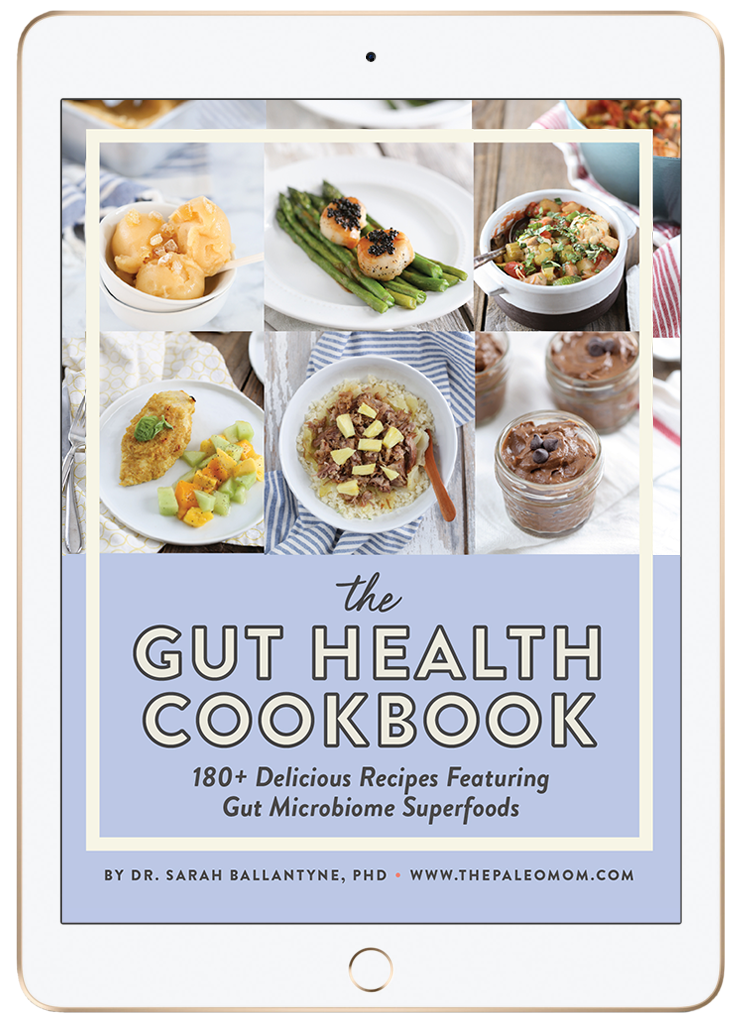 Listen in iTunes
or download and listen by clicking the PodBean player below
If you enjoy the show, please review it in iTunes!
The Paleo View (TPV), Episode 16: The Gallbladder Show
0:00 – Introduction
1:18 – News and Views
15:22 – Science with Sarah: What is a Gallbladder and Does React Poorly to Gluten?

There is definitely a published and accepted link between celiac and gallbladder disease
The most common test for celiac is blood analysis for gliadin (a gluten associated protein) antibodies. On a gluten-free diet, no antibodies would be produced.
An article that mentions the link between malabsorption and insatiable carbohydrate cravings

23:00 – Questions and answers

Our guest is Diana Rodgers, who really helped Stacy when she was debating supplementing. Her Nutrition practice can be found at Radiance Nutrition, and her blog is a Sustainable Dish. She was also the host of the Sustainable Feast during AHS.
25:22 – Does you body need a gallbladder?
29:30 – What changes after removing your gallbladder and how can you deal with it?
33:49 – What foods do you recommend for fats after having your gallbladder out?
38:44 – Do you recommend any supplements for living without a gallbladder?

I think you mean B-12, Stacy? The most active ingredient in Red Bull!
Why ox bile? Because it is chemically similar to human bile, surprising. Taurine, an extract from ox bile is also an active ingredient in Red Bull!
And to keep the trifecta, Glucuronolactone is found most prevalently in bone broths and is a third active ingredient in Red Bull! So I guess I should chug the stuff, right?
Diane's post on Stomach Acid

49:13 – Is it true the you need to go low fat or vegetarian because of gallbladder issues?
57:51 – What should you do if you're having issues after surgery?
1:02:00 – Can you dissolve gallstones?
1:12:23 – Happy email

1:17:30 – Outro