I've said it before, and I'll say it again: Brussels sprouts are a seriously underrated vegetable! I've been really excited over the last several years to see these crunchy, cruciferous sprouts coming back, because they're really a very dense source of nutrition. For one thing, sulfer-containing veggies like Brussels sprouts, cabbage and broccoli are great for feeding good gut bugs. Plus, Brussels sprouts are a great source of folate (tough to get, but very important!) and Vitamins K, C, B1, B6, potassium…the list goes on! Want to learn more? Check out my post The Importance of Nutrient Density.
I love Brussels sprouts simply roasted (see Roasted Brussels Sprouts) and braised (see Bacon-Braised Brussels Sprouts), but raw and shaved Brussels are an entirely different and absolutely delightful experience. This fully AIP shaved Brussels salad pairs this nutrient-dense vegetable with bacon, coconut flakes and dried apricots for a hit of sweetness. I find it offsets the more bitter flavor of the Brussels really well, as does the dressing!
*NEW* The Gut Health Cookbook!
The Gut Health Cookbook is fantastic! Thank you for researching and creating The Gut Health Cookbook! Such wonderful recipes! I'm so excited to try them all! -Sue
The Gut Health Cookbook puts the 20 Keys to Gut Health into practice with:
180+ recipes featuring 61 gut health superfoods

Gut health food lists

Why's behind each gut health superfood
Get instant digital access for $27.99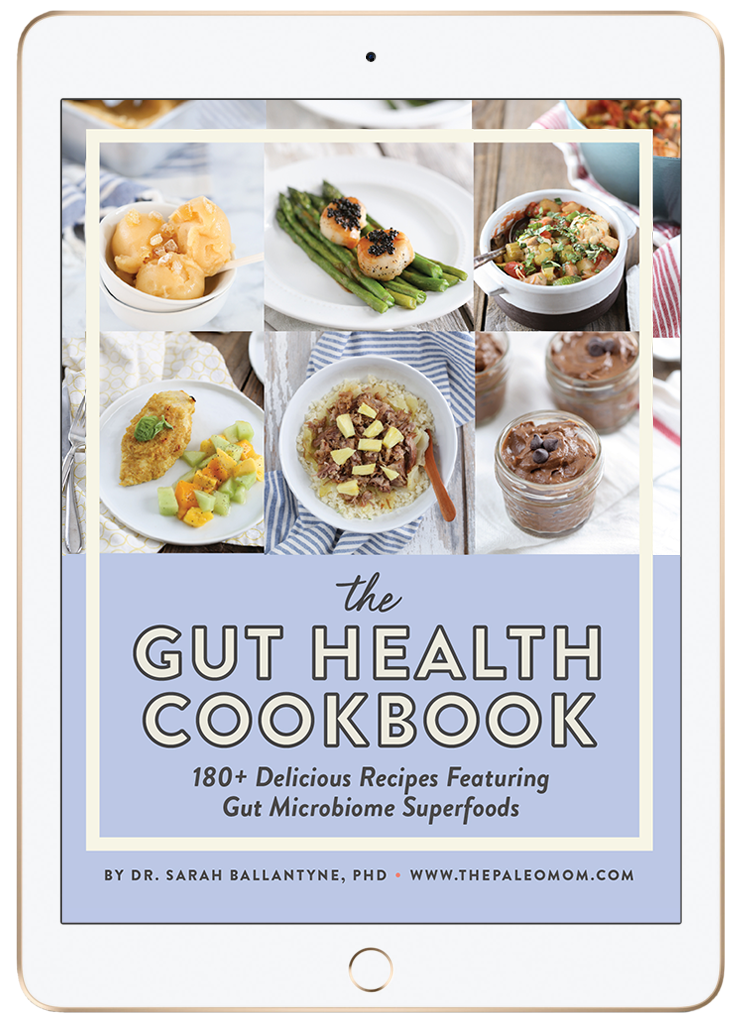 This is a great recipe for Labor Day potlucks. To transport, combine everything at home and transport in an airtight container; then give a final toss before serving. Try it out and let me know what you think!

Ingredients
Directions:
If using whole Brussels, trim off the brown part of the stems and either slice with a mandolin slicer or with a food processor as finely as possible.
Chop bacon finely and brown on the stovetop in a pan until crispy, 8-10 minutes. Drain excess fat and let cool.
Combine the salt, cinnamon, lemon juice, and olive oil. Pour over the sprouts and toss to coat evenly. Add bacon bits, chopped apricots and coconut flakes, then toss to combine. Serve.