In this episode, we celebrate the fifth anniversary of Sarah switching to a Paleo diet! We're talking all about how far we've come and what we're doing next!
Click here to be taken to iTunes
or download and listen by clicking the PodBean Player below
Nutrivore Weekly Serving Matrix
An easy-to-use and flexible weekly checklist
to help you maximize nutrient-density.
The Weekly Serving Matrix is very helpful! I've been eating along these lines but this really helps me know where to focus vs. which foods serve a more secondary role. It's super helpful and has taken a lot of worry out of my meal planning. Thanks!

Jan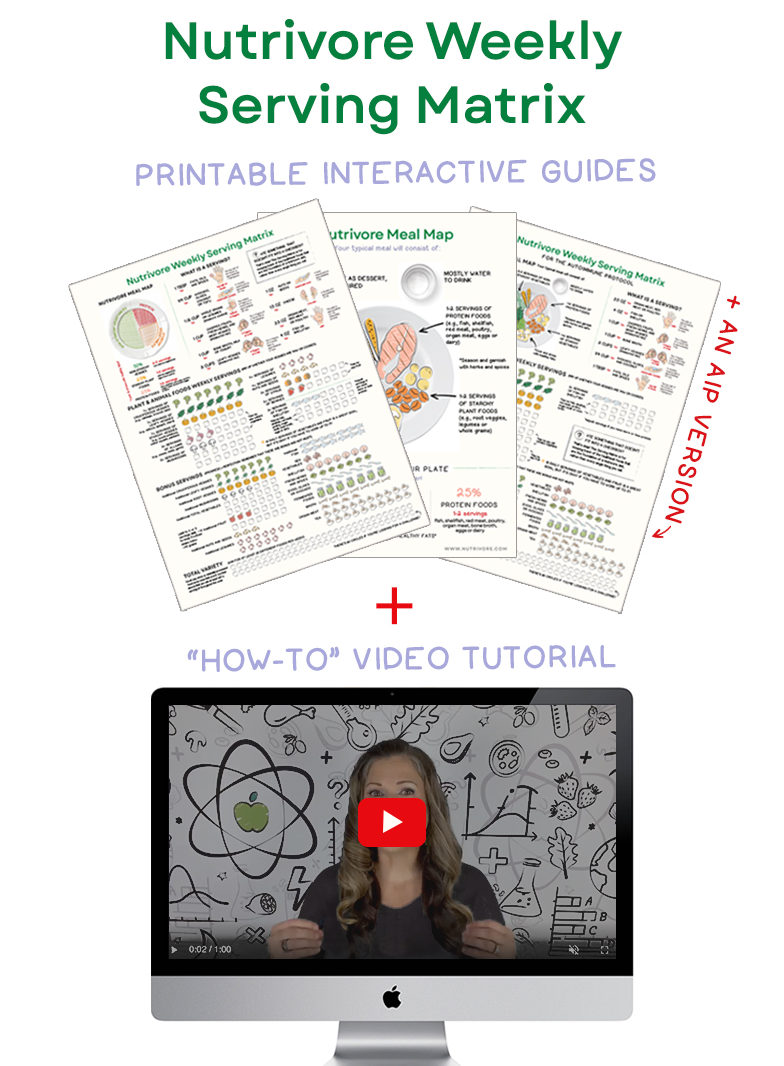 If you enjoy the show, please review it in iTunes!
The Paleo View (TPV), Episode 211: Sarah's Fifth Paleoversary!
Intro (0:00)
Sarah's Fifth Paleoversary! (0:40)

Sarah is a bit of a dork from dork town, but you already knew that
Cole is turning 11 and going into the 6th grade!
This is the longest Sarah has committed to anything health related.
Sarah didn't quite know what she wanted to do professionally when she started Paleo because when she began she was too sick to science. Now she's a health educator, thanks to Paleo!
She found a new part of herself that was strong and driven and able to be a positive and changed person. Stacy noticed how much she's changed from her family photos
Sarah says she has found her voice and feels confident for the first time.
Funnily enough, she's now learned how to do her hair and makeup!
But both Sarah and Stacy emphasize that it's important to love yourself always! Love both your past and your present.
Sarah got to talk at the Paleo FX Entrepreneur conference. She talked about how to have an authentic business.
Stacy finds how looking at Facebook memories reminds her of how far she's come.
Her slumps now aren't as low as her good days back then
Sarah partially made her choices to model healthy choices for her daughters, who now see her modeling good choices.
Remember: Every step is a good step on a long journey!
Sarah won't be bored; she's got a dozen books she wants to write!
Stacy wants to open a bed and breakfast in the future!
The Paleo Parents are moving to the new site RealEverything.com in the near future! Including "Thirsty Brain" podcast with Matt and Cole!
And the positivity and encouragement we get that inspires us comes from you! Thank you!
Sean Astin reads A Bad Case of Stripes by the great David Shannon on this site!

Outro (41:43)