First off, I have to specially thank one of my twitter followers, @Paleoanton, who originally sent me this authentic recipe for Swedish meatballs.
Meatballs are a kid (and grown-up) favorite, but often require grain-based fillers and binders. Swedish meatballs are a minimally spiced version (my husband calls them boring, but I vehemently disagree), so you really get to just enjoy the flavor of good meat. They are typically served in gravy, often with something like plain noodles on the side. I like them with some braised cabbage and sautéed mushrooms. I made these with grass-fed beef and they were delicious!
*NEW* The Gut Health Cookbook!
The Gut Health Cookbook is fantastic! Thank you for researching and creating The Gut Health Cookbook! Such wonderful recipes! I'm so excited to try them all! -Sue
The Gut Health Cookbook puts the 20 Keys to Gut Health into practice with:
180+ recipes featuring 61 gut health superfoods

Gut health food lists

Why's behind each gut health superfood
Get instant digital access for $27.99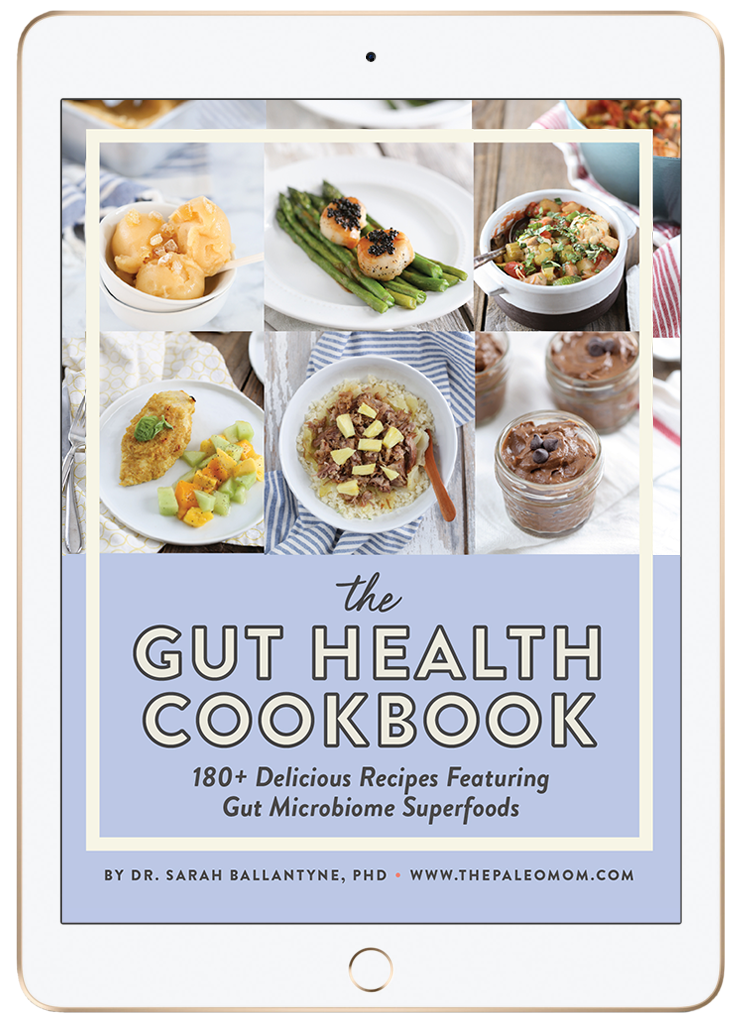 A note about arrowroot powder: Arrowroot powder is a great thickener (made from a tuber). It doesn't lump and doesn't alter the flavor. When you first add it, it will seem cloudy, but it will turn translucent as it cooks. The resulting gravy is clearer than what you're used to, but still thick and tastes great.
Prep Time: 15 minutes
Cook Time: 30 minutes
The Ultimate Support for Your AIP Journey!
Dr. Sarah Ballantyne has delivered an exceptional course and I highly recommend this to anyone looking to improve their health. There is something for everyone. It was extremely helpful and worth the investment. -Marie Schlichtig
The AIP Lecture Series is the ultimate Autoimmune Protocol educational experience! Learn directly from Dr. Sarah!
6-week online course
42 on-demand video lectures
dozens of printable guides
self-discovery exercises and action steps
online forum and guided discussions
support and guidance from Dr. Sarah Ballantyne!
The next session begins January 18th, 2021.
(Use code AIPLS85 to save $85 and get bonus access to the Gut Health Fundamentals online course!)
Serves: 3-4 (16 meatballs)
Ingredients (meatballs):
Heat a skillet over medium heat.

Add oil and onion and

sauté

until completely cooked, approximately 10 minutes.
Preheat oven to 400F.

Line a baking sheet with parchment paper.
Mix all ingredients in a bowl (I find it easiest to use my hands).

Form 1 ½" meatballs by hand and place on prepared baking sheet (you should get approximately 16 meatballs).
Bake in the oven for 20 minutes, or until cooked through.
Ingredients (gravy):
Place broth and butter in the skillet that the onions were cooked in.

Stir in the arrowroot powder.

Bring to a simmer over medium-high heat.
Stir frequently until thick, approximately 3-4 minutes.
Toss meatballs in gravy (including any juices from the baking sheet) and enjoy!