The inspiration for this cake came from my daughter's second birthday cake. I baked Elena Amsterdam's chocolate layer cake with coconut flour recipe and frosted with a lacto-Paleo chocolate fudge frosting (the kind that is mostly chocolate with a little cream and butter for good measure). Elena's recipe produces a delightful spongy cake with a mild chocolate flavor. Combined with the intense flavor of the frosting, my daughter's birthday cake was a resounding success. But, it got me thinking. What if I could develop a chocolate cake that had all the lovely spongy texture of this cake but enough chocolate flavor to stand on its own without frosting. This took quite a bit of tinkering and many iterations to boost the chocolate flavor sufficiently without giving up too much on the texture. The chocolate flavor is enhanced by the cayenne and cinnamon which give this cake a delightful "kick".
A note on cocoa: There are three different "types" of cocoa that you can buy in stores. The easiest to find is "Alkalized", also called "Dutch-Processed". This cocoa powder has a darker color (and is considered easier to bake with) but also has many of the anti-oxidants stripped out in the alkalizing process. Avoiding this type of cocoa can be a challenge because it's not always labeled, but most of the grocery store brands are alkalized. Look for either "Natural" or "Raw" Cacao Powder
, both of which contain way more anti-oxidants. While they are a lighter color, they are also a better flavor.
*NEW* Guide to Nutrivore E-Book!
Nutrivore is the simple yet revolutionary concept:
Choose foods to meet the body's nutritional needs!
I'm very excited about the Nutrivore information! Thank you so much for all your research and hard work you put into this kind of information for all of us to use!! -Debbie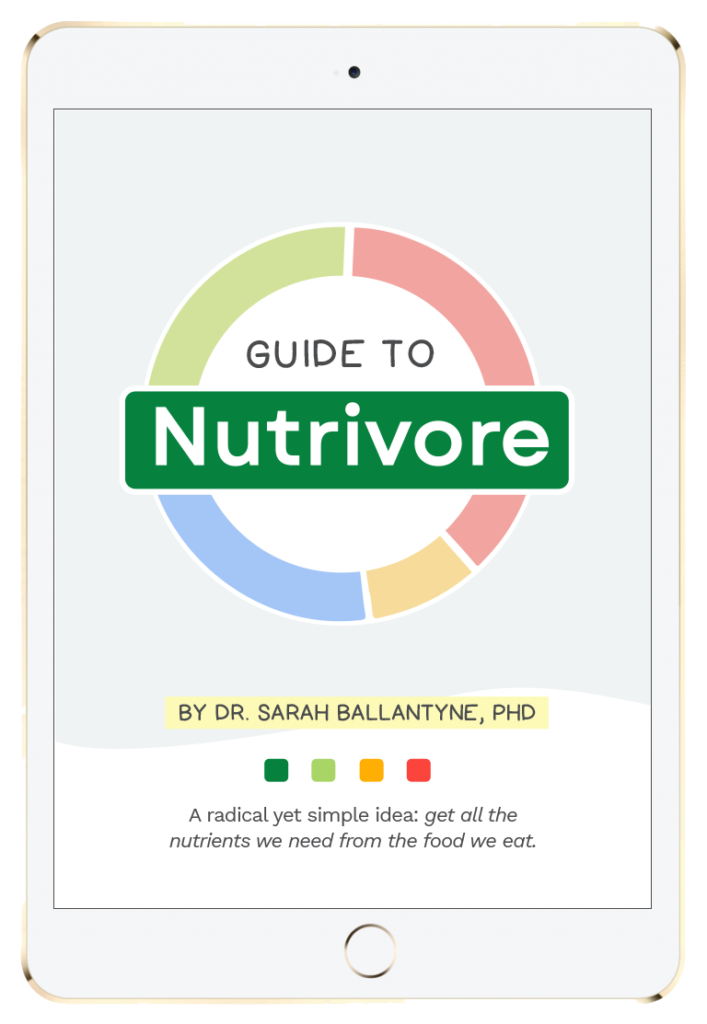 Ingredients:
1. Preheat oven to 325F. Line 5"X9" loaf pan with wax paper. Grease wax paper with coconut oil.
2. Sift cocoa, coconut flour, cinnamon, cayenne, salt and baking soda into a small bowl.
3. In a food processor or blender, combine eggs, honey, molasses, and vanilla. Pulse a few times to beat together. Add melted coconut oil and chocolate and process/blend for 1 minute.
4. Add dry ingredients to food processor, and pulse to combine.
5. Pour batter into prepared loaf pan and bake for 1 hour (not a very forgiving cake if you burn it, so you might want to test for doneness with a toothpick at the 55 minute mark).
6. Let cool completely in the pan. Remove from pan and carefully remove wax paper. Enjoy!
Do you need help finding any ingredients? Check out Important Pantry Items for the Paleo Baker.
The Ultimate Support for Your AIP Journey!
Get personalized guidance and support from Dr. Sarah in this 6-week interactive online course!
Thank you for your warmth, your AIP mastery, and your dedication to answering each and every one of our questions with such kindness and attention to detail. Thank you for teaching the science behind the principles. The amount of energy you put into creating this course and responding to us in real-time is felt and APPRECIATED!!
-Nicole Wood
The next session of The AIP Lecture Series begins January 10th, 2022.
Use code AIPLS10 to save 10% thru December 15th.