This just may be the most decadent breakfast ever. It's perfect beside some eggs and sausage for a luxurious Sunday Brunch. In fact, we treat this more as dessert in our house than a breakfast because it is quite sweet. I had never cooked plantains before going Paleo and I have fallen in love with the flavor of super ripe plantains (a kind of cross between banana and apple). These plantain pancakes are delicious both warm and cold, so I often make a larger batch of them in the evening (and I just scale up or down depending on how many really ripe plantains I happen to have around). The pancakes really only flip easily if you keep them on the small side, or at least not much bigger than the size of your spatula. I usually make them about 3 inches in diameter (so I typically get 5 pancakes out of two plantains). The toasted walnuts add a lovely banana-maple-nut flavor to these pancakes (and somehow also reminiscent of apple pie), but they are optional (omit for AIP–other AIP modifications, replace nutmeg with mace and omit allspice). Other delightful toppings include a little extra cinnamon or nutmeg, Cacao Nibs
(love that crunch!), other nuts, berries, or nothing at all!
Prep Time: 10-15 minutes
*NEW* The Gut Health Cookbook!
The Gut Health Cookbook is fantastic! Thank you for researching and creating The Gut Health Cookbook! Such wonderful recipes! I'm so excited to try them all! -Sue
The Gut Health Cookbook puts the 20 Keys to Gut Health into practice with:
180+ recipes featuring 61 gut health superfoods

Gut health food lists

Why's behind each gut health superfood
Get instant digital access for $27.99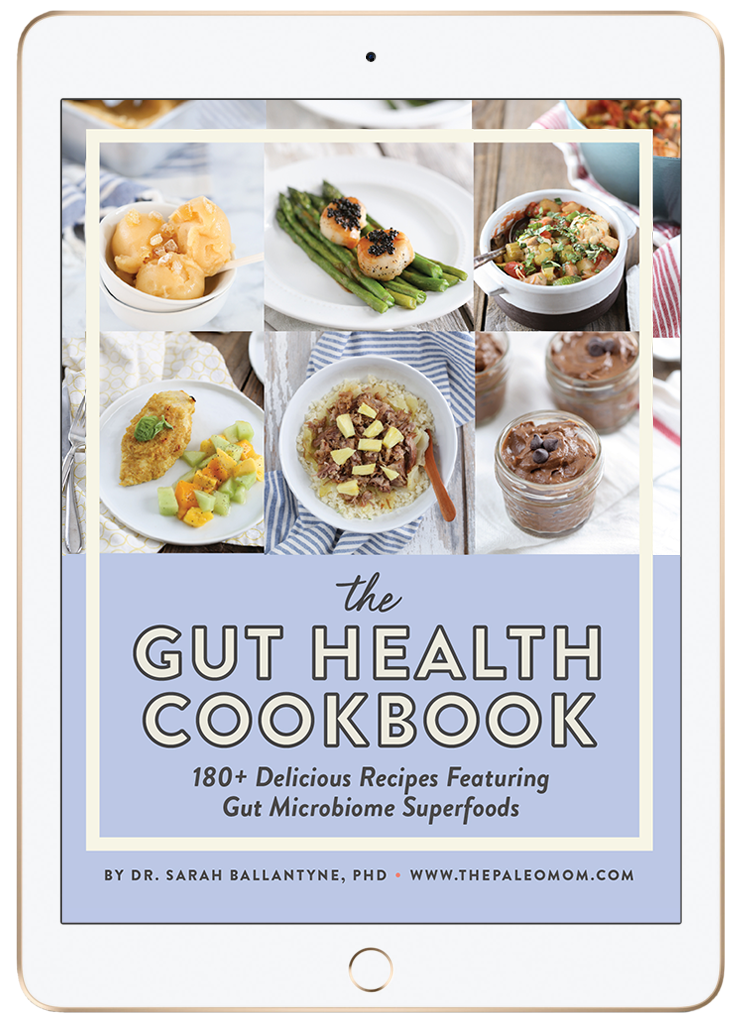 Cook Time: 20 minutes
Serves: 5
Ingredients (Toasted Walnuts):
Directions:
1. Heat a skillet over medium-high heat.
2. Add walnuts to the hot skillet and cook, shaking the pan or stirring frequently to turn the pieces. Cook until walnuts start to brown and are fragrant, about 3-4 minutes.
3. Remove from the hot pan and set aside.
The Ultimate Support for Your AIP Journey!
Dr. Sarah Ballantyne has delivered an exceptional course and I highly recommend this to anyone looking to improve their health. There is something for everyone. It was extremely helpful and worth the investment. -Marie Schlichtig
The AIP Lecture Series is the ultimate Autoimmune Protocol educational experience! Learn directly from Dr. Sarah!
6-week online course
42 on-demand video lectures
dozens of printable guides
self-discovery exercises and action steps
online forum and guided discussions
support and guidance from Dr. Sarah Ballantyne!
The next session begins January 18th, 2021.
Register now to get bonus instant access to the Gut Health Fundamentals online course!
Ingredients (Maple Coconut Cream):
Directions:
1. Let the can of coconut milk sit still at room temperature for at least 24 hours (mine are still all the time on the shelf in my cupboard; this basically just means don't toss a can into the fridge right out of your shopping bag). Then gently (no shaking!!!!) place the can in your fridge overnight. If you are using homemade coconut milk, pour it into a jar and let it sit on the counter for 2-3 hours after making it, then carefully put it in the fridge overnight (or longer).
2. Carefully remove the can/jar and open it. Spoon out the thick cream from the top half of the can into a small bowl. Avoid getting any of the coconut water which has separated to the bottom (I like to use that coconut water in smoothies).
3. Stir the maple syrup into the coconut cream and place it back in the fridge until ready to eat.
Ingredients (Plantain Pancakes):
Directions:
1. Using a fork or potato masher, mash plantain to a thick, slightly lumpy pulp (this can be a bit of a forearm workout).
2. Add spices and mash in until completely mixed in.
3. Heat 1-2 Tbsp of oil in a skillet over medium heat (use non-stick or a very well-seasoned cast iron frying pan).
4. Spoon 1/4-1/3 cup globs of mashed plantains and drop into the frying pan. Using the back of a spoon, spread them flat and about ½" thick. They should be something like 3" in diameter. I can usually fit three pancakes in a standard 12" pan so I have to cook them in batches.
5. Cook for 7-9 minutes on the first side (you should have the temperature low enough that they aren't browning too fast; low and slow is best for these). Carefully, flip the pancakes over and cook for another 7-8 minutes on the second side.
6. If you're going to eat them warm, then enjoy! If you are planning on eating them later, cool them on a wire rack. Add more coconut oil to the pan before cooking subsequent batche
s.
The Gut Health Guidebook!
The depth of information, practical tips, and the accessible way Dr. Sarah shows me how to apply complex science to improve my health is truly remarkable. -Wendy
The Gut Health Guidebook is the culmination of 6 years of research. This unprecedented deep dive into the gut microbiome delivers:
A new diet for gut health, built from the ground up

Essential gut microbiome superfoods

20 Keys to gut health
Get instant digital access for $27.99