I think pasta is actually really easy to modify for a Paleolithic diet. Noodles are just a vessel for sauce, after all, and there are plenty of wonderful vegetables that can do this job very well. The classic substitution is baked spaghetti squash, but my two favorite substitutes are braised or steamed cabbage (cut it into long strips to mimic noodles) or kale (think of it more like a farfalle). Another option is kelp noodles
, which many Paleo enthusiasts love.se yet.
Most of your favorite tomato-based sauces are probably Paleo already. Check any canned ingredients though–even canned tomatoes can actually contain some wheat! This is my family's favorite sauce. It's almost like a meaty ratatouille. It's very heavy on the vegetables, so you could actually just eat it like a stew (and this makes a big enough batch). If you like more meat in your sauce, you could add another package of ground turkey (or halve all the vegetables). I tend to use basil in the summer when my garden is full of it and oregano in the winter (since it grows throughout the winter here). You can use whichever you prefer, or some of both, but I do recommend using fresh herbs, since the flavor is so much better.
*NEW* The Gut Health Cookbook!
The Gut Health Cookbook is fantastic! Thank you for researching and creating The Gut Health Cookbook! Such wonderful recipes! I'm so excited to try them all! -Sue
The Gut Health Cookbook puts the 20 Keys to Gut Health into practice with:
180+ recipes featuring 61 gut health superfoods

Gut health food lists

Why's behind each gut health superfood
Get instant digital access for $27.99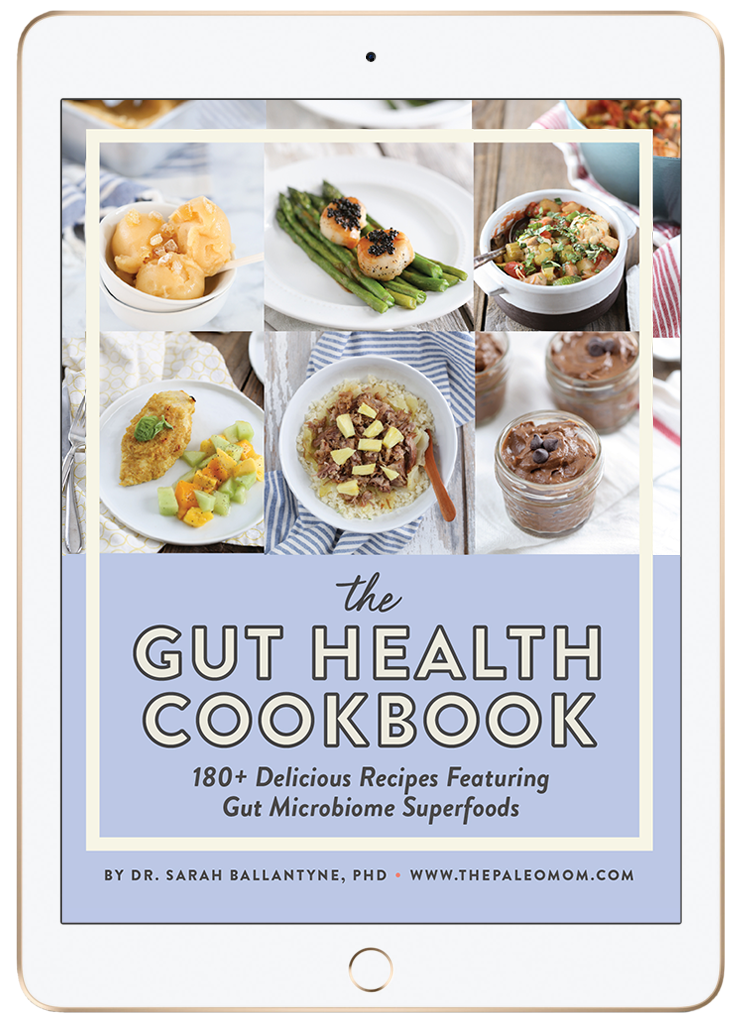 Prep Time: 3 hours to soak eggplant, plus 15 minutes to cook veggies
Cook Time: 60 minutes
Serves: 10-12 (I like to freeze some for easy meals during the week).
The Ultimate Support for Your AIP Journey!
Dr. Sarah Ballantyne has delivered an exceptional course and I highly recommend this to anyone looking to improve their health. There is something for everyone. It was extremely helpful and worth the investment. -Marie Schlichtig
The AIP Lecture Series is the ultimate Autoimmune Protocol educational experience! Learn directly from Dr. Sarah!
6-week online course
42 on-demand video lectures
dozens of printable guides
self-discovery exercises and action steps
online forum and guided discussions
support and guidance from Dr. Sarah Ballantyne!
The next session begins January 18th, 2021.
(Use code AIPLS85 to save $85 and get bonus access to the Gut Health Fundamentals online course!)
Ingredients:
2 eggplants, peeled and cut into ½" cubes
2 Tbsp salt (for salting the eggplant, not for the final sauce!)
2 lbs ground turkey (or substitute ground beef)
2 medium yellow onions, diced
6-8 stalks celery, cut into ¼" slices
8-10 cloves garlic, finely chopped
4 medium zucchini, quartered and cut into ¼" slices
1 lb mushrooms, sliced
5 14½ oz cans of organic diced tomatoes
1 can tomato paste (you can use 2 cans for a thicker sauce)
2 Tbsp fresh basil and/or oregano, finely chopped
10 oz bag of fresh spinach, roughly chopped
1. Coat eggplant with salt and place in colander in the sink for 1 to 3 hours. Rinse well then place on layered paper towel on a baking sheet or your counter, cover with more paper towel, and press the excess water out. Set aside.
2. Heat a very large pot (I use a big stock pot) on medium-high heat. Add turkey, onion, celery and garlic. Cook, stirring frequently, until turkey is browned and onion and celery are starting to soften, about 15 minutes.
3. Add canned tomatoes and tomato paste. Stir well and bring to a simmer.
4. Add zucchini, mushrooms and eggplant. Stir to incorporate and cover. Bring to a simmer and reduce heat to medium-low. Simmer covered for about ten minutes, until vegetables are starting to soften.
5. Remove lid and simmer uncovered for 20-30 minutes (or longer), stirring occasionally, until vegetables are fully cooked.
6. Add spinach and basil/oregano. Stir to incorporate and cook 2-3 more minutes until fragrant.
7. Serve over noodle substitute of your choice (I like to use cabbage or kale, steamed or braised for about 10 minutes) or enjoy as a stew!