This granola is another great alternative to eggs for breakfast in the morning. I love it by itself just like a trail mix. Your family might find it hard not to grab a handful when they walk past the jar! There are lots of different recipes for Paleo granola out there, but mine reflects the tastes of my family, none of whom like dried fruit in their granola. If you would like to add dried fruit to yours, just mix it in right when you pull the pan out of the oven, then let it cool it the pan.
*NEW* The Gut Health Cookbook!
The Gut Health Cookbook is fantastic! Thank you for researching and creating The Gut Health Cookbook! Such wonderful recipes! I'm so excited to try them all! -Sue
The Gut Health Cookbook puts the 20 Keys to Gut Health into practice with:
180+ recipes featuring 61 gut health superfoods

Gut health food lists

Why's behind each gut health superfood
Get instant digital access for $27.99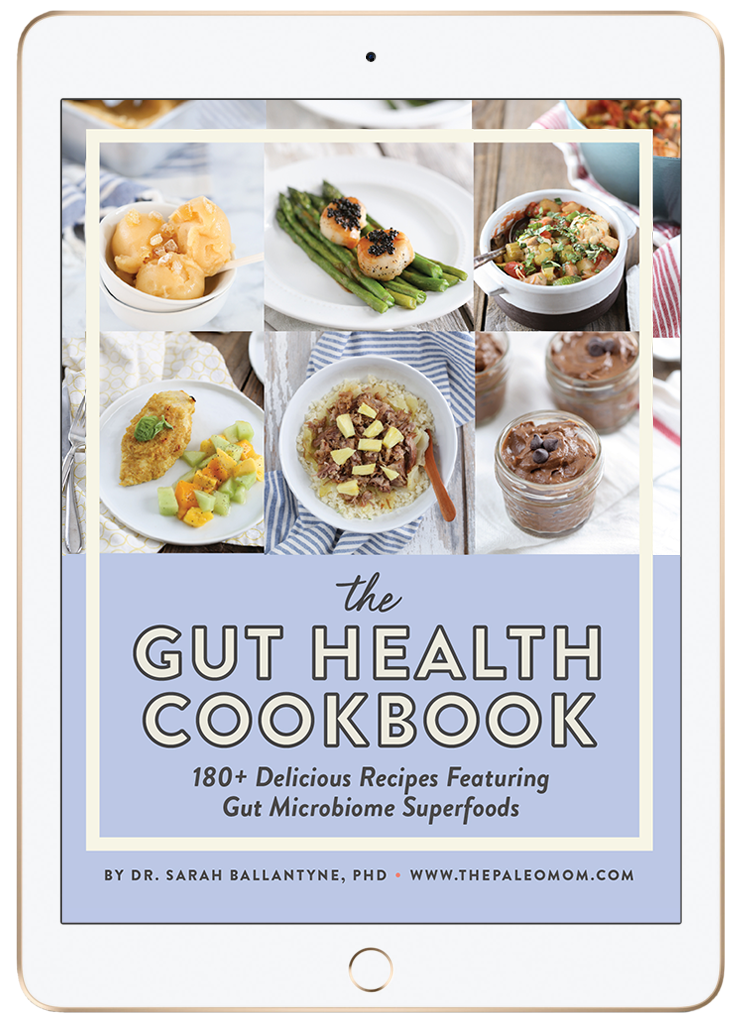 Prep time: 5 minutes
Cook time: 30 minutes
Serves: 12
Ingredients:
The Ultimate Support for Your AIP Journey!
Dr. Sarah Ballantyne has delivered an exceptional course and I highly recommend this to anyone looking to improve their health. There is something for everyone. It was extremely helpful and worth the investment. -Marie Schlichtig
The AIP Lecture Series is the ultimate Autoimmune Protocol educational experience! Learn directly from Dr. Sarah!
6-week online course
42 on-demand video lectures
dozens of printable guides
self-discovery exercises and action steps
online forum and guided discussions
support and guidance from Dr. Sarah Ballantyne!
The next session begins January 18th, 2021.
(Use code AIPLS85 to save $85 and get bonus access to the Gut Health Fundamentals online course!)
1. Preheat oven to 300F. Line a large baking pan with parchment paper.
2. Mix coconut, nuts and seeds in a big bowl. Add cinnamon and nutmeg and stir to coat.
3. Melt coconut oil and honey on low heat on the stovetop or in the microwave. Add vanilla.
4. Pour coconut oil mixture over nuts and seeds. Stir to coat. Pour out onto prepared baking sheet and spread out evenly.
5. Bake for 30 minutes, until golden brown. Let cool completely in pan (for larger chunks), then pour into a plastic container or bag for storage. Extra tasty served with berries and milk alternative of your choice!