I know I'm not alone in experiencing pandemic-related anxiety. In fact, studies have shown that the prevalence of symptoms of anxiety disorder has gone up about 3 times, depressive disorder has increased about 4 times, and suicidal ideation has about doubled since before the pandemic. Studies have estimated that about 43% of Americans are now experiencing at least one mental health symptom or behavior. So, this week on The Whole View, Stacy and I discuss and define trauma, how stress and trauma affect the brain, the difference between behavior and emotion, risk factors for PTSD, and action steps to support mental health in this challenging time and beyond.
This episode is full of useful information, whether for yourself or to support a loved one, or just to help navigate the more challenging social situations that can crop up these days.
If you enjoy the show, please review it on iTunes!
Recommended Reading and Listening
Citations
Czeisler MÉ, Lane RI, Petrosky E, Wiley JF, Christensen A, Njai R, Weaver MD, Robbins R, Facer-Childs ER, Barger LK, Czeisler CA, Howard ME, Rajaratnam SMW. Mental Health, Substance Use, and Suicidal Ideation During the COVID-19 Pandemic – United States, June 24-30, 2020. MMWR Morb Mortal Wkly Rep. 2020 Aug 14;69(32):1049-1057. doi: 10.15585/mmwr.mm6932a1. PMID: 32790653; PMCID: PMC7440121.
Vahratian A, Blumberg SJ, Terlizzi EP, Schiller JS. Symptoms of Anxiety or Depressive Disorder and Use of Mental Health Care Among Adults During the COVID-19 Pandemic – United States, August 2020-February 2021. MMWR Morb Mortal Wkly Rep. 2021 Apr 2;70(13):490-494. doi: 10.15585/mmwr.mm7013e2. PMID: 33793459; PMCID: PMC8022876.
Anxiety, Depressive Disorders Increased August 2020 to February 2021 in the United States
The Implications of COVID-19 for Mental Health and Substance Use
Calming Trauma – How Understanding the Brain Can Help
Mahan AL, Ressler KJ. Fear conditioning, synaptic plasticity and the amygdala: implications for posttraumatic stress disorder. Trends Neurosci. 2012 Jan;35(1):24-35. doi: 10.1016/j.tins.2011.06.007. Epub 2011 Jul 26. PMID: 21798604; PMCID: PMC3206195.
Save 70% Off the AIP Lecture Series!
Learn everything you need to know about the Autoimmune Protocol to regain your health!
I am loving this AIP course and all the information I am receiving. The amount of work you have put into this is amazing and greatly, GREATLY, appreciated. Thank you so much. Taking this course gives me the knowledge I need to understand why my body is doing what it is doing and reinforces my determination to continue along this dietary path to heal it. Invaluable!

Carmen Maier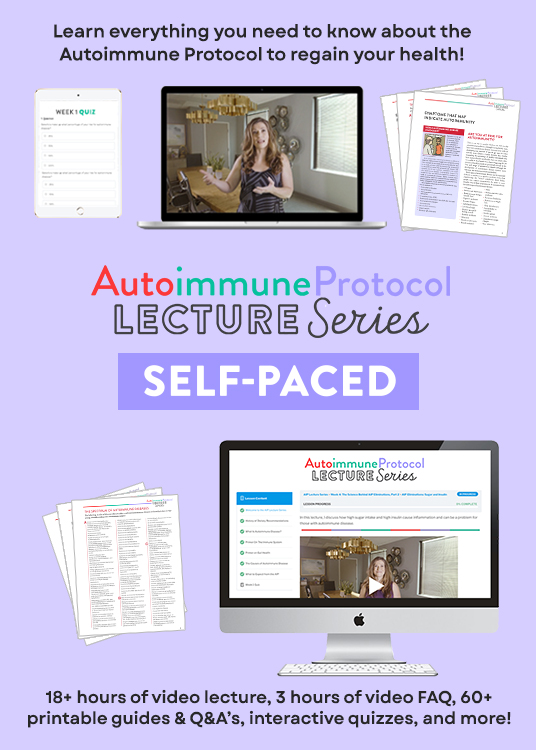 van den Berk-Clark C, Secrest S, Walls J, Hallberg E, Lustman PJ, Schneider FD, Scherrer JF. Association between posttraumatic stress disorder and lack of exercise, poor diet, obesity, and co-occuring smoking: A systematic review and meta-analysis. Health Psychol. 2018 May;37(5):407-416. doi: 10.1037/hea0000593. PMID: 29698016; PMCID: PMC5922789.
Davison, K.M., Hyland, C.E., West, M.L. et al. Post-traumatic stress disorder (PTSD) in mid-age and older adults differs by immigrant status and ethnicity, nutrition, and other determinants of health in the Canadian Longitudinal Study on Aging (CLSA). Soc Psychiatry Psychiatr Epidemiol 56, 963–980 (2021). https://doi.org/10.1007/s00127-020-02003-7
Rao TS, Asha MR, Ramesh BN, Rao KS. Understanding nutrition, depression and mental illnesses. Indian J Psychiatry. 2008 Apr;50(2):77-82. doi: 10.4103/0019-5545.42391. PMID: 19742217; PMCID: PMC2738337.
Stonerock GL, Hoffman BM, Smith PJ, Blumenthal JA. Exercise as Treatment for Anxiety: Systematic Review and Analysis. Ann Behav Med. 2015 Aug;49(4):542-56. doi: 10.1007/s12160-014-9685-9. PMID: 25697132; PMCID: PMC4498975.
Hölzel BK, Hoge EA, Greve DN, Gard T, Creswell JD, Brown KW, Barrett LF, Schwartz C, Vaitl D, Lazar SW. Neural mechanisms of symptom improvements in generalized anxiety disorder following mindfulness training. Neuroimage Clin. 2013 Mar 25;2:448-58. doi: 10.1016/j.nicl.2013.03.011. PMID: 24179799; PMCID: PMC3777795.