This week on The Whole View, Stacy and I answer listener Dana's question about cannabinoid hyperemesis syndrome (CHS), a condition that can affect regular cannabis users, where they experience episodes of severe nausea, vomiting, abdominal pain and compulsion to bathe in hot water. The symptoms aren't improved by antiemetics and typically last 24 to 48 hours, recurring every few weeks to months.  We discuss the proposed mechanisms of CHS, and the risks of developing it for both recreational marijuana users and medical marijuana users, especially in the context of THC-enriched cannabis. We also discuss the safety of CBD and the possible role CBD may play in preventing CHS. Finally, we compare and contrast THC and CBD's impact on gut health, and share lots of good news for people who supplement with high quality CBD!
If you enjoy the show, please review it on iTunes!
Nutrivore Weekly Serving Matrix
An easy-to-use and flexible weekly checklist
to help you maximize nutrient-density.
The Weekly Serving Matrix is very helpful! I've been eating along these lines but this really helps me know where to focus vs. which foods serve a more secondary role. It's super helpful and has taken a lot of worry out of my meal planning. Thanks!

Jan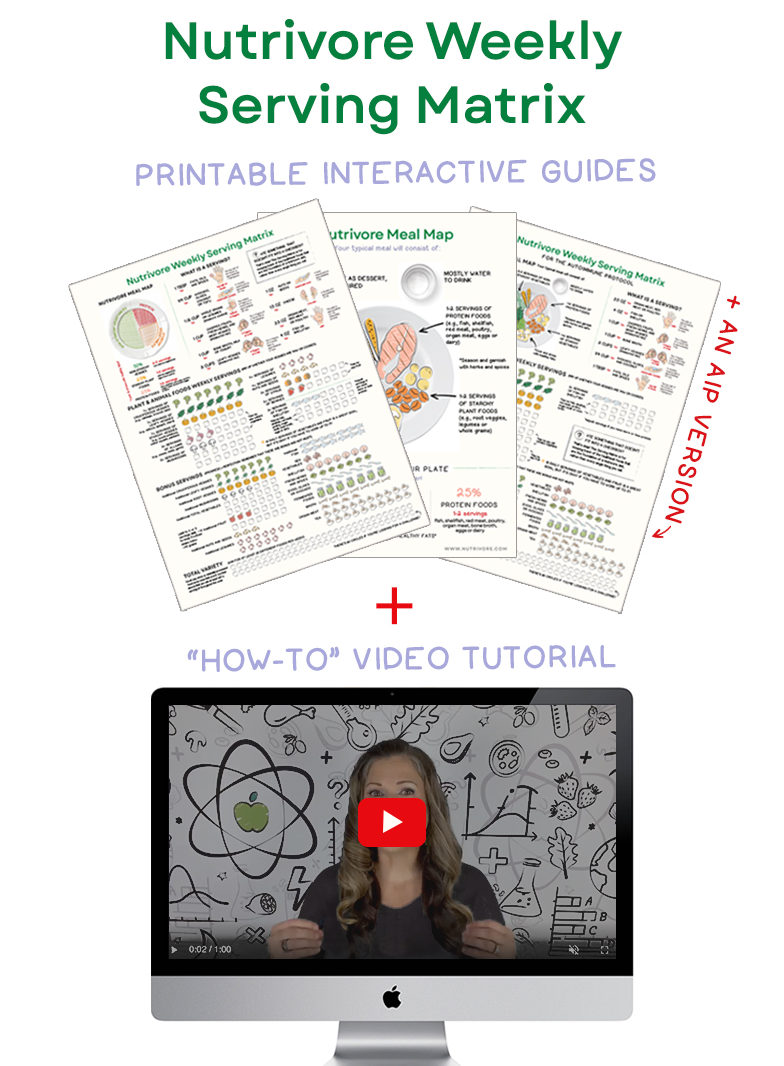 Recommended Reading and Listening
Citations
Laprairie RB, Bagher AM, Kelly ME, Denovan-Wright EM. Cannabidiol is a negative allosteric modulator of the cannabinoid CB1 receptor. Br J Pharmacol. 2015 Oct;172(20):4790-805. doi: 10.1111/bph.13250. Epub 2015 Oct 13. PMID: 26218440; PMCID: PMC4621983.
Simonetto DA, Oxentenko AS, Herman ML, Szostek JH. Cannabinoid hyperemesis: a case series of 98 patients. Mayo Clin Proc. 2012 Feb;87(2):114-9. doi: 10.1016/j.mayocp.2011.10.005. PMID: 22305024; PMCID: PMC3538402.
Izzo AA, Mascolo N, Pinto L, Capasso R, Capasso F. The role of cannabinoid receptors in intestinal motility, defaecation and diarrhoea in rats. Eur J Pharmacol. 1999 Nov 12;384(1):37-42. doi: 10.1016/s0014-2999(99)00673-1. PMID: 10611417.
Krowicki ZK, Moerschbaecher JM, Winsauer PJ, Digavalli SV, Hornby PJ. Delta9-tetrahydrocannabinol inhibits gastric motility in the rat through cannabinoid CB1 receptors. Eur J Pharmacol. 1999 Apr 29;371(2-3):187-96. doi: 10.1016/s0014-2999(99)00165-x. PMID: 10357256.
McCallum RW, Soykan I, Sridhar KR, Ricci DA, Lange RC, Plankey MW. Delta-9-tetrahydrocannabinol delays the gastric emptying of solid food in humans: a double-blind, randomized study. Aliment Pharmacol Ther. 1999 Jan;13(1):77-80. doi: 10.1046/j.1365-2036.1999.00441.x. PMID: 9892882.
Lundberg DJ, Daniel AR, Thayer SA. Delta(9)-Tetrahydrocannabinol-induced desensitization of cannabinoid-mediated inhibition of synaptic transmission between hippocampal neurons in culture. Neuropharmacology. 2005 Dec;49(8):1170-7. doi: 10.1016/j.neuropharm.2005.07.012. Epub 2005 Sep 12. PMID: 16157354.
Sim LJ, Hampson RE, Deadwyler SA, Childers SR. Effects of chronic treatment with delta9-tetrahydrocannabinol on cannabinoid-stimulated [35S]GTPgammaS autoradiography in rat brain. J Neurosci. 1996 Dec 15;16(24):8057-66. doi: 10.1523/JNEUROSCI.16-24-08057.1996. PMID: 8987831; PMCID: PMC6579228.
Darmani NA. The cannabinoid CB1 receptor antagonist SR 141716A reverses the antiemetic and motor depressant actions of WIN 55, 212-2. Eur J Pharmacol. 2001 Oct 26;430(1):49-58. doi: 10.1016/s0014-2999(01)01355-3. PMID: 11698062.
Devane WA, Hanus L, Breuer A, Pertwee RG, Stevenson LA, Griffin G, Gibson D, Mandelbaum A, Etinger A, Mechoulam R. Isolation and structure of a brain constituent that binds to the cannabinoid receptor. Science. 1992 Dec 18;258(5090):1946-9. doi: 10.1126/science.1470919. PMID: 1470919.
Kreuz DS, Axelrod J. Delta-9-tetrahydrocannabinol: localization in body fat. Science. 1973 Jan 26;179(4071):391-3. doi: 10.1126/science.179.4071.391. PMID: 4682965.
Del Mar Ramirez Fernandez M, De Boeck G, Wood M, Lopez-Rivadulla M, Samyn N. Simultaneous analysis of THC and its metabolites in blood using liquid chromatography-tandem mass spectrometry. J Chromatogr B Analyt Technol Biomed Life Sci. 2008 Nov 15;875(2):465-70. doi: 10.1016/j.jchromb.2008.09.032. Epub 2008 Oct 2. PMID: 18922747.
Lichtman AH, Wiley JL, LaVecchia KL, Neviaser ST, Arthur DB, Wilson DM, Martin BR. Effects of SR 141716A after acute or chronic cannabinoid administration in dogs. Eur J Pharmacol. 1998 Sep 18;357(2-3):139-48. doi: 10.1016/s0014-2999(98)00558-5. PMID: 9797029.
Sugiura T, Kishimoto S, Oka S, Gokoh M. Biochemistry, pharmacology and physiology of 2-arachidonoylglycerol, an endogenous cannabinoid receptor ligand. Prog Lipid Res. 2006 Sep;45(5):405-46. doi: 10.1016/j.plipres.2006.03.003. Epub 2006 Apr 19. PMID: 16678907.
Ros J, Clària J, To-Figueras J, Planagumà A, Cejudo-Martín P, Fernández-Varo G, Martín-Ruiz R, Arroyo V, Rivera F, Rodés J, Jiménez W. Endogenous cannabinoids: a new system involved in the homeostasis of arterial pressure in experimental cirrhosis in the rat. Gastroenterology. 2002 Jan;122(1):85-93. doi: 10.1053/gast.2002.30305. PMID: 11781284.
Parfieniuk A, Flisiak R. Role of cannabinoids in chronic liver diseases. World J Gastroenterol. 2008 Oct 28;14(40):6109-14. doi: 10.3748/wjg.14.6109. PMID: 18985799; PMCID: PMC2761570.
Cluny NL, Keenan CM, Reimer RA, Le Foll B, Sharkey KA. Prevention of Diet-Induced Obesity Effects on Body Weight and Gut Microbiota in Mice Treated Chronically with Δ9-Tetrahydrocannabinol. PLoS One. 2015 Dec 3;10(12):e0144270. doi: 10.1371/journal.pone.0144270. PMID: 26633823; PMCID: PMC4669115.
Al-Ghezi ZZ, Busbee PB, Alghetaa H, Nagarkatti PS, Nagarkatti M. Combination of cannabinoids, delta-9-tetrahydrocannabinol (THC) and cannabidiol (CBD), mitigates experimental autoimmune encephalomyelitis (EAE) by altering the gut microbiome. Brain Behav Immun. 2019 Nov;82:25-35. doi: 10.1016/j.bbi.2019.07.028. Epub 2019 Jul 26. PMID: 31356922; PMCID: PMC6866665.
Silvestri C, Pagano E, Lacroix S, Venneri T, Cristiano C, Calignano A, Parisi OA, Izzo AA, Di Marzo V, Borrelli F. Fish Oil, Cannabidiol and the Gut Microbiota: An Investigation in a Murine Model of Colitis. Front Pharmacol. 2020 Oct 8;11:585096. doi: 10.3389/fphar.2020.585096. PMID: 33162890; PMCID: PMC7580385.
Hasin DS. US Epidemiology of Cannabis Use and Associated Problems. Neuropsychopharmacology. 2018 Jan;43(1):195-212. doi: 10.1038/npp.2017.198. Epub 2017 Aug 30. PMID: 28853439; PMCID: PMC5719106.
National Estimates of Marijuana Use and Related Indicators — National Survey on Drug Use and Health, United States, 2002–2014
Breijyeh Z, Jubeh B, Bufo SA, Karaman R, Scrano L. Cannabis: A Toxin-Producing Plant with Potential Therapeutic Uses. Toxins (Basel). 2021 Feb 5;13(2):117. doi: 10.3390/toxins13020117. PMID: 33562446; PMCID: PMC7915118.
Galli JA, Sawaya RA, Friedenberg FK. Cannabinoid hyperemesis syndrome. Curr Drug Abuse Rev. 2011 Dec;4(4):241-9. doi: 10.2174/1874473711104040241. PMID: 22150623; PMCID: PMC3576702.
Sorensen CJ, DeSanto K, Borgelt L, Phillips KT, Monte AA. Cannabinoid Hyperemesis Syndrome: Diagnosis, Pathophysiology, and Treatment-a Systematic Review. J Med Toxicol. 2017 Mar;13(1):71-87. doi: 10.1007/s13181-016-0595-z. Epub 2016 Dec 20. PMID: 28000146; PMCID: PMC5330965.
Smith TN, Walsh A, Forest CP. Cannabinoid hyperemesis syndrome: An unrecognized cause of nausea and vomiting. JAAPA. 2019 Apr;32(4):1-5. doi: 10.1097/01.JAA.0000554231.86747.0a. PMID: 30913155.
Sharma U. Cannabis hyperemesis syndrome. BMJ Case Rep. 2018 Oct 14;2018:bcr2018226524. doi: 10.1136/bcr-2018-226524. PMID: 30323105; PMCID: PMC6194425.
Perisetti A, Gajendran M, Dasari CS, Bansal P, Aziz M, Inamdar S, Tharian B, Goyal H. Cannabis hyperemesis syndrome: an update on the pathophysiology and management. Ann Gastroenterol. 2020 Nov-Dec;33(6):571-578. doi: 10.20524/aog.2020.0528. Epub 2020 Sep 16. PMID: 33162734; PMCID: PMC7599351.
Perisetti A, Goyal H. Endocannabinoid system and cannabis hyperemesis syndrome: a narrative update. Eur J Gastroenterol Hepatol. 2022 Jan 1;34(1):1-8. doi: 10.1097/MEG.0000000000001992. PMID: 33208685.
Maselli DB, Camilleri M. Pharmacology, Clinical Effects, and Therapeutic Potential of Cannabinoids for Gastrointestinal and Liver Diseases. Clin Gastroenterol Hepatol. 2021 Sep;19(9):1748-1758.e2. doi: 10.1016/j.cgh.2020.04.020. Epub 2020 Jul 13. PMID: 32673642; PMCID: PMC7854774.
Randall K, Hayward K. Emergent Medical Illnesses Related to Cannabis Use. Mo Med. 2019 May-Jun;116(3):226-228. PMID: 31527946; PMCID: PMC6690288.
Karoly HC, Mueller RL, Bidwell LC, Hutchison KE. Cannabinoids and the Microbiota-Gut-Brain Axis: Emerging Effects of Cannabidiol and Potential Applications to Alcohol Use Disorders. Alcohol Clin Exp Res. 2020 Feb;44(2):340-353. doi: 10.1111/acer.14256. Epub 2019 Dec 24. PMID: 31803950.
Goyal H, Singla U, Gupta U, May E. Role of cannabis in digestive disorders. Eur J Gastroenterol Hepatol. 2017 Feb;29(2):135-143. doi: 10.1097/MEG.0000000000000779. PMID: 27792038.
Gyires K, Zádori ZS. Role of Cannabinoids in Gastrointestinal Mucosal Defense and Inflammation. Curr Neuropharmacol. 2016;14(8):935-951. doi: 10.2174/1570159×14666160303110150. PMID: 26935536; PMCID: PMC5333598.
:

Become a Member for FREE!
The Paleo Mom Members' Area is resource central!  
You'll get FREE, unlimited access to dozens of quality resources, including introductory series, downloadable e-books, exclusive recipes, printables, videos and guides!
You may enjoy these related posts:
There's actually quite a lot of science showing that CBD (without THC) is very …