There's actually quite a lot of science showing that CBD (without THC) is very effective at reducing pain. Clinical trials have shown that CBD doses in the 15mg twice daily range can reduce pain from sclerosis, spinal cord injury, brachial plexus injury, limb amputation, pain associated with kidney transplantation, fibromyalgia, symptomatic peripheral neuropathy, and non-cancer chronic pain. And this spurred our listener Sherry to ask: can CBD also work in our pets? There are a ton of CBD products geared at dogs and cats, so on this week's episode of The Whole View, Stacy and I discuss the reason why dogs and cats are so much more sensitive to cannabinoids than humans, the toxicology data in dogs, the best dose and routes of administration, and the studies performed so far on CBD for osteoarthritis pain, anxiety and refractory epilepsy in dogs.
One of the key takeaways from this episode is that CBD purity and quality are really important for dogs because THC is quite toxic to them. That's why we're so grateful to OneFarm by WAAYB for sponsoring this week's episode! All of OneFarm's organic CBD products for cats and dogs are made with the same high quality USDA Organic CBD distillate as their people products, which Stacy and I both use personally.
Nutrivore Weekly Serving Matrix
An easy-to-use and flexible weekly checklist
to help you maximize nutrient-density.
The Weekly Serving Matrix is very helpful! I've been eating along these lines but this really helps me know where to focus vs. which foods serve a more secondary role. It's super helpful and has taken a lot of worry out of my meal planning. Thanks!

Jan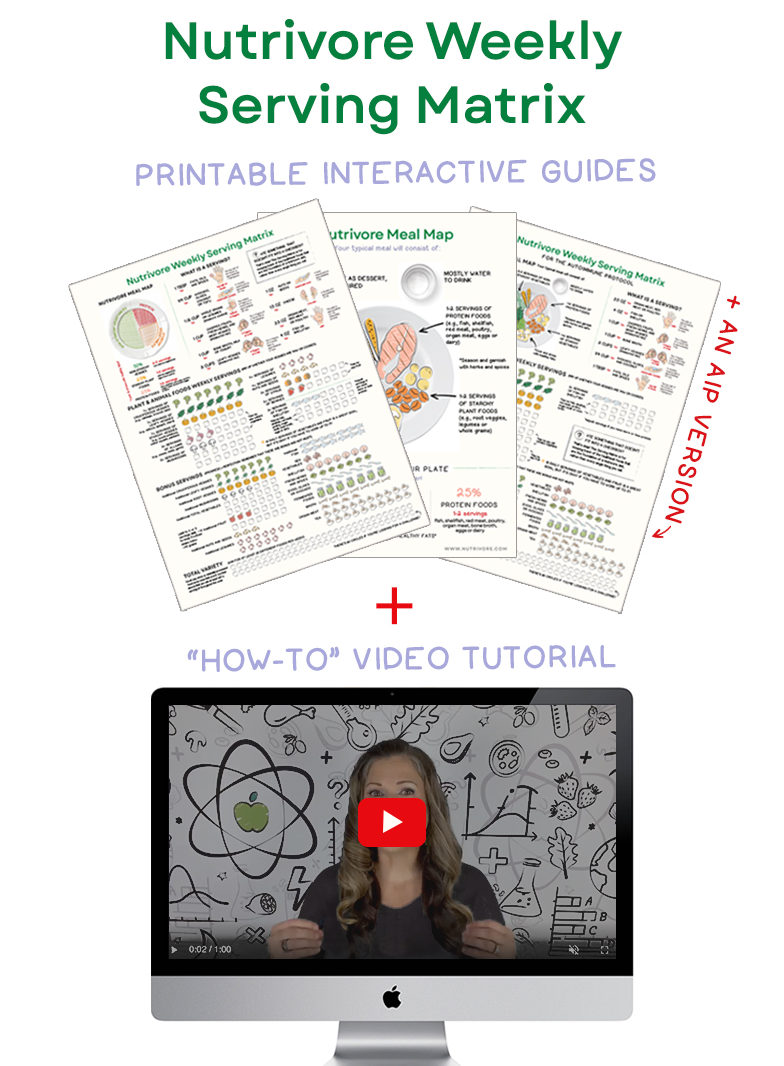 If you enjoy the show, please review it on iTunes!
Recommended Reading and Listening
Citations
Kogan L, Schoenfeld-Tacher R, Hellyer P, Rishniw M. US Veterinarians' Knowledge, Experience, and Perception Regarding the Use of Cannabidiol for Canine Medical Conditions. Front Vet Sci. 2019 Jan 10;5:338. doi: 10.3389/fvets.2018.00338. PMID: 30687726; PMCID: PMC6338022.
Brutlag A, Hommerding H. Toxicology of Marijuana, Synthetic Cannabinoids, and Cannabidiol in Dogs and Cats. Vet Clin North Am Small Anim Pract. 2018 Nov;48(6):1087-1102. doi: 10.1016/j.cvsm.2018.07.008. PMID: 30342565.
Deabold KA, Schwark WS, Wolf L, Wakshlag JJ. Single-Dose Pharmacokinetics and Preliminary Safety Assessment with Use of CBD-Rich Hemp Nutraceutical in Healthy Dogs and Cats. Animals (Basel). 2019 Oct 19;9(10):832. doi: 10.3390/ani9100832. PMID: 31635105; PMCID: PMC6826847.
Gamble LJ, Boesch JM, Frye CW, Schwark WS, Mann S, Wolfe L, Brown H, Berthelsen ES, Wakshlag JJ. Pharmacokinetics, Safety, and Clinical Efficacy of Cannabidiol Treatment in Osteoarthritic Dogs. Front Vet Sci. 2018 Jul 23;5:165. doi: 10.3389/fvets.2018.00165. PMID: 30083539; PMCID: PMC6065210.
Bartner LR, McGrath S, Rao S, Hyatt LK, Wittenburg LA. Pharmacokinetics of cannabidiol administered by 3 delivery methods at 2 different dosages to healthy dogs. Can J Vet Res. 2018 Jul;82(3):178-183. PMID: 30026641; PMCID: PMC6038832.
Brioschi FA, Di Cesare F, Gioeni D, Rabbogliatti V, Ferrari F, D'Urso ES, Amari M, Ravasio G. Oral Transmucosal Cannabidiol Oil Formulation as Part of a Multimodal Analgesic Regimen: Effects on Pain Relief and Quality of Life Improvement in Dogs Affected by Spontaneous Osteoarthritis. Animals (Basel). 2020 Aug 26;10(9):1505. doi: 10.3390/ani10091505. PMID: 32858828; PMCID: PMC7552307.
Morris EM, Kitts-Morgan SE, Spangler DM, McLeod KR, Costa JHC, Harmon DL. The Impact of Feeding Cannabidiol (CBD) Containing Treats on Canine Response to a Noise-Induced Fear Response Test. Front Vet Sci. 2020 Sep 22;7:569565. doi: 10.3389/fvets.2020.569565. PMID: 33195551; PMCID: PMC7537661.
McGrath S, Bartner LR, Rao S, Packer RA, Gustafson DL. Randomized blinded controlled clinical trial to assess the effect of oral cannabidiol administration in addition to conventional antiepileptic treatment on seizure frequency in dogs with intractable idiopathic epilepsy. J Am Vet Med Assoc. 2019 Jun 1;254(11):1301-1308. doi: 10.2460/javma.254.11.1301. PMID: 31067185.

Become a Member for FREE!
The Paleo Mom Members' Area is resource central!  
You'll get FREE, unlimited access to dozens of quality resources, including introductory series, downloadable e-books, exclusive recipes, printables, videos and guides!
You may enjoy these related posts:
This week on The Whole View, Stacy and I answer listener Dana's question about …