It's Foster Care Awareness Month, so this week on The Whole View, we tap into Stacy's expertise as a foster parent and discuss the foster care system, destigmatizing and busting stereotypes while also acknowledging the room for improvement and easy ways for everyone to contribute. Given our podcast is centered on health and wellness for everyone, I found it very compelling to discuss Maslow's Hierarchy of Needs, not just relevant to foster kids but to all of us. I learned so much during this episode and I so appreciate Stacy for helping to build awareness through education!
If you enjoy the show, please review it on iTunes!
Recommended Reading and Listening
Nutrivore Weekly Serving Matrix
An easy-to-use and flexible weekly checklist
to help you maximize nutrient-density.
The Weekly Serving Matrix is very helpful! I've been eating along these lines but this really helps me know where to focus vs. which foods serve a more secondary role. It's super helpful and has taken a lot of worry out of my meal planning. Thanks!

Jan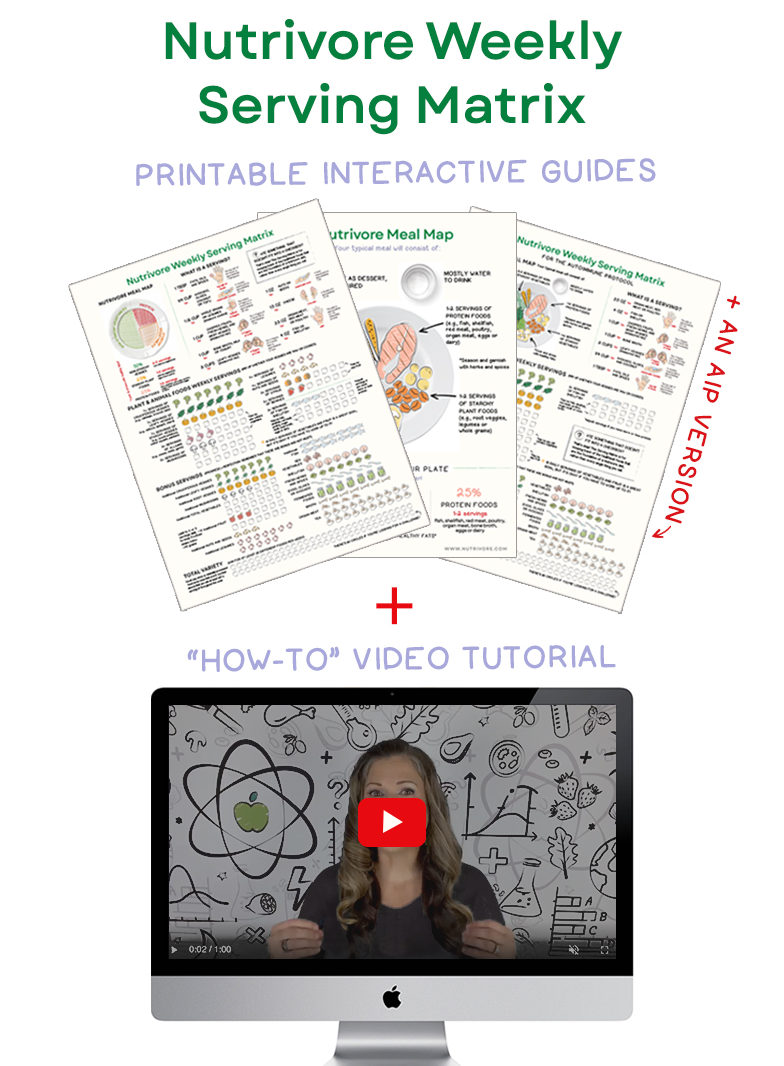 Citations:
Famous Foster Children Who Have Been Through Foster Care | EHSD
More Kids Are Getting Placed In Foster Care Because Of Parents' Drug Use | NPR
Expanding the conceptualization of re-entry: The inter-play between child welfare and juvenile services | ResearchGate
Foster Children: HHS Could Provide Additional Guidance to States Regarding Psychotropic Medications
Psychotropics | Children's Rights
The Impact of Covid-19 on Youth in Foster Care | Forbes
Coronavirus Throws Foster Care System into Crisis | The Marshall Project
Kim H, Wildeman C, Jonson-Reid M, Drake B. Lifetime Prevalence of Investigating Child Maltreatment Among US Children. Am J Public Health. 2017 Feb;107(2):274-280. doi: 10.2105/AJPH.2016.303545. Epub 2016 Dec 20. PMID: 27997240; PMCID: PMC5227926.
Black Disparities in Youth Incarceration
Foster Care Series: "Throwaway Kids"
RACISM IN CHILD WELFARE AND JUVENILE JUSTICE SYSTEMS | Children's Rights
Columbus Police Shoot And Kill Black Teenage Girl | NPR
Get the Facts: Foster Care and Adoption | American SPCC
The Foster Care-Human Trafficking Nexus
Human Trafficking and Child Welfare: A Guide for Child Welfare Agencies
Child Sex Trafficking – Children's Rights
Child Sex Trafficking (missingkids.org)
LGBTQ Youth in Unstable Housing and Foster Care
Children's Rights (convio.net)