In this episode, Stacy and Sarah were hanging out together and decided to answer your questions on this show!
Click here to listen in iTunes
or download and listen by clicking the PodBean Player below
Nutrivore Weekly Serving Matrix
An easy-to-use and flexible weekly checklist
to help you maximize nutrient-density.
The Weekly Serving Matrix is very helpful! I've been eating along these lines but this really helps me know where to focus vs. which foods serve a more secondary role. It's super helpful and has taken a lot of worry out of my meal planning. Thanks!

Jan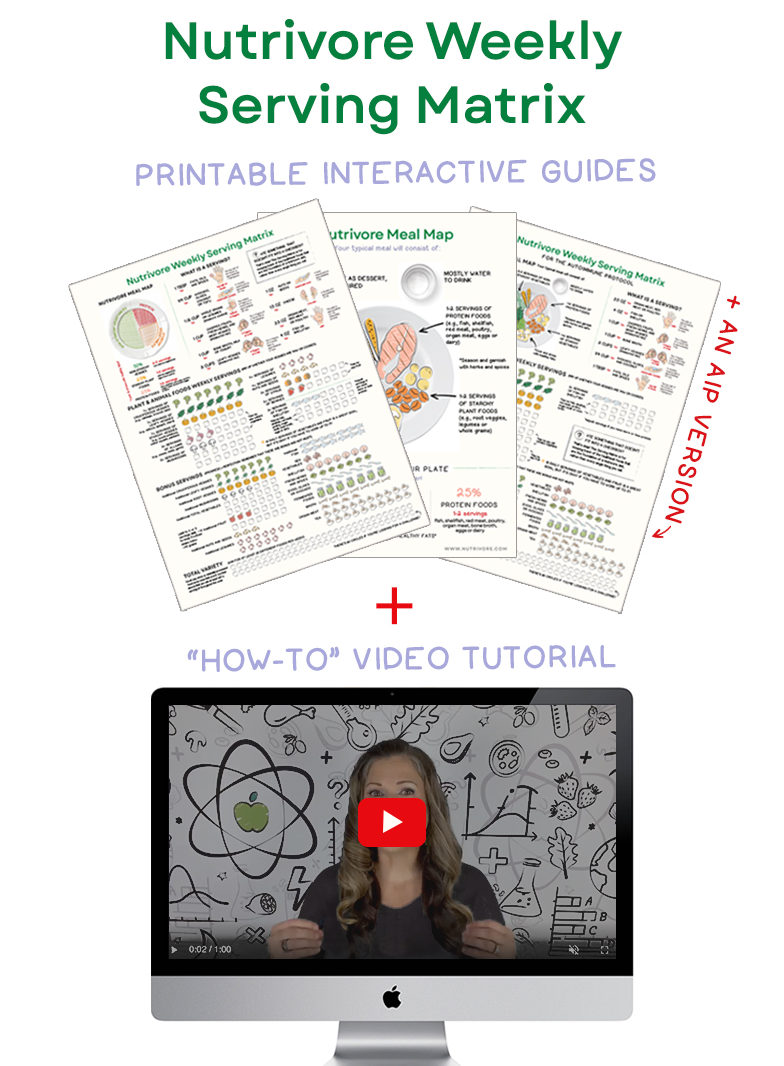 If you enjoy the show, please review it in iTunes!
The Paleo View (TPV), Episode 294: Live Show: Ask Us Anything!
Intro (0:00)
News and Views (0:40)

Welcome- Sarah and Stacy recorded this podcast live, and together at Sarah's house!
Stacy and Sarah will be answering questions from Sarah's Facebook and Stacy's Instagram.
Stacy just returned from a cruise.

She plans to do a blog post about eating gluten-free on a cruise.
On an excursion in Jamaica she re-injured her back.

She's still functioning, thanks for those of you who have asked.

Question: Can you really wash vitamin D off after being in the sun.

Vitamin D is made in your skin from cholesterol, triggered by UVB radiation from the sun.
There's a myth that if you shower right after, you can wash it off.
Sarah doesn't actually know the answer to this one.

Question: How wold you handle your professor promoting weight watchers and low fat diet in a nutritional program?

Sarah recommends biting your tongue, it's not a battle worth fighting.

She has heard this from friends who have gone though RD and other similar programs.
You need to pass the tests, and being argumentative isn't helpful.
You can learn the more up to date information and be able to help people after you pass.

Question: Easy lunches to pack for school?

Sarah's kids like the same thing every day.

Organic grass-fed hotdogs, that both girls eat cold.
Carrots, celery, cucumber, and fruit- usually grapes or apples.
Her youngest loves canned fish, but started getting teased for it being so smelly.

Stacy's boys love taking leftovers for lunches.
Sarah's girls also love the Epic Snack Strips and the new Epic Baked Pork Rinds.
Stacy and the boys all love the Epic Maple Bacon Cracklings.

Questions: How to Navigate Foods on a Cruise?

Stacy will make a more in-depth dedicated post and resource for this on the blog soon.
When you sign up you have the option to tell them if you have a food intolerance.

She established the whole family as gluten-sensitive.
She added a note about nightshades and corn for herself.

Cruise dining has 3 main options:

1. Buffet: don't go here- you will have a very hard time finding anyone who can tell you what is in the food, and it isn't worth it.
2. Sit Down Dining: "Free Dining:" you sit down and give them your room number, which brings up your special dietary instructions. This was great, the food was good quality, and they took very good care of special dietary needs.
3. Sit Down Dining: "Upgraded:" not worth it in Stacy's opinion, as the "free dining" food was very good and there was no need to pay for upgraded food here.

Stacy is of the opinion that doing AIP on a cruise would be do-able.

Question: Top 2 things you've each implemented in dealing with Hashimoto's Thyroiditis?

Gluten-free diet goes without saying, and isn't included in the two things here.
Managing stress has been huge for Stacy, which has taken her a long time to figure out and implement.
For Stacy, what she has put in her diet is just as important as what she has taken out.

She takes liver pills every day because she doesn't always eat organ meats.

Besides the AIP protocol and all the things that encompasses, taking thyroid replacement hormone (prescription) has been really great for Sarah.

It isn't a failure, and it isn't a substitute for AIP.

Working with a functional medicine practitioner and managing stress has also been helpful for Sarah.

Question: What are your tips for someone starting diet and lifestyle changes?

Stacy recommends their book, Real Life Paleo, which teaches baby steps and prioritizing.

This is often more sustainable than jumping in with both feet all at once.

Stacy says to approach it in a positive light, as a thing you are doing to help become better, not something negative that you have to do- mindset can make all the difference.
Sarah recommends transitioning in whatever way you've been successful in making changes in the past.
Educate yourself on the why behind you are doing something, so you have a better understanding.
Focus on what you do get to eat, rather than what you miss.
Focus on sleep– which helps regulate hunger, cravings, and stress, which makes it easier.
Prepare the house- don't have things around that will temp you.

Question: Would taking thyroid replacement at night to mimic the circadian rhythm be helpful?

It better mimics circadian rhythm to take thyroid medication in the morning

This is usually what is recommended.

It is usually recommended to take thyroid replacement meds with some water, but not too much, and to wait an hour after before having anything, even black coffee, which can affect absorption.
Most people don't have an empty enough stomach at night to be able to absorb thyroid hormone.

Question: Your view on zero carb, meat only diets?

You need vegetables.
We have a whole podcast on why vegetables are important, especially if you eat a lot of meat.
They are critical for health- they contain vital nutrients, phytochemicals, and fiber.

Question: Thoughts on fasting?

Stacy did intermittent fasting for a while.

She learned that without a gallbladder it had detrimental affects on her health.

The rationale is that is stimulates a clean-up in your cells, called autophagy.

There are other things that stimulate this too, like sleep and exercise.
If your stress axis isn't working correctly, intermittent fasting can backfire on you.
Males respond better to fasting than females.

Not eating 4-5 hours before bed and getting enough sleep gives you a large window in which you've already fasted and have some autophagy activity.

This is a gentle way to do fast that won't stimulate a stress response.

Question: Please explain the benefits of finding out if you have MTHFR if you have Grave's Disease.

It is beneficial to find out if you have MTHFR if you have any autoimmune disease.

It impacts a lot of different systems in your body.
There are supplements you can take to help support these systems if you have this mutation.
If you aren't methylating properly it impacts how you respond to diet and lifestyle changes.

Question: What do you think about a ketogenic diet?
Question: How to have a healthy pregnancy when you have Hashimoto's?

Make sure your thyroid hormone is dialed in and closely monitored.

Work with an OBGYM who is willing to do a lot of testing.

Rest, relax, focus on nutrient-density.
Consider the recommended supplements and what you are getting in your diet.
Paleo Principles has a whole chapter on pregnancy and lactation.

Question: How do you absorb fats after getting your gallbladder out?

Taking bile salts and other supportive supplements can help.

Question: What do you think of extremely high doses of probiotics for people with intestinal disorders?

A normal, healthy gut has a lot of different species of microorganisms in it.
When you take a probiotic supplement it usually has 8-9 species.
When you have something that wipes out your good bacteria, high dose probiotics can be helpful.

You still need to eat fermented foods and lots of vegetables to have a healthy gut.

Question: After reintroducing I've become severely allergic to oranges, any idea why this would show up?

Elimination and challenge diets are so effective because they exaggerate reactions.

This is partly what makes them so helpful.

The body has protective mechanisms that go away when you've eliminated a food.
It didn't make the allergy, but unmasked a reaction that was there the whole time.

Question: Do all women have rising TSH levels with pregnancy or just those with hypothyroidism?

All women do, its just that in a normal system there is feedback that controls it.
In autoimmune thyroid conditions, this cycle and feedback is often broken.
Selenium, zinc, iron, and iodine are all very important for this to function.

Questions: I've been AIP for 10 months and lost weight initially but am not anymore. I am about 20 pounds overweight, and do not eat a lot of AIP treats.

Sarah asks, "are you sure?"
Looking at body composition rather than absolute weight or BMI is more informative.
The literature supports that having a little extra stored body fat is protective.
Sleep, stress, hypothyroidism, vitamin D deficiency, over-eating, sex hormone imbalances can all impede weight loss.
AIP is not a weight-loss diet, it is an anti-inflammatory approach to healing.

Question: Disadvantages of cheating when eating Paleo or AIP?

Stacy doesn't like the word cheating, you are making a choice for a reason.
It depends- on what food it is that is off-plan, how much, how often, your stress level, the overall nutrient-density of your diet, your health conditions, your genetics.

It can range from something life threatening or that destroys the lining of your gut, to something that isn't a big deal, and everything in-between.
Methodical food reintroduction is a great thing for someone with chronic health conditions.

Ask yourself why you are eating that thing and what your goals are.
Don't let making a sub-optimal choice turn into a snowball of all the bad choices.

Question: Taking thyroid hormone once in the morning and once in the middle of the day?

Some functional medicine practitioners recommend this.
For some people who burn through it really fast, it can help even out energy levels.
You will have to work with your doctor on this.

Question: How do x-rays impact autoimmune disease?

The thyroid and ovaries are particularly sensitive to x-rays.

They cover them with a guard to protect them during the procedure.

We only see this as a problem in people who have occupational exposure to x-rays.
Airport security uses non-ionizing radiation, which isn't worrisome.

If you've enjoyed the show, please recommend it to someone who might enjoy it.
We love when you share and when you leave reviews for us! Thanks for listening!

Become a Member for FREE!
The Paleo Mom Members' Area is resource central!  
You'll get FREE, unlimited access to dozens of quality resources, including introductory series, downloadable e-books, exclusive recipes, printables, videos and guides!
You may enjoy these related posts:
On this episode of The Paleo View, Stacy and Sarah take listener questions via …