On this episode of The Paleo View, Stacy and Sarah discuss their favorite component to feeling their best – vegetables!
Click here to be taken to iTunes
or download and listen by clicking the PodBean Player below
*NEW* The Gut Health Cookbook!
The Gut Health Cookbook is fantastic! Thank you for researching and creating The Gut Health Cookbook! Such wonderful recipes! I'm so excited to try them all! -Sue
The Gut Health Cookbook puts the 20 Keys to Gut Health into practice with:
180+ recipes featuring 61 gut health superfoods

Gut health food lists

Why's behind each gut health superfood
Get instant digital access for $27.99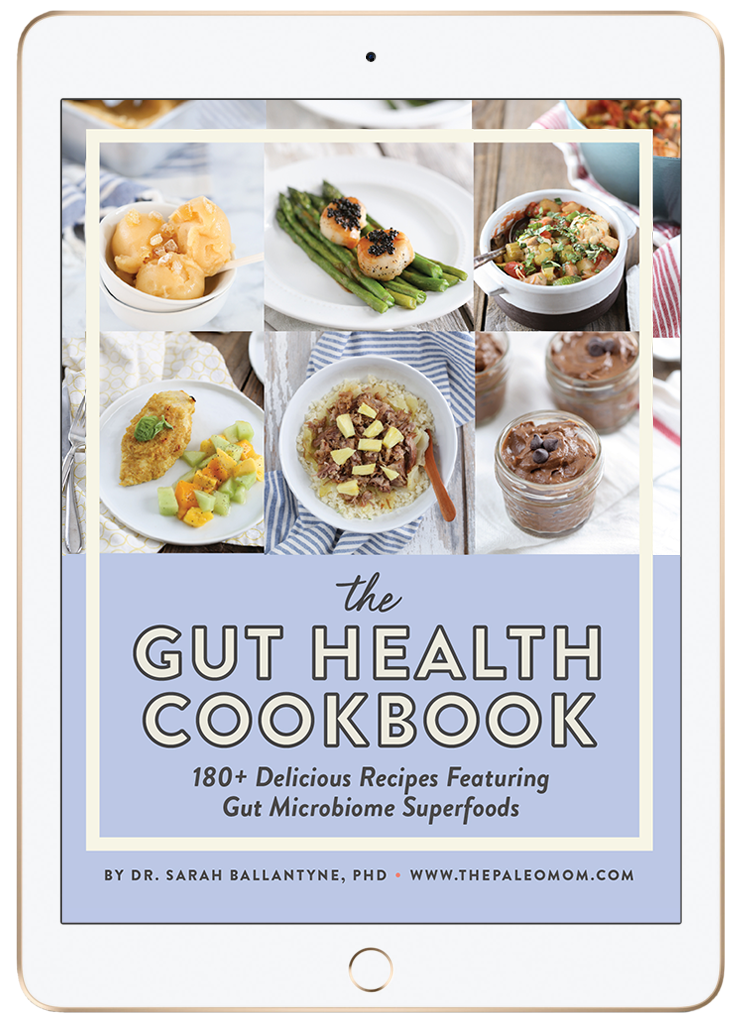 If you enjoy the show, please review it in iTunes!
The Paleo View (TPV), Episode 152, All About Vegetables
Intro (0:00)
News and Views (0:56)

Hoping to take a week off without taking a week off
Stacy is lifting all the things in preparation for a content at the end of August
Stacy is also getting into the swing of eating super clean to support her training
#morevegtablesthanavegetarian
Sarah's vacation mode and what she has been doing
What Sarah is doing to tend to her health while on vacation
Sarah's feelings towards food pyramids

Science with Sarah (14:43)

What is in fruit and vegetables
The amount of produce hunter, gatherers ate
How you can play with your macros in this space
Not overdoing fruit
Understanding how fructose is metabolized with vitamins
How are families feel nurtured by us when we feed them vegetables
What is common in Stacy's house for vegetable consumption
What is common in Sarah's house for vegetable consumption

Questions & Answers (33:54)

Rachel – what is a serving size of vegetables?
Anti-nutrients and vegetables
Feelings on juicing
Sarah – what is the nutritional value of greenhouse grown vegetables?

We will be back next week!
Outro (58:41)