Kiersten is a 20 something self proclaimed nutrition nerd with a love for real food, homemade beauty care, and natural healing. She is also an army wife living in Fort Hood, TX with her handsome husband and two fur babies and is passionate about helping other military spouses thrive. She is currently pursuing certification as a Nutritional Therapy Practitioner with the goal of helping others find true healing and vibrant health through real food as she has. When she's not studying or spending time with her family, Kiersten shares delicious recipes and tips for how to live this real food lifestyle on her blog Vibrant Life Army Wife. Connect with Kiersten on Facebok, Instagram, Pinterest and Twitter.
---
I love easy dinners. The fewer dishes to wash and the less time spent slaving over the stove the better. Now, don't get me wrong. I do enjoy the occasional evening spent in the kitchen creating something new. But just not during the week. I like my weeknight dinners simple and quick.
*NEW* The Gut Health Cookbook!
The Gut Health Cookbook is fantastic! Thank you for researching and creating The Gut Health Cookbook! Such wonderful recipes! I'm so excited to try them all! -Sue
The Gut Health Cookbook puts the 20 Keys to Gut Health into practice with:
180+ recipes featuring 61 gut health superfoods

Gut health food lists

Why's behind each gut health superfood
Get instant digital access for $27.99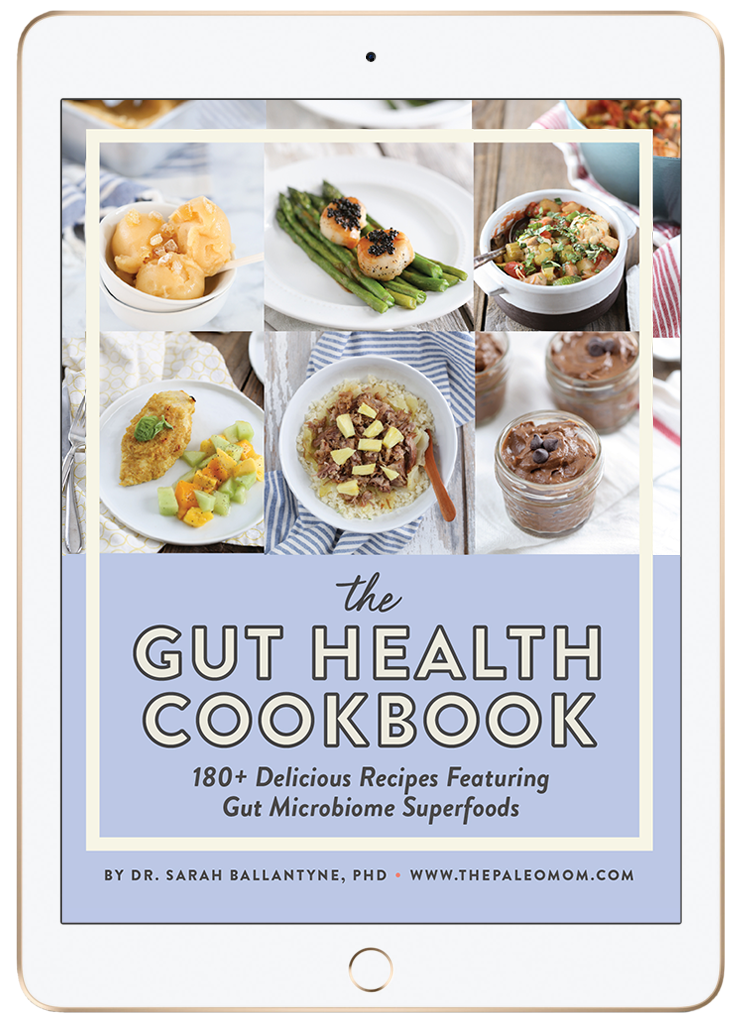 And in my experience, not much is simpler or quicker than baked meatballs. To make these Sage and Fennel Meatballs, all you've got to do is mix all the ingredients together in a bowl, form them into balls, and throw them into the oven to bake. What you're left with are delicious, flavorful and moist meatballs.
Now I know some of these ingredients aren't AIP friendly. Eggs are obviously a no go on strict AIP, as are fennel seeds and pepper. However, I'm hoping some of you have been able to reintroduce some non-AIP friendly foods after doing some serious healing. I've found that there are some things that don't seem to aggravate my Hashimoto's thyroiditis symptoms like eggs and seed spices. But there are still some things I need to avoid like nuts, hence why I made these meatballs nut free.
So I hope that those of you who've had the joy of successfully reintroducing eggs, and seed spices as well, will enjoy these meatballs for a delicious and super easy weeknight dinner. My favorite is to serve them with mashed parsnips and mixed greens!
Ingredients:
The Gut Health Guidebook!
The depth of information, practical tips, and the accessible way Dr. Sarah shows me how to apply complex science to improve my health is truly remarkable. -Wendy
The Gut Health Guidebook is the culmination of 6 years of research. This unprecedented deep dive into the gut microbiome delivers:
A new diet for gut health, built from the ground up

Essential gut microbiome superfoods

20 Keys to gut health
Get instant digital access for $27.99
Preheat oven to 400 degrees.
Combine beef, egg, and coconut flour in a large bowl.
Add spices and mix thoroughly until combined.
Form meat mixture into golf ball sized meatballs and add to rimmed baking sheet lined with parchment paper.
Bake for 20-25 minutes.