Hi there! I'm Meagen Ashley and I'm a blogger, an elementary teacher, and a holistic nutrition student from Alberta, Canada. After healing my own autoimmune disease and skin issues through a real food diet, I started a food blog in an effort to help others. Since then, I have expanded my healing journey to include greener and cleaner skincare, cosmetics, and cleaning products. You can connect with me on  Instagram, Facebook, and through my Website.
---
It's interesting to me how small changes become larger changes which in turn become life changes. Sometimes you don't even see them happening, other times changes in one part of your life result in a change in another area almost simultaneously. That's how I would describe my journey to a cleaner and greener lifestyle, skincare included. It happened because I changed my diet.
Back in 2008 my skin was at its absolute worst. I was in college and spending my grocery money on skin care products that cost $100 or more. None of it worked and it was as if my skin was rebelling and saying it had reached its quota of toxins. At this point in my life I was also suffering from many other skin issues and gastrointestinal symptoms. Never once did I make a connection between food and the health of my skin. I just kept continuing to try expensive skincare products without much luck.
Nutrivore Weekly Serving Matrix
An easy-to-use and flexible weekly checklist
to help you maximize nutrient-density.
The Weekly Serving Matrix is very helpful! I've been eating along these lines but this really helps me know where to focus vs. which foods serve a more secondary role. It's super helpful and has taken a lot of worry out of my meal planning. Thanks!

Jan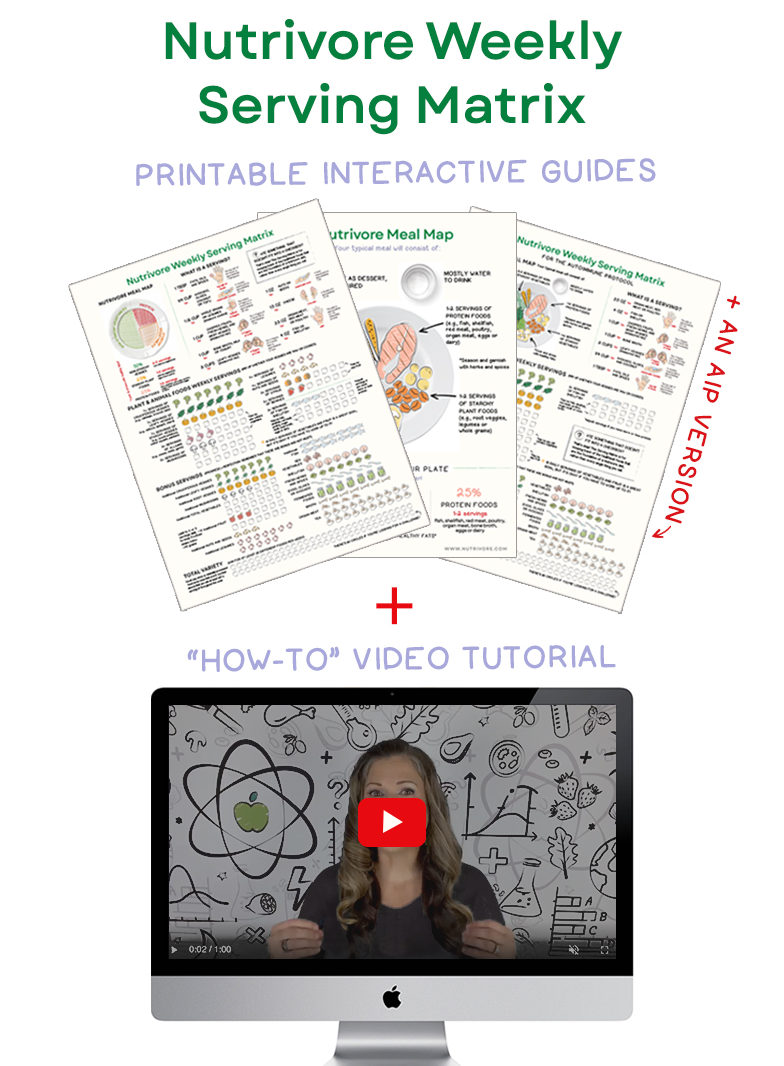 Fast forward to 2014 when I discovered the autoimmune protocol diet. It was the answer to many of my skin issues and gastrointestinal issues but not my acne. Again, I didn't make the connection that what I was putting on my body, mattered just as much as what I was putting into my body. I was still paying for expensive skincare, cosmetics, and body products that were likely making my acne worse.
One day in 2015 I was doing some research and read about how your skin absorbs a large percentage of what you put on it. Immediately I thought to myself, I wonder if the ingredients in my cosmetic products would be considered Paleo or AIP. It's fair to say that the products I was using were not Paleo or AIP and most of them contained gluten! I couldn't believe it…how could I not have made this connection sooner. When I eat gluten, my body reacts so strongly that I am almost instantly ill, not only that but within a few hours my skin breaks out in rashes. No wonder my skin was reacting the way it was.
That same day I started researching about alternatives to skincare, cosmetics and cleaning products. There was so much information it was overwhelming. I was asking myself which products I should swap out first? Which recipes would work best? How much would it cost? If I don't have some of the ingredients, where do I buy them? The questions were endless.
Now, three years later I am here to share with you my favorite DIY skincare recipes for those of you on a budget. These recipes are tried and true by yours truly. Some of the recipes I have adapted to suit my skin needs and some are recipes from my favorite green bloggers. So, without further ado, here are my top five DIY Skincare recipes that are affordable and easy to make without compromising performance.
Cleanser
My favorite simple cleanser is a recipe from the blog Don't Mess with Mama. It features simple ingredients that you likely already have, and it is good for all skin types. This was the second DIY cleanser recipe that I tried, and I always come back to this recipe because it is affordable and safe for even the most sensitive skin.
Toner
I have tried a lot of DIY toner recipes and this one is by far the best. I have been using this recipe for over two years and what I love about it is that I can change up the ratio of the ingredients depending on my skins needs. This recipe is also super simple with less than 5 ingredients.
DIY Toner Recipe for normal skin
3 ounces of apple cider vinegar
3 ounces of filtered water
20 drops of lavender essential oil
15 drops of frankincense essential oil
10 drops of geranium essential oil
Mix all ingredients together in a 6-ounce glass spray bottle. Shake before using and keep in the fridge for a refreshing mist. Spray 3-4 sprays onto an organic cotton pad and wipe your face after cleansing. Follow with a serum/moisturizer. For oily skin use 4 ounces of apple cider vinegar and 2 ounces of water. For dry skin use 4 ounces of water and 2 ounces of apple cider vinegar.
Serum/Facial Oil
I went through most of my life without ever using a serum or a facial oil. I have combination skin and have suffered from adult acne so I figured I would be crazy to put more oil onto my face. Turns out, oil is one of the best things for your face even if you have oily or acne prone skin. The key here is the type of oil that you use. I hesitate to recommend an oil that will work for everyone because everyone's skin responds differently. However, I do find that most people's skin responds well to jojoba oil and apricot kernel oil (with the exception of acne prone/oily skin and instead of apricot oil I would recommend grapeseed oil). Feel free to use your favorite carrier oil or a mixture of oils depending on your skin type. If you are new to DIY skincare, then I would start with jojoba oil and then adjust from there. When I was suffering from my adult acne I used grapeseed oil with great success. I also recommend adding pure therapeutic grade essential oils to address your personal skincare needs. I like to add a combination of any of the following: frankincense, lavender, geranium, rose, carrot seed, sandalwood, or tea tree. As a starter recipe for most skin types, I would use frankincense, lavender and geranium or rose.
DIY Face Serum/Facial Oil
1 ounce of carrier oil (jojoba or apricot kernel)
5 drops of lavender essential oil
5 drops of frankincense essential oil
2 drops of geranium or rose essential oil
Combine all ingredients in a dark glass jar with a dropper. Swirl and apply 4-6 drops after cleansing and toning to your face and neck.
Eye makeup remover
Most of my eye makeup comes off with my cleanser, but on the days when I wear eyeliner or a little extra mascara I find that I need something a bit stronger to take off my eye makeup. The worst thing about most eye makeup removers is that they would sting my eyes…a lot. I have tried several DIY recipes and after much trial and error I came up with this recipe and it works perfectly without stinging my eyes at all.
DIY Makeup Remover Recipe
3 Tbsp. alcohol free witch hazel
3 Tbsp. almond oil
3 Tbsp. filtered water
Mix all the ingredients in a small glass container/jar and shake well before each use. Pour a small amount onto an organic cotton pad and gently press onto the eye for a few seconds and then gently swipe inwards (don't tug). Repeat until all your eye makeup has been removed. No rinsing necessary!
Mask
I will admit I am a mask girl. Something about applying a mask makes me feel as though I am at the spa. But even if you are not someone who regularly uses masks, you will love using this real food mask. I have been using this mask since I was a teenager (believe it or not) and it is my go to mask, especially when my skin is feeling dry like in the Winter or after a long flight. This recipe also doubles as a hair mask. So, go ahead and make a double batch and apply this to your face, neck, chest and hair! The essential oils in this recipe are optional but I like to add lavender or geranium to my face mask and rosemary to my hair mask.
DIY Moisturizing Face Mask
½ a ripe avocado
½ a ripe banana
1 Tbsp. olive oil
2 drops of lavender or geranium essential oil for face and 2 drops of rosemary essential oil for hair
Mash the avocado and banana in a glass bowl with a fork. Add the olive oil and essential oil and stir to incorporate. Apply the mask all over your face, neck and chest. Let sit for 15 minutes, then gently remove with a damp face cloth. If applying the mask to your hair, work it through from tips to roots and let it sit for 15-30 minutes. Massage mask into scalp and then rinse well with warm water.
Sometimes I still can't believe that finding a healing diet way back in 2014, would lead to me making my own skincare products, cleaning products and switching to all-natural cosmetic products. The little changes really do become the big life changes.
If you are hesitant about starting your switch to greener and cleaner products or don't know where to start, feel free to connect with me on Instagram, Facebook, or through my Website. I also have an uncanny amount of green beauty products so feel free to pick my brain about alternatives to your favorite luxury cosmetic products as well. You don't need to shop at department stores or spend hundreds of dollars to find products that are good for your skin and perform like a Rockstar.

Become a Member for FREE!
The Paleo Mom Members' Area is resource central!  
You'll get FREE, unlimited access to dozens of quality resources, including introductory series, downloadable e-books, exclusive recipes, printables, videos and guides!
You may enjoy these related posts:
I was honored to meet the good people behind Annmarie Skin Care this year at …