Jennifer Roberge is the founder of the award-winning blog Its An Itchy Little World , The Eczema Company and YoRo Naturals. Propelled to find a solution for her son's struggles with eczema, allergies, and asthma, Jennifer has established herself as the go-to resource on integrative and holistic methods, and the best natural products for healing both inside and out.
Nutrivore Weekly Serving Matrix
An easy-to-use and flexible weekly checklist
to help you maximize nutrient-density.
The Weekly Serving Matrix is very helpful! I've been eating along these lines but this really helps me know where to focus vs. which foods serve a more secondary role. It's super helpful and has taken a lot of worry out of my meal planning. Thanks!

Jan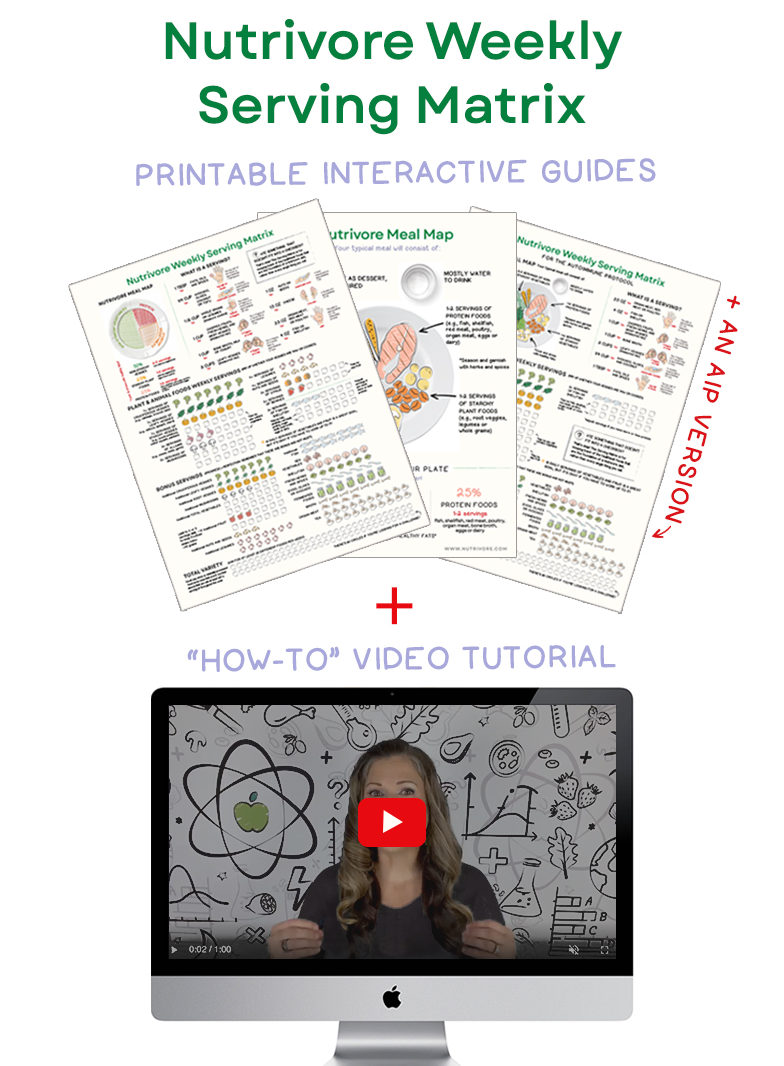 ---
A few months ago, I shared with you my emotional journey in managing my son's eczema. In it, I was very honest and raw about how incredibly difficult those times were. My goals were to let you know that you're not alone and to share some of my tips for getting through the roughest times.
I am really humbled (and relieved!) to say, that after years of battling my son's skin, we managed to finally control his eczema through natural means. After years of research, various treatments, and dietary changes, we were able to heal his eczema by 95%.
How did we get there? In a previous post, I talked about my 7 Tips for Quick Eczema & Skin Relief. With topical skincare so often the focus of eczema treatment, today, I want to concentrate on something that is often overlooked, but that helped us dramatically in our path to healing: clothing for eczema and why fabrics, dyes, and seams all matter. To this day, we actually continue to use eczema clothing on my son to prevent pollen flare-ups behind his knees. (Read on to see which one!)
When we usually think about eczema, we know skin care and topical treatment can provide relief, but choosing the right clothing for eczema is just as important. In fact, clothing impacts eczema in more ways than one.
Clothing for Eczema – What to Watch Out For
Clothing is sort of like a double-edged sword when it comes to eczema, it can both harm and soothe eczema. On one side, if clothing is too tight or has itchy seams or the fabric is non-breathable or contains allergens and chemicals, then it can trigger or further irritate eczema. And then on the other side of the sword, choosing the proper clothing with cooling, soothing fabrics can significantly heal eczema and greatly reduce irritation.
Eczema that is developed from a reaction to clothing is so common it has a name. It's known as textile dermatitis. This type of eczema is usually brought on by either a nylon, polyester or latex allergy and in addition to eczema, can trigger an actual allergic reaction in some, including wheezing, swollen lips and much more. To learn more about textile dermatitis, check out my blog post: Your Guide to Textile Dermatitis: Latex Hypersensitivity & Polyester Allergy Explained.
Fibers
To begin with, it's important to pay attention to the fibers in your clothing. Fibers like polyester, rayon, and nylon can actually aggravate eczema symptoms because they don't breathe and contain harsh chemicals. So, natural fibers must be the way to go, right? Not always. Latex (which is found in countless brands of underwear, pants, and socks with elastic bands) and even most types of wool can cause flare-ups. Though the verdict is still out on merino wool – some people with eczema find certain very finely woven merino wool clothing items to actually be great for their skin. And another thing to note about natural fibers, if not organic or GMO-free, these fibers can be full of nasties. Functional and fashionable clothing made from organic natural fibers can be hard to find, but they do exist.
Processing Agents
Some of the most common irritants for eczema with regard to clothing are not always the raw fibers themselves, but what is added to them to create the finished fabric. Some of the worst offenders processing agents are bleach, formaldehyde finishing resins, dyes, glues, chemical additives, and tanning agents. While looking for clothing for eczema, pay special attention to what is added to your clothing. Most good companies will indicate what they don't add, making it easy to spot reputable manufacturers that product eczema clothing that will help rather than hurt your skin.
Stamped Patterns
But just because something is made specifically for eczema, doesn't mean it's truly natural and safe. Some companies that specifically produce eczema clothing actually stamp cute patterns on clothing, but sadly these stamped patterns are a cocktail full of very undesirable chemicals and can't be very good sitting on irritated skin all day. Not to mention if these clothes become wet or are used in wet wrapping, allowing the chemicals to possibly leach into the skin – yikes! That does not sound like a formula for soothing eczema relief to me.
Dyes
Dyes are often singled out as one of the worst offenders. But it's important to note that not all dyes are actually bad. OEKO-TEX is a program that certifies dyed products is safe and don't contain chemicals or known allergens. So, when looking for eczema clothing, it's a great certification to look for. With regard to colors, there are more reports of topical allergic reactions to dark dyes, the reason: Phenylenediamine (PPD). If you find you react to dark clothing, it may be due to this dye so it's best to avoid dark colors or look for clothing that is free of PPD. Another growing allergen are disperse dyes that are commonly used to color polyester fibers.
Finishings
Lastly, finishings on clothing can be extremely irritating. Seams can be rough, zippers and buttons can contain allergens like nickel, as well as elastic waistbands and cuff, s are widely known irritants. If you react to nickel, look for nickel free clothing or make sure you wear a layer of clothing between your skin and the item with nickel. Regular seams can be annoying and rub incessantly. You can either flip the garment inside out so the seams are on the outside or shop for garments made with flat seams. Tags can be tricky too. I find that tagless items (where the information is silk screened on the item rather than attached via a tag) can be very irritating as it wears away with time. Best to use regular tags and just remove them if they become too itchy.
Not only is it important to know which of these eczema clothing irritants might trigger your eczema, but adopting softer, breathable and more natural fibers will decrease your chances of irritation and is a very wise choice when looking for clothing for eczema.
Best Fabrics for Eczema Clothing
For those looking to make a switch from synthetic, chemical-based fabrics to natural fabrics, I suggest searching for clothing that uses natural fibers, such as organic cotton. In order to ensure fabrics are free of harmful chemicals (like pesticides, fungicides, and herbicides), look for certified organic, certified pesticide-free or OEKO-TEX options.
TENCEL™ fabric is also growing in popularity because of its eco-friendly and natural wood pulp fibers. While the idea of wearing something made from wood pulp sounds really unpleasant, TENCEL is actually quite remarkable. It combines the softness of cotton, the breathability of linen, the smoothness of silk, and the antimicrobial properties of wool. Pretty incredible, right?
Throughout my son's eczema journey I researched various fabrics and materials that could help his eczema, as well as eliminate irritation. In the process, it actually led me to create my own line of clothes for eczema: Remedywear, which combines TENCEL™  technology as well as zinc oxide known for it's antibacterial and anti-inflammatory properties. Not only is Remedywear OEKO-TEX certified, but it's free of nylon, nickel and only uses allergy safe dyes (PPD and disperse free). It is soft, comfortable and perfect for those with sensitive skin. Our blend of fibers has been clinically proven [1] to reduce the severity of atopic dermatitis, reduce itchiness and improve quality of sleep when worn overnight for three consecutive nights.
The Remedywear eczema bandages/sleeves are actually what my son uses to keep his knees covered up during soccer when spring pollen can cause his eczema to flare up horribly. The black color matches his shorts so he isn't self-conscious about wearing medicinal clothing out on the field. And I love the dark color that prevents the garment from getting dingy looking over time. A win-win!
Learn more about Remedywear and why we use zinc oxide for eczema clothing. Check out the entire line of Remedywear clothing for eczema in sizes for babies up to adults. What fabrics do you find are most soothing for your eczema?
References
[1] Wiegand, 2013, Skin-protective effects of a zinc oxide-functionalized textile and its relevance for atopic dermatitis. Clin Cosmet Investig Dermatol; 6: 115–121.

Become a Member for FREE!
The Paleo Mom Members' Area is resource central!  
You'll get FREE, unlimited access to dozens of quality resources, including introductory series, downloadable e-books, exclusive recipes, printables, videos and guides!
You may enjoy these related posts:
Jennifer Roberge is the founder of the award-winning blog Its An Itchy Little …