Who is Grug? He is the overprotective yet loving dad (voiced by Nicolas Cage) in the new DreamWorks Animation film, The Croods. The Croods is about a family of cavemen forced to embrace change. This movie looks like a whole lot of fun and I can't wait to take my girls to see it (you can watch the trailer here).
When I talk to my children about the way we eat, I like to phrase how we eat in a positive way (as you know, I like to approach every aspect of our diet and lifestyle in a positive manner). I like to explain that we only eat the most nutritious foods so we can be healthy and happy. But, my daughter is a language nerd (at the ripe old age of 6 years) and when she asks what the word "Paleo" means, we do talk about cavemen living a long time ago, how they lived and how they ate. The idea of cavemen is fascinating to my daughter, so I think when you combine cavemen with a family-friendly animated movie (about the importance of family no less!), it feels a little like striking gold! So, of course when I was asked if I wanted to create a thematic recipe to support the movie, I couldn't possibly say no! I knew instantly that I wanted to create a recipe that used fire (okay, the barbecue but you could make this recipe over a campfire too). I also knew I wanted to use an ingredient from the movie itself. Enter the banana.
The Autoimmune Protocol E-Book!
One of my FAVORITE books I used to start the transition to AIP!!! It's so helpful! I printed mine out and spiral bound it. Thank you for this! -Rita Davidson
The Autoimmune Protocol e-book is your up-to-date guide to jump-start your healing with the AIP today.
3oo+ pages of quick-access information on the AIP

4 weeks of meal plans with shopping lists

over 80 family-friendly recipes, all 100% AIP!
Get instant digital access for $19.99
In the movie, The Croods meet the Punch Monkeys (aptly named monkeys who punch). Grug discovers that the secret to not getting punched by the Punch Monkeys is to give them bananas.
And there is the inspiration for this recipe! Fire + Banana!
These barbecued stuffed bananas are so delicious and very easy to make. The secret is to use quite ripe bananas (they are sweeter but also their flavor works better once cooked). I've included alternate directions for baking them in the oven, but I really do think they are better on the barbecue (isn't everything?). My husband and girls love these!
The stuffing is simply made from some chopped nuts and spices. I used dried, ground spices, but you could use whole fresh spices and grind yourself if you prefer.
The Gut Health Guidebook!
The depth of information, practical tips, and the accessible way Dr. Sarah shows me how to apply complex science to improve my health is truly remarkable. -Wendy
The Gut Health Guidebook is the culmination of 6 years of research. This unprecedented deep dive into the gut microbiome delivers:
A new diet for gut health, built from the ground up

Essential gut microbiome superfoods

20 Keys to gut health
Get instant digital access for $27.99
To stuff the bananas, cut lengthwise but be careful not to cut through the peel on the bottom. You can get away with cutting about three quarters of the way through and the bananas will still open up easily.
Once sliced, open the banana to create a groove for the stuffing.
Sprinkle the nut and spice mixture in the banana (you can get quite a lot in there-about 3 Tbsp of filling for a medium banana and about 4 Tbsp for a large banana).
Repeat until all of your bananas are stuffed.
*NEW* The Gut Health Cookbook!
The Gut Health Cookbook is fantastic! Thank you for researching and creating The Gut Health Cookbook! Such wonderful recipes! I'm so excited to try them all! -Sue
The Gut Health Cookbook puts the 20 Keys to Gut Health into practice with:
180+ recipes featuring 61 gut health superfoods

Gut health food lists

Why's behind each gut health superfood
Get instant digital access for $27.99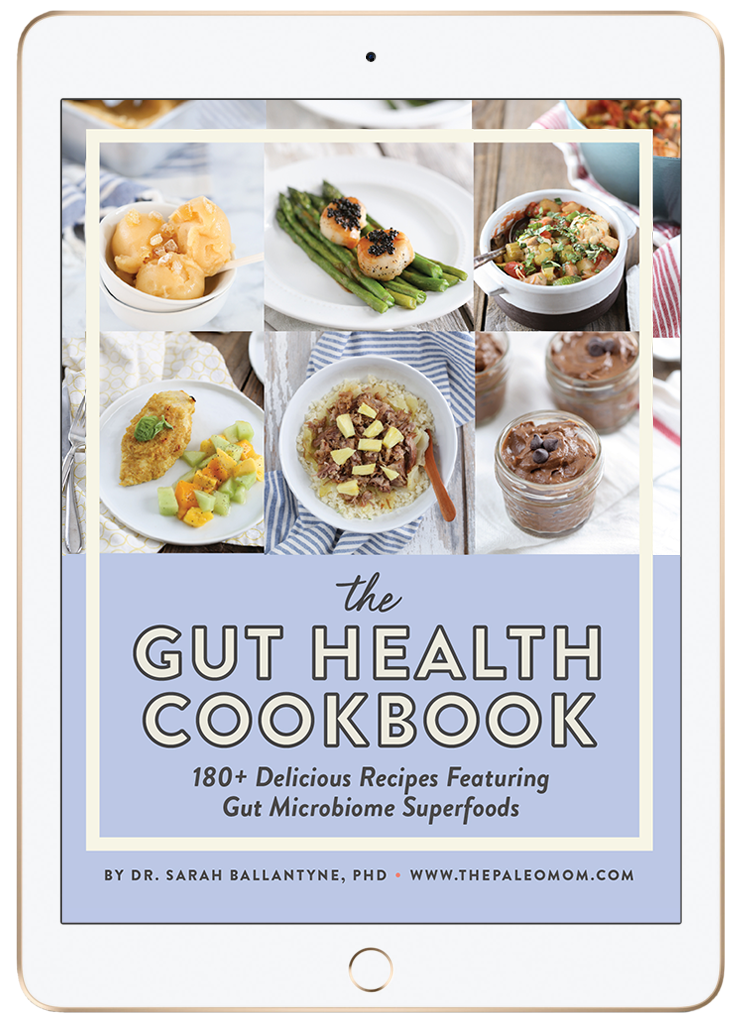 Now, place those bananas directly onto the barbecue after you've cooked the rest of your dinner and the coals aren't super hot anymore. In about fifteen minutes, you'll have a very delicious treat. The warm banana tastes very sweet and takes on a slightly lemony flavor from being cooked in the peel. The nut and spice mix is reminiscent of a crumble topping. It's kindof like eating a warm and soft banana coffee cake. I know The Croods couldn't make ice cream, but you can, so feel free to serve these with a scoop of The Best Ever Paleo Vanilla Ice "Cream" to make it an extra special dessert.
This recipe makes 2 large or 3 medium bananas—2-4 servings. This recipe doubles and triples well, so feel free to make a bunch! We all like them warm, but they are still very good as leftovers. Prep time: 5-10 minutes. Cook time: 12-18 minutes.
Ingredients:

1. Chop nuts fairly finely (it's okay if they aren't completely evenly chopped). Combine chopped nuts with spices and mix to evenly coat.

2. Slice bananas lengthwise about three quarters of the way through the banana (careful not to cut the peel underneath). Spread the banana open and fill the groove with the nut and spice mixture.

3. Barbecue on a medium to moderately hot grill for 14-18 minutes (time will vary based on the size of your bananas and how hot your grill is). The peel will darken (and maybe turn completely black) which is normal. You know they're done when the peels are dark, the banana is bubbling away and they smell fantastic!

4. Alternatively, place stuffed bananas on a cookie sheet (line with parchment paper, tin foil or a silicone liner to make clean-up easier) and bake at 425F in the middle of the oven for 12-14 minutes.

5. Remove from the grill (or oven) and enjoy warm! Eat with a spoon scooping right out of the peel! A scoop of The Best Ever Paleo Vanilla Ice "Cream" is optional.
No one wanted to wait until I was done photographing the bananas to dig in–which made for some fun extra photos. Yes, these are that good!
And a big thank you to The Croods for the inspiration! The film hits theaters on March 22, check out the official website here and don't forget to like The Croods on Facebook too.
The Gut Health Collection!
I love Dr. Sarah's passion for educating people and helping everyone on their journey to wellness!! -Mindy
The Gut Health Guidebook delivers a comprehensive deep dive into gut health, building a new diet for optimal health from the ground up, based on the gut microbiome.
The Gut Health Cookbook puts the scientific framework into practice with 180+ delicious recipes that each center on at least one of 61 gut health superfood ingredients.
Save $10 with the Gut Health Collection!