In this episode, Stacy and Sarah are not talking about autoimmune disorders, but the opposite: how do you handle a taxed or a disordered immune system? Hear tips on how to regulate immune function and how to recover when you've been sick. Plus, should you really give children wheat so that they develop immune tolerance to it?
*NEW* The Gut Health Cookbook!
The Gut Health Cookbook is fantastic! Thank you for researching and creating The Gut Health Cookbook! Such wonderful recipes! I'm so excited to try them all! -Sue
The Gut Health Cookbook puts the 20 Keys to Gut Health into practice with:
180+ recipes featuring 61 gut health superfoods

Gut health food lists

Why's behind each gut health superfood
Get instant digital access for $27.99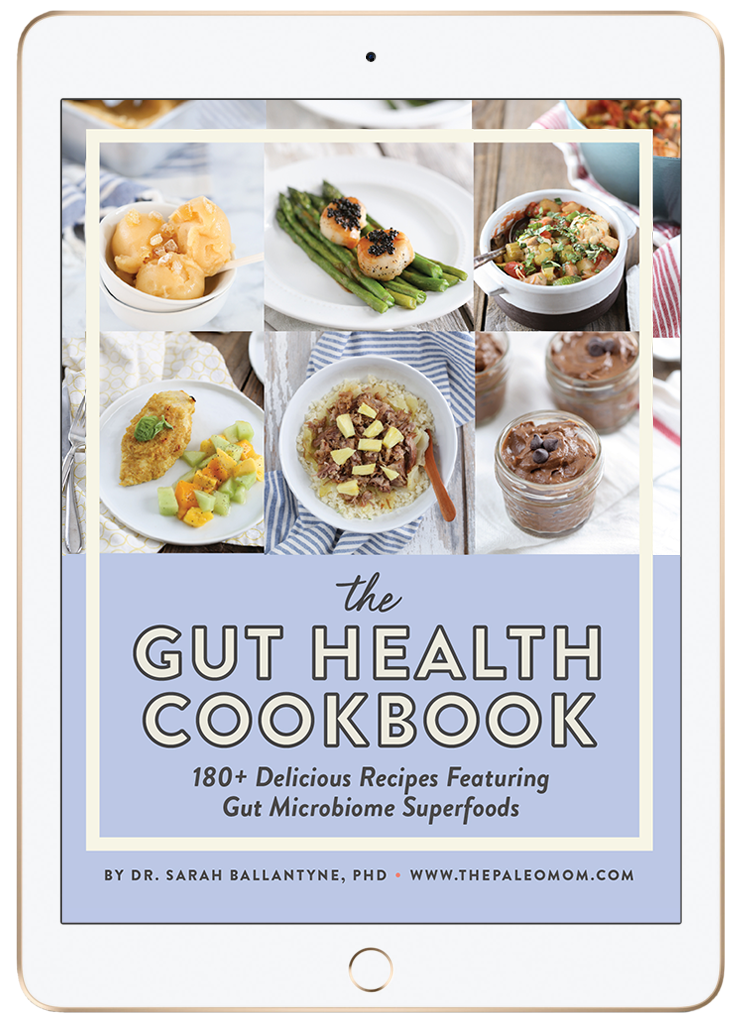 Listen in iTunes
or download and listen by clicking the PodBean player below
Download this episode (right click and save)
The Ultimate Support for Your AIP Journey!
Dr. Sarah Ballantyne has delivered an exceptional course and I highly recommend this to anyone looking to improve their health. There is something for everyone. It was extremely helpful and worth the investment. -Marie Schlichtig
The AIP Lecture Series is the ultimate Autoimmune Protocol educational experience! Learn directly from Dr. Sarah!
6-week online course
42 on-demand video lectures
dozens of printable guides
self-discovery exercises and action steps
online forum and guided discussions
support and guidance from Dr. Sarah Ballantyne!
The next session begins January 18th, 2021.
(Use code AIPLS85 to save $85 and get bonus access to the Gut Health Fundamentals online course!)
If you enjoy the show, please review it in iTunes!
The Paleo View (TPV), Episode 28: Immune System and Immune Disorders
0:00 – Introduction
1:19 – News and Views
12:17 – Science with Sarah: What is the difference between immune disorders and autoimmune disorders?
21:57 – Questions and Answers

What should I be eating while sick?
28:18 – Explain the benefits of Paleo and the AIP without the more expensive options like grass fed and organic
38:59 – Will Paleo help with HIV infection and help my child with weight issues?

49:47 – Paleo Parenting

Should you give your baby gluten prior to weaning?

The paper that started the discussion talked about here.

1:00:19 What about keeping some gluten in your child's diet so they will stay "adapted"?
1:14:22 What about gluten during pregnancy?

1:24:15 – Outro