Summer berries set in a fragrant jiggly jelly make this a light and elegant dessert that also packs some compelling nutrition! Not only are mint and berries rich in antioxidant phytochemicals (see The Amazing World of Plant Phytochemicals: Why a diet rich in veggies is so important!) but the gelatin itself is very beneficial. In fact, it's the same good stuff that's in bone broth (see Why Broth Is Awesome and The Health Benefits of Bone Broth).
Gelatin (or collagen) is a protein, the composition of which is the same as our own connective tissue, so it's really easy for the body to incorporate these amino acids into structures that need them for growth and repair, like hair, skin, and nails. Gelatin is also known to be important for supporting the lining of the gut and in helping people recover from leaky gut and gut dysbiosis. The high concentration of glycine and proline in gelatin, the most abundant amino acids in the body, also aid in promoting cardiovascular health by keeping our blood vessels springy (in a good way!) and maintaining hormonal balance. Basically, it makes almost every organ system function more robustly!
*NEW* The Gut Health Cookbook!
The Gut Health Cookbook is fantastic! Thank you for researching and creating The Gut Health Cookbook! Such wonderful recipes! I'm so excited to try them all! -Sue
The Gut Health Cookbook puts the 20 Keys to Gut Health into practice with:
180+ recipes featuring 61 gut health superfoods

Gut health food lists

Why's behind each gut health superfood
Get instant digital access for $27.99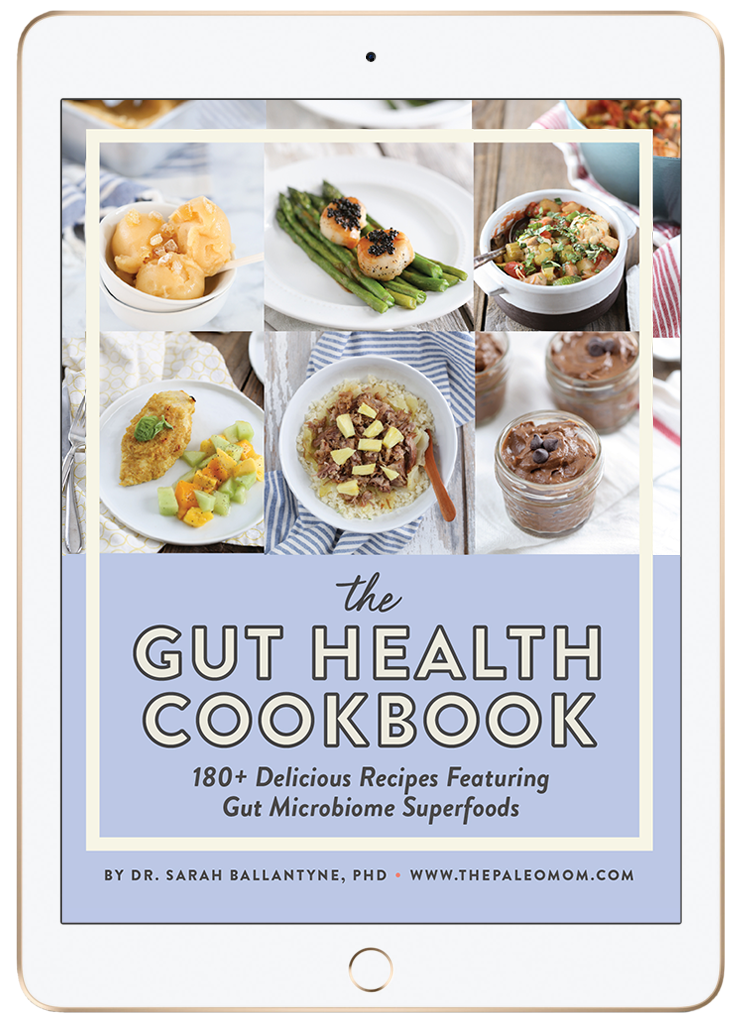 use Vital Proteins' Beef Gelatin for any recipe that calls for gelatin. It's a grass-fed, non-GMO, gluten-free, and rGBH free, natural and high-quality product!
This berry terrine is simple and refreshing, and completely Autoimmune Protocol-friendly! By making individual servings, it's much less finicky than similar recipes where the berries are carefully arranged in individual gelatin layers in a loaf that is sliced to serve. This recipe calls for mixed berries, and I like the brambles (blackberries and raspberries) simply because of their potent antioxidants, but you can include almost any combination of fruit in this recipe! So, get your Vital Proteins Beef Gelatin out and let's get ready to bramble! (See what I did there? hyuck)
Prep time: 30 min
Cook time: None
Servings: 12
Ingredients:
The Gut Health Guidebook!
The depth of information, practical tips, and the accessible way Dr. Sarah shows me how to apply complex science to improve my health is truly remarkable. -Wendy
The Gut Health Guidebook is the culmination of 6 years of research. This unprecedented deep dive into the gut microbiome delivers:
A new diet for gut health, built from the ground up

Essential gut microbiome superfoods

20 Keys to gut health
Get instant digital access for $27.99
Grease 12 muffin cups (you can use a muffin pan with fun- shaped wells, like hearts or mini Bundt cakes) with coconut oil or line with silicone liners, or use a silicone muffin pan.
Fill each muffin cup with the berries.
Place the mint leaves, orange zest, and lemon zest in a teapot. Pour the hot water over the leaves and steep for 10 to 15 minutes.
Meanwhile, bloom the gelatin by sprinkling it over the cold water and waiting until the gelatin has absorbed the liquid and looks translucent.
Pour the mint tea through a sieve into the bloomed gelatin. Stir until the gelatin has dissolved. Let cool for 10 minutes. Add the honey and lemon juice, and stir to dissolve the honey.
Pour the mint tea gelatin mix over the berries to fill each well in the pan. Place in the refrigerator until set, 3 to 4 hours.