UPDATE: Despite what Sarah and Stacy anticipated, we are experiencing technical difficulties getting iTunes set-up for the bonus show, please use CD Baby until we resolve these issues. Thanks for your patience!
We teased it in Episode 38 of The Paleo View. We've teased it on our Facebook page. We've been eagerly anticipating its launch. And now it's finally here!
We hear all the time about how much the opening segment where Stacy and Sarah talk about Life, the Universe and Everything is everyone's favorite. And several people have even asked for a spin off chat show where the questions are completely excised. We've heard the calls and we have answered! The Paleo View is going to start offering some fantastic extra podcasts in addition to our regular ones, our goal is once a month.
Nutrivore Weekly Serving Matrix
An easy-to-use and flexible weekly checklist
to help you maximize nutrient-density.
The Weekly Serving Matrix is very helpful! I've been eating along these lines but this really helps me know where to focus vs. which foods serve a more secondary role. It's super helpful and has taken a lot of worry out of my meal planning. Thanks!

Jan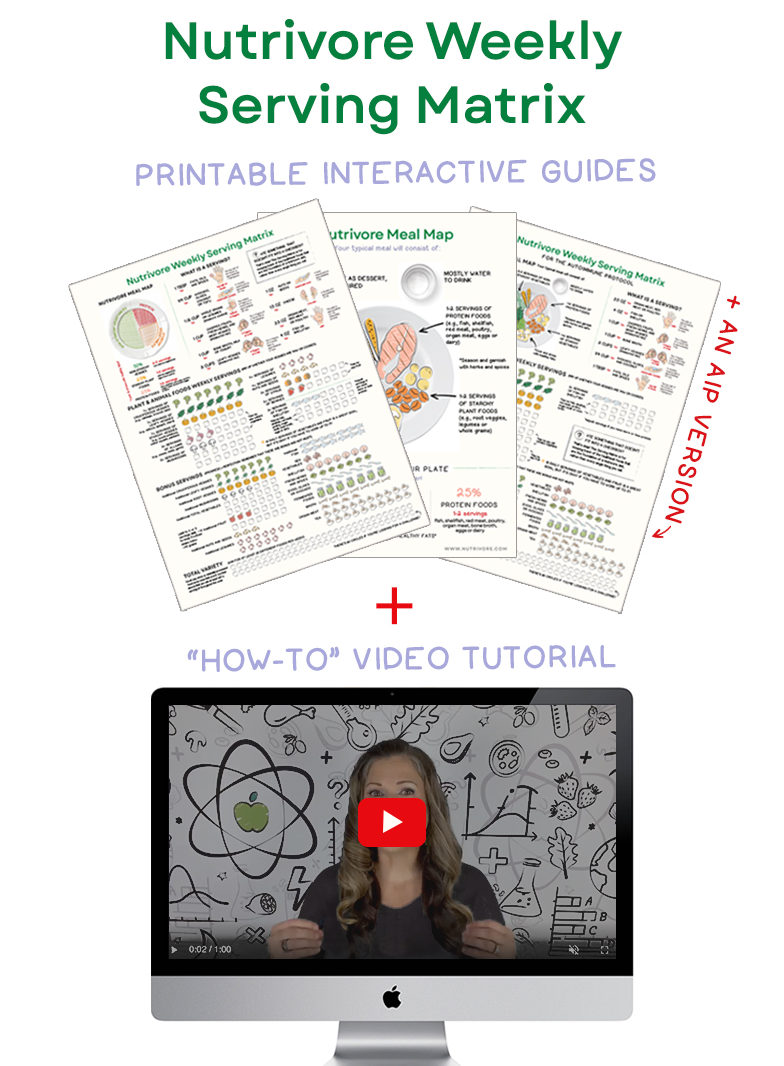 The reason we're calling it a "Bonus Podcast" is because this is not going to be part of the normal feed you may be subscribed to within iTunes. It will be available only as a paid download. Before you freak out, please consider the amount of time that it takes for us to prepare for the show (science research and sorting a LARGE inbox of questions), record the podcast, produce it to have a good sound quality and entertaining format and then draft show notes. Not to mention, there are hosting and production costs associated with the podcast that we unfortunately haven't been able to recover.
So, for a low price of 99 cents, you can hear the ladies talking about more personal topics and in a more laid back, less formal morning coffee chat format.
The Paleo View – Bonus Podcast 1: The Mothers Show
What better way to start off our new series on this Mother's Day than with the actual, real life mothers of our hosts? Meet Carol and Patsy, the women who birthed Stacy and Sarah. Listen to this intimate conversation of 4 women who have a lot in common, yet had never before all spoken prior to this evening.
As usual, you'll get to giggle and get teary eyed as you listen along to the chatter of these brave, bold women. Hear the stories of what brought all of these women to where they are today, including a mother's perspective on what led Stacy & Sarah to become who they are today. From embarrassing stories of their youth to the absolute raw truth of bulimia, welfare, vegetarianism and everything in between.
This is an episode you won't want to miss. It's a great one to share side-by-side with YOUR mother as a conversation starter and reminder that you love her for helping you become the woman you are today. Because despite whatever faults we all have as individuals, we mothers always are trying to do the very best by our children that we are able.
This podcast is deeply personal; it took a lot of hutzpa for our mothers' to join us on this show, to let their guard down and be brutally honest about their own stories, their fears and their accomplishments. I am thankful everyday for the life that I have. Without my mother, the sacrifices she made for me when growing up and the journey my life took as a result of being raised by her – I would not exist. For women who don't volunteer to expose themselves the way Stacy and I do daily, I know how vulnerable Patsy and Carol were to do this – and I can't thank them enough.
The Technical Details
There are a few ways you can download this show. No matter how you download, a 3rd party will get a portion of the $.99 you will pay – however, some mechanisms are better for us than others. So, if you'd like us to get the most of your pennies possible, here's the order in which we recommend you download the show:
Download directly from our digital distributor, CDBaby, from the page here. We will get 90% of your dollar there. For a short period, this will be the only place you will be able to get it.
Download from the iTunes store when it becomes available in 24 – 48 hours. We will get about 40% of your dollar there. You will need to look for us as a SONG and not a podcast, under "artist" The Paleo View.
So you've done your part and downloaded an MP3 from a non iTunes source. How do you get it on your phone?
For an iOS (Apple) device:
Then, sync your device with iTunes.
The bonus podcasts will be listed under "Music" instead of "Podcasts" due to the nature of delivering the file this way.
For an Android device:
For other MP3 devices:
Follow your instructions for transferring MP3s to your player.
For an 8-Track player:
Summary:
If you like or love the regular The Paleo View you will enjoy this 97 minute bonus episode.
When you purchase it, you help us fund our efforts for continued free weekly episodes of The Paleo View.
The best way is to directly download the MP3 through CD Baby, which should be able to play on any of your electronic devices.
And if there's a topic you'd like us to discuss that would be more appropriate for this format of show, please let us know! You can submit your request here.

Become a Member for FREE!
The Paleo Mom Members' Area is resource central!  
You'll get FREE, unlimited access to dozens of quality resources, including introductory series, downloadable e-books, exclusive recipes, printables, videos and guides!
You may enjoy these related posts:
In this episode, Stacy and Sarah tackle a collection of questions focused around …