In this episode, Stacy and Sarah discuss gut health, food allergies vs. intolerances, small intestinal bacterial overgrowth treatment, the various forms of elimination dieting to aid in gut recovery, and H. pylori.
On Sunday, May 12. The Paleo View launched their first ever bonus episode – The Mother's Day show! Download the first bonus show by clicking here! And be on the lookout for our monthly, pay bonus podcast!
Listen in iTunes
or download and listen by clicking the PodBean player below
Nutrivore Weekly Serving Matrix
An easy-to-use and flexible weekly checklist
to help you maximize nutrient-density.
The Weekly Serving Matrix is very helpful! I've been eating along these lines but this really helps me know where to focus vs. which foods serve a more secondary role. It's super helpful and has taken a lot of worry out of my meal planning. Thanks!

Jan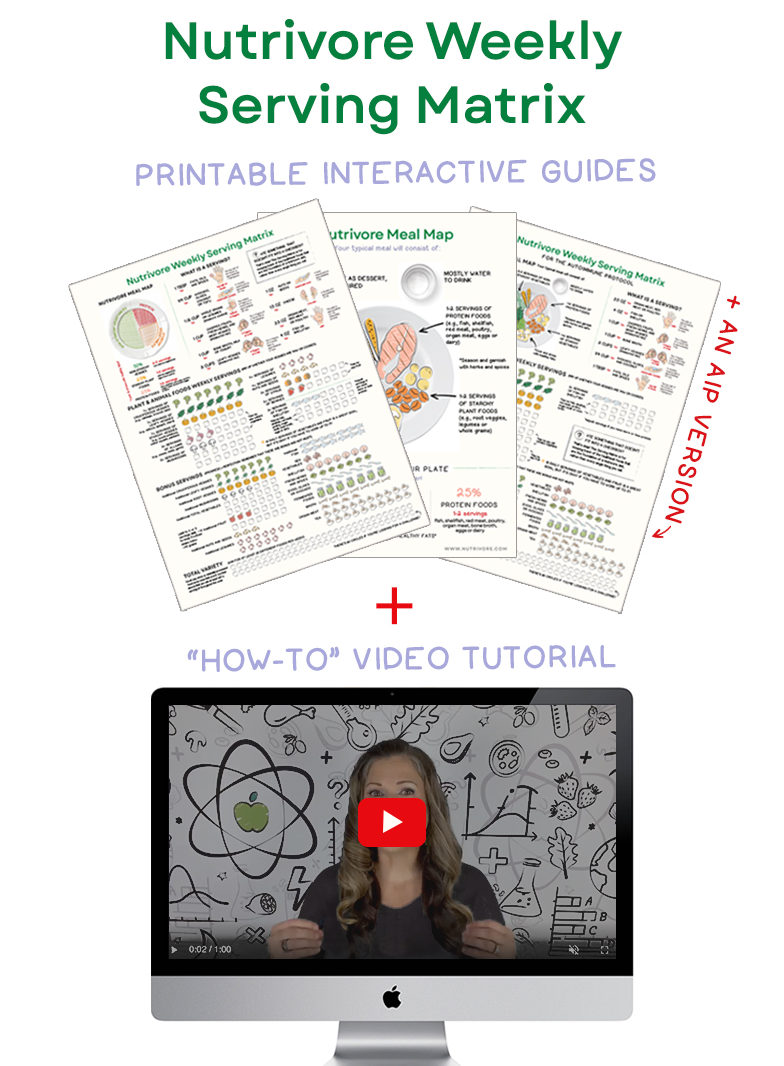 We're now on Stitcher!
If you enjoy the show, please review it in iTunes!
The Paleo View (TPV), Episode 39: Gut Health
0:00 – Introduction
1:19 – News & Views

Coming off the Beyond Bacon chaos, Stacy returned to Crossfit and is overall working towards recovery from the stress load
Stacy had a great Mother's Day, complete with Urban Poser's Samoa Donuts – experienced a refreshing awareness where her sweet tooth was easily satisfied and she didn't feel the need to go over board
Sarah had a great couple of days and is very close to being done with part two of the book and then she will work on the cookbook section, which she is really excited to shift gears to
The Paleo Approach is roughly 210,000 words right now, the book is an information dense book and people are getting a tremendous deal
Sarah has made the science in the book incredibly approachable, just like it is on her blog, and it is truly a complete guide
Part two of the book is all about the practical implementation – what lifestyle factors to focus on
The book is a beast, with the nickname the encyclopedia – Sarah feels like she is racing for the finish line, but feels like she is going to make it and is looking forward to her three days off before editing work comes
On Mother's Day Sarah and her family hung out at home and played outside – it was a nice day
The special bonus episode went live on Mother's Day (May 12) and is available on iTunes, but you have to look for it under a song and not a podcast


The Paleo View will be offered for free, but the The Paleo View Bonus Shows are offered at a minimal cost to recoup some of the costs that have gone into the show
It is $0.99 per episode on the CD Baby site, but we don't know what iTunes will charge.
The show is an expanded 'News and Views' format of The Paleo View and is a personal, intimate discussion
Despite what Sarah and Stacy anticipated, we are experiencing technical difficulties getting iTunes set-up for the bonus show, please use CD Baby until we resolve these issues

Sarah hasn't yet had a chance to listen to the Bonus Show because of book work
Stacy was kind of taken back by the level of intimacy that the discussion took, and feels like mothers and daughters will in particular take a lot away on relationship development
Stacy's treadmill desk broke, so is now working from a standing desk
Sarah spends a decent amount of time standing at her treadmill desk, especially when reading fine print or after eating a meal – is overall feeling so much better sitting less
Stacy wants a standing desk for work, but is worried about being the weird one and how to handle the days where she doesn't wear flats
Stacy tells the world to go check out whatshouldwecallPaleolife.tumblr.com – it is great when you need a laugh!
Reminder, please leave your reviews on both The Paleo View and Bonus Show on iTunes!
Welcome new listeners! Happy belated Mother's Day!

24:53 – Science with Sarah: Why do people react more violently to a food after eliminating it? When you stop reacting to food, is that an indicator that your gut has healed?

In every gut there are cells that sample the environment inside the gut and present what they find to the immune system, essentially patrolling
If you have a leaky gut, a lot more of what is in the gut leaks out and is presented to the immune system
Food intolerances and food allergies are both different kinds of antibodies
The cells that produce these antibodies are part of the immune system and are there to develop immunity towards certain things
There are a number of cells in the immune system – protectors, therapists to calm, directors
When you get to the end of an infection it is the director cells that divide and conquer and makes sure that the immune system doesn't attack the wrong things and that it deactivates once the threat is gone
With a food intolerance and food allergy, the middle management cells are directing antibodies
In a normal person you achieve immune tolerance towards the food, which is an equal balance between the middle management cells and the suppressing cells – thus having no symptoms
If you have a food allergy or intolerance the system is out of balance
When you start any elimination diet you can experience exaggerated responses to small exposures for a number of reasons
As your immune system regulates and your body heals, eventually you will end up at a point where both the cells that respond to food are at low levels
You could eventually reach the point where exposures to food intolerances will not cause dramatic responses – it is a sign that your system has regulated
How long it takes to get there is dependent on a number of factors, including genetics, stress level, sleep quality, nutrient density in diet, hormone regulation
During the Cavekids PaleoFX panel, Chris Kresser mentioned that health isn't having a violent reaction to bad food, that is the process to healing – health is when your body knows how to recover from the exposure to bad food (The Paleo View episode where gut health recovery was discussed with Diane Sanfilippo)
Stacy notes that people on a Paleo diet will heal their gut in time, that there is another side to the intense negative reactions to an exposure where you body will better handle the minor exposures
Thanks to Russ from The Domestic Man for chatting about this topic with Stacy, which sparked the suggestion for this podcast topic

36:57 – Q&A
1:22:54 – Outro

Become a Member for FREE!
The Paleo Mom Members' Area is resource central!  
You'll get FREE, unlimited access to dozens of quality resources, including introductory series, downloadable e-books, exclusive recipes, printables, videos and guides!
You may enjoy these related posts:
In this episode, Stacy and Sarah invite Bill Staley and Hayley Mason of The Food …