I'm so excited to announce the the next session of The AIP Lecture Series!!! It begins Monday, January 10th, 2022 and there's still time to get early-bird pricing!
I created the AIP Lecture Series to provide a rich and supportive learning environment for autoimmune disease sufferers and caregivers. In this 6-week, video-based, online course, I personally teach the scientific foundation for the diet and lifestyle tenets of the Autoimmune Protocol, plus provide tons of tips and strategies for implementation, refinement, troubleshooting and mindset!
And, as the creator of the AIP, I love teaching this online course because it's also my opportunity to provide personalized guidance and support! I connect with every single student within a private Facebook group for the course, read and engage with every single comment, and answer every single question posed during the session with compassion and attention to detail.
The 42 video lectures stream on-demand, each one paired with recommended reading, action steps, and self-discovery exercises. There's also dozens of printables, twice weekly guided discussions in a private Facebook group, and I also share weekly (or more!) FAQ videos in the private Facebook group for the course that are catered to the specific interests and challenges of each group of students.
Yes, I Really Do Provide Individualized Support!
I am there to support you and give you guidance throughout all six weeks of this course. You will be able to interact with me and ask me your individual questions in the private Facebook group for this course.
I answer every single question and follow-up in the private Facebook group to provide you with individualized support and guidance throughout the session. There's no limits on how many questions you can ask or what topic, and I always answer thoroughly, with compassion and attention to detail — just know that I can't legally answer medical questions that are best directed at your healthcare provider.
I guide discussions relevant to that week's lecture topics in the private Facebook group twice weekly (posted Mondays and Thursdays, and we typically continue to discuss over a few days), and read and engage with every single comment. I also share a video FAQ based on the most common questions and discussion points from that week (posted on Saturdays, with sometimes a bonus FAQ video or mid-week), which I cater to the interests and challenges of each group of students.
New in 2022
As a result of my research for Nutrivore.com and my upcoming e-book Guide to Nutrivore, I will be adding a new bonus lecture to the course on how we can use the Nutrivore Score to improve and refine our implementation of the Autoimmune Protocol. This will be the second bonus lecture added to the course, which also already contains a bonus lecture on how we can use the AIP to enhance our gut microbiome health!
*NEW* Guide to Nutrivore E-Book!
Nutrivore is the simple yet revolutionary concept:
Choose foods to meet the body's nutritional needs!
I'm very excited about the Nutrivore information! Thank you so much for all your research and hard work you put into this kind of information for all of us to use!! -Debbie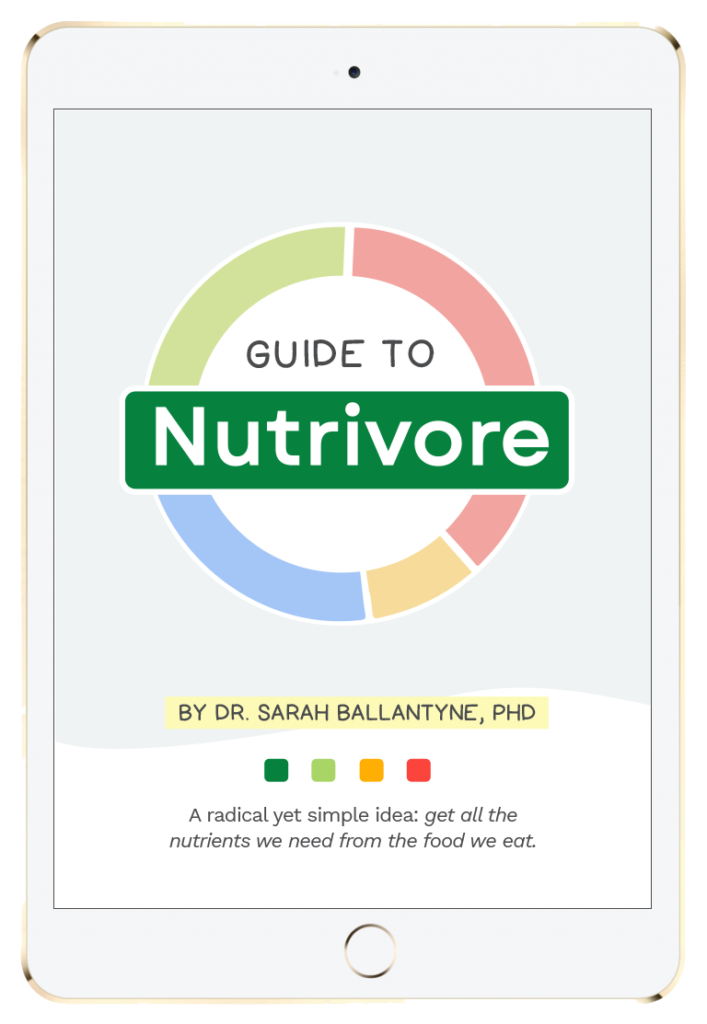 And as a result of recent research I've done on weight stigma, I'm once again planning even more mindset and habit formation conversation in the private Facebook Group.
Diversity & Inclusion Scholarships
I am taking action to increase diversity and inclusion throughout the autoimmune community. As one aspect of a developing action plan, I am offering ten full scholarships (including tuition and textbooks) for each session of the AIP Lecture Series intensive online course to members of historically underrepresented and systemically oppressed communities. These scholarships are intended to increase access to AIP education in the context of historical and present day systemic inequities that disadvantage people of Black, Indigenous, Latinx, Asian and mixed-race heritage, as well as members of the LGBTQ+ community and people with disabilities. The deadline for applications is November 30th, 2021. Click here to learn more and apply.
More About The AIP Lecture Series
The Autoimmune Protocol Lecture Series is a 6-week video-based, self-directed intensive online course that will teach you the scientific foundation for the diet and lifestyle tenets of the Autoimmune Protocol, plus provide tons of tips and strategies for implementation, refinement, troubleshooting and mindset!
The AIP Lecture Series features:
The Gut Health Guidebook!
Diet and lifestyle to nurture your gut microbiome and heal leaky gut!
The depth of information, practical tips, and the accessible way Dr. Sarah shows me how to apply complex science to improve my health is truly remarkable. -Wendy
42 on-demand video lectures (totaling 16 hours!), all taught by Dr. Sarah Ballantyne, PhD
the most up-to-date information on the Autoimmune Protocol
dozens of printable guides
action steps to help you go from theory to practice
daily self-discovery exercises to reinforce and refine implementation
an online forum to connect with other students and ask questions
guided discussions in the online forum
weekly FAQ videos in the online forum
recommended reading for every topic
interactive quizzes to test your knowledge
support and guidance directly from me!
The AIP Lecture Series doesn't shy away from teaching important scientific concepts. I firmly believe that understanding how foods affect our health and the cellular level is an essential motivator for making positive and lasting change, as well as being critical to the self-discovery processes of finding individual tolerance and reintroduction. But, you don't need a science background to take this course! I explain the scientific evidence for each facet of the Autoimmune Protocol in my signature approachable style using accessible language and visual guides. If you enjoy my books and articles on this website, you'll love this course!
The lectures are also loaded with practical tips and strategies for implementation, so you can go from theory to practice with this course! You'll learn what to eat (not just what to avoid) and why, how to balance lifestyle and diet priorities, and I tackle many topics related to day-to-day AIP life like eating out, reintroductions and even where to start when it comes to troubleshooting.
You also get direct access to me in the private Facebook group, where I provide personalized guidance and support for every student, and I make sure to answer every single question and follow-up asked during the session, as well as read and engage with every single comment.
Students are consistently amazed by the tremendous value of this amazing educational experience!
Who Can Benefit from The AIP Lecture Series?
I have carefully crafted the online course to cater to all experience levels, from the person completely new to the idea of diet and lifestyle changes to heal from chronic illness, to someone who has dabbled in Paleo or AIP but had trouble sticking to it in the past, to the Autoimmune Protocol veteran who already has seen great results, to the caregiver supporting family or friends with autoimmune disease, to the practitioner looking to begin their advanced learning of the Autoimmune Protocol.
You can benefit from the information presented in this course whether you're in the early phases of diagnosis, are looking to reduce disease risk due to a strong family history, or have battled autoimmune disease or other chronic illness for years.
The Gut Health Cookbook!
180+ delicious recipes featuring 61 gut health superfoods!
The Gut Health Cookbook is fantastic! Thank you for researching and creating The Gut Health Cookbook! Such wonderful recipes! I'm so excited to try them all! -Sue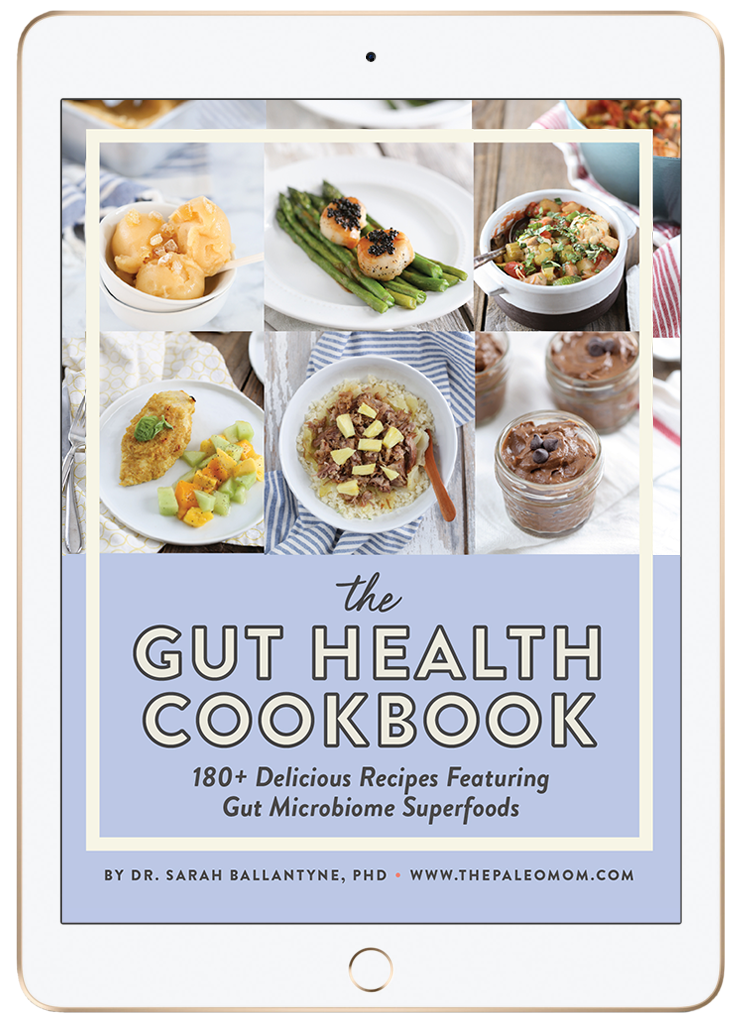 What Previous Students Say
The information is mind blowing… Thank you Dr. Sarah for your researched work and dedication to the AIP, gut health and to us! I am learning above and beyond my expectations.
Wow! I am overwhelmed at all the amazing, dedicated work, you have done Sarah in order to corral the evidence and logic behind the AIP approach for us to sit back and digest! You are a truly dedicated scientist driven by insatiable curiosity and a caring heart to get this important information out into the world. Thank you.
I can't thank you enough for sharing all your knowledge and insights. I've heard things from you that I've never heard from even a doctor. Also, your gentle and supportive way of encouraging us and giving us a template to work with has tremendously helped me.
Aside from learning about desiccated thyroid as a Synthroid alternative, Dr. Sarah Ballantyne's AIP class and The Paleo Approach book are the two most valuable things I've discovered in my Hashimoto's journey.
In an industry full of guru-wanna-be's and personalities pushing baseless miracle cures, I appreciate that you are recommending evidence based diet and lifestyle steps that do not require the purchase of special products or services. No gimmicks. Just real food and lifestyle habit recommendations based on science. Thank you!!
This class was exactly what I hoped it would be: informative, engaging, challenging (in a good way). But it went even further than my expectations with the depth of the information, engagement with other classmates, and most importantly the interaction with Dr Sarah herself and the wealth of knowledge she possesses.
I am loving this AIP course and all the information I am receiving. The amount of work you have put into this is amazing and greatly, GREATLY, appreciated. Thank you so much. Taking this course gives me the knowledge I need to understand my body and reinforces my determination to continue along this dietary path to heal it. Invaluable!
I am loving this course! Having the details is more motivating and helping me stick to AIP. I am actually thinking about what is happening in my body, not just how it feels.
This online learning resource and your teaching style are beyond amazing! I am so excited about what I am learning! This is way beyond what I was expecting.
You are so awesome. I've learned more useful information with a direct and immediate application to health in one 15+ minute video from you, than a 20-year stint of clinic and doctor office visits were able to provide.
Learn More About the AIP Lecture Series!
Still not sure if the AIP Lecture Series is right for you? Enjoy free access to videos that share more about the Autoimmune Protocol and this course:
Also check out Autoimmune Protocol Lecture Series FAQs.
How the Course Is Structured
I carefully planned every aspect of this course to be accessible no matter what time zone you're in or what your schedule looks like! You can stream the video lectures on-demand, and contribute to the Facebook guided discussions, ask me your questions, or watch my FAQ videos on your own schedule.
You access the course by logging in under "My Account" at the top of ThePaleoMom.com homepage and selecting "AIP Lecture Series" under "My Courses".
Every Monday during the 6 weeks of the session, a new module will unlock. Each week/module of the course features 7 related topics. Each topic contains 1 video lecture (videos vary in length but each week contains 2 to 3 hours of total video), which streams on-demand. Each video is accompanied by recommended reading as well as relevant printables, action steps, and a self-discovery exercise.
The Gut Health Collection!
Save $10 on The Gut Health Guidebook and Cookbook!
I love Dr. Sarah's passion for educating people and helping everyone on their journey to wellness!! -Mindy
Proceed through each week at your own pace! You must go through the topics in order and watch each video lecture in order to mark that topic as completed. Reading, action steps and self-discovery exercises are all optional but highly recommended. You can take this course from anywhere in the world and there are no scheduled webinars that you must attend live. Once a week unlocks, you retain lifetime access, so don't worry if you feel like you're falling behind.
I lead twice weekly guided discussions in a private Facebook group to accompany that week's lectures, and post at least one video FAQ each week that relates to the questions posed in the Facebook group that week. I also answer every question asked in the private Facebook group.
At the end of each week/module, there is an interactive quiz so you can test your understanding of that week's content.
I teach every aspect of this course personally, including reading and engaging with all your comments and answering all of your questions within the private Facebook group. If you don't use Facebook, I encourage you to create a dummy account so you can access this aspect of the course. Previous students have consistently ranked the private Facebook group as one of their favorite aspects of the course. I hope you'll join me!
And, you retain lifetime access to all of the course materials and the private Facebook group, including all of the resources shared within. Students love the community building aspect of every session and continue using the private Facebook group after the course is over to support each other, connect and share resources.
The Topics Covered Each Week
I designed this course to be very comprehensive and suitable both for people who are completely new to the idea of diet and lifestyle changes to mitigate their chronic conditions and to the AIP vet looking to further their healing journey. I use my extensive expertise in the Autoimmune Protocol as well as my love of teaching to explain the scientific foundation for each facet of the AIP in my signature easy-to-understand, accessible style. I gear this course to the general public, but many scientists and doctors have taken my course in the past and also loved it!
Here's the course outline!
Week 1: Introduction to the Autoimmune Protocol

Welcome to The AIP Lecture Series
History of Dietary Recommendations and the Rise in Chronic Illness
What is Autoimmune Disease?
Primer On The Immune System
Primer on Gut Health
The Causes of Autoimmune Disease
What to Expect from the AIP

Week 2: The Science behind What to Eat

Nutrient Density and Immune Function
The Importance of Vegetables
The Importance of Seafood
The Importance of Offal and Broth
Foods for Gut Health
BONUS LECTURE: Foods for Gut Microbiome Health
Plants vs Animals: Macronutrients are Overrated
Variety, Quality, and Budget

Week 3: The Science behind AIP Eliminations, Part 1

Introduction to AIP Eliminations
AIP Eliminations: Prolamins
AIP Eliminations: Agglutinins
AIP Eliminations: Saponins and Glycoalkaloids
AIP Eliminations: Digestive Enzyme Inhibitors and Phytates
AIP Eliminations: Alcohol and Eggs
AIP Eliminations: Refined and Manufactured Foods

Week 4: The Science behind AIP Eliminations, Part 2

AIP Eliminations: Sugar and Insulin
AIP Eliminations: Sweeteners and Estrogen Mimics
AIP Eliminations: Leptin and Ghrelin
AIP Eliminations: Bad Fats
AIP Eliminations: Other Immunogenic Foods
Summary of AIP Eliminations
Living with Eliminations

Week 5: The Science behind AIP Lifestyle

Introduction to AIP Lifestyle
Sleep and the Immune System
Stress and the Immune System
Activity and the Immune System
Connection and the Immune System
Nature and the Immune System
Lifestyle versus Diet: What's More Important?

Week 6: Implementing and Troubleshooting

The Autoimmune Protocol Do's and Don'ts
Repairing the Gut
Avoiding Environmental Toxins
Troubleshooting
Healthy Habits, Transition, and Balance
Reintroductions
Wellness for Life
I Hope You'll Join Me!
I love teaching this course! Being able to be a positive force in a person's life is so rewarding, and I love being able to connect with my students each individually and support them in whatever way they need to move forward on their healing journey. I can't wait to get to know you in my next session!
The Ultimate Support for Your AIP Journey.
Get personalized guidance and support directly from
Dr. Sarah, the creator of the Autoimmune Protocol,
within a compassionate and empowering educational environment!
Get on the waitlist for The AIP Lecture Series and save your spot!
The Autoimmune Protocol E-Book!
Your practical guide to jump-start your healing with the AIP today.
One of my FAVORITE books I used to start the transition to AIP!!! It's so helpful! I printed mine out and spiral bound it. Thank you for this! -Rita Davidson