In this episode, Stacy and Sarah are joined by Jimmy from Livin' La Vida Low Carb to discuss the presence of Fat-Phobia in society.
Listen in iTunes
or download and listen by clicking the PodBean player below
We're now on Stitcher!
If you enjoy the show, please review it in iTunes!
Nutrivore Weekly Serving Matrix
An easy-to-use and flexible weekly checklist
to help you maximize nutrient-density.
The Weekly Serving Matrix is very helpful! I've been eating along these lines but this really helps me know where to focus vs. which foods serve a more secondary role. It's super helpful and has taken a lot of worry out of my meal planning. Thanks!

Jan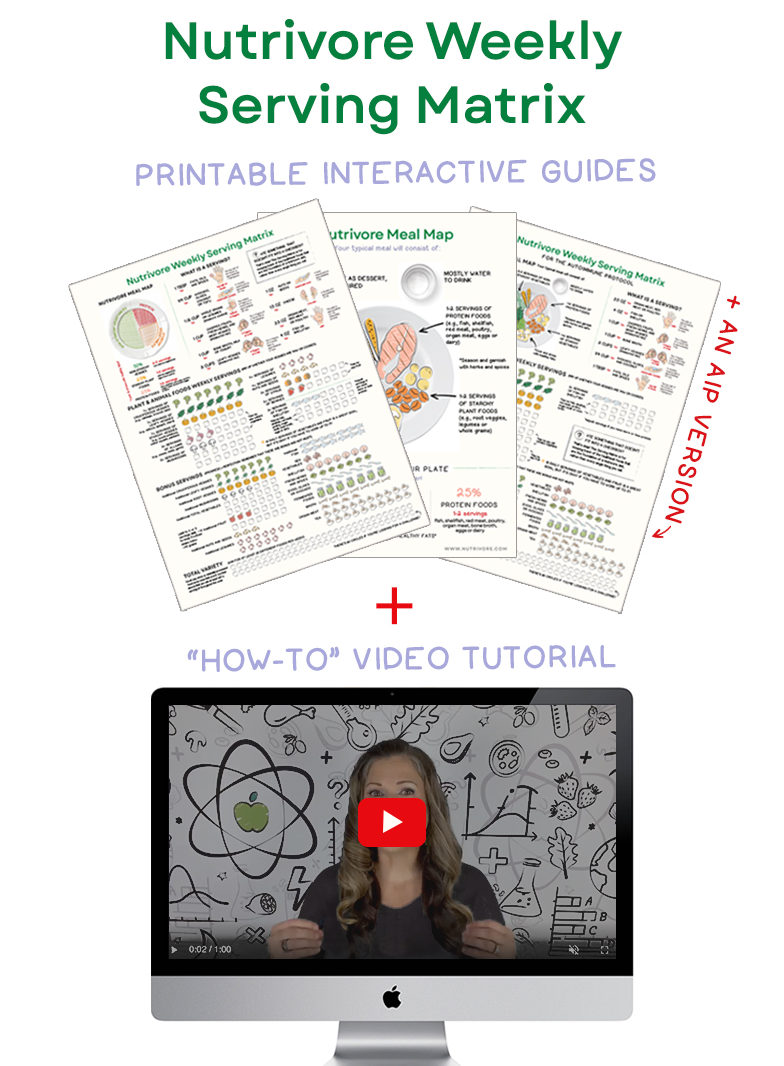 The Paleo View (TPV), Episode 53: Fat-Phobia
0:00 – Introduction
1:19 – News & Views
33:18 – Science with Sarah

Good fats and why the balance of omega 3's and 6's matter
The fatty acids that our body absorbs: AA, DHA and EPA
Autocrines and paracrines, and what their signals do in the body
The ratio of AA, DHA and EPA that are stored in the cell membrane is relative to what you eat
If you have more AA in your cell membrane, your body will make more of the most inflammatory prostaglandins – this is why a high omega-6 diet causes inflammation
Stacy notes that it is important to not be afraid of fat, but to eat the right ones

43:57 – Q&A

The Emotional Side of Fat Phobia

Stacy

Post on her original feelings towards this concept
It is easier for a lot of people to pretend that overweight people don't exist because it is uncomfortable for them to interact with them, which significantly impacts an overweight individual's self-worth and respect
What is most powerful about Sarah's, Stacy's and Jimmy's stories is that they came into this and changed their lives, and have become leaders in a movement because their passion has allowed them to not only open doors for themselves but for others too
Stacy has come to accept that she might be her healthiest at her current weight, which is a number that she has to identify – not society
Through her post, Stacy put it out for others to get over it – to not worry about Stacy's number on the scale and more importantly to get over being afraid of overweight people
If you are putting it out there and taking care of yourself, its ok to accept yourself the way you are
We can have representatives of health across all spectrums

Jimmy

Early in his career is when he first felt invincible, which is ironic since you are typically the biggest person in the room, but feel like the smallest person
Jimmy felt like there was a glass ceiling above of him because of his weight
People didn't even notice he lost weight until 100 pounds were gone
People who had never talked to Jimmy before started talking to him, and it was weird
The Paleo community was nothing but supportive when he gained back some of his weight
Lets redefine what healthy means for people

Sarah

Remembers very clearly when people started flirting with her after her physical transformation
You go from being anonymous to getting attention, and it was awkward
She made a point of it to be a person to open doors for others and to interact with everyone around her, despite what they look like
Discovering the presence of fat-phobia is a part of the journey

(1:03:54) Jennifer – How to avoid comparing my Paleo journey to others?

Stacy encourages Jennifer to cut the yogurt because skin conditions are often linked to dairy
Check on where your sleep quality is at, it is often the key to reaching your health goals
As parents, set the foundation on how to love your self – your kids feed off of your mentality towards healthy and body image
You making every effort possible to be healthy is wonderful, acknowledge that and be proud of how big all those efforts are
You need fat to be and feel healthy, look at your fat sources and make sure you are getting enough

(1:17:09) Kayla – Why are my HDL and LDL numbers not changing from adopting a Paleo lifestyle?

First, dietary fat doesn't clog your arteries, dietary cholesterol does not raise your cholesterol, vegetable oils are not healthier if you have cardiovascular disease, saturated fat is not bad – there are many myths out there surrounding fat
Jimmy thinks you need to pay more attention to where your HDL is at and your triglycerides, which will paint a picture of where your heart health is
If you are still worried, get a c-reactive protein test
After that, you can get a CT heart scan to check how much plaque is in your arteries
Look at actual disease, don't look at the cholesterol numbers
The cholesterol numbers that doctors give you are based on obsolete science
Check out Chris Kresser's work on statins
Check out Dr. Laura Davies guest post on Sarah's site on documents to share with your doctor

Special thanks to Jimmy for coming on the show this week!
(1:38:36) Outro