On this episode of The Paleo View, Stacy and Sarah share on histamine intolerances – what are they, what causes them, and how to manage them. The hosts also answer listener questions related to histamine intolerances.
Click here to be taken to iTunes
The AIP Lecture Series
RETIREMENT SALE! SAVE 70% OFF!
I am loving this AIP course and all the information I am receiving. The amount of work you have put into this is amazing and greatly, GREATLY, appreciated. Thank you so much. Taking this course gives me the knowledge I need to understand why my body is doing what it is doing and reinforces my determination to continue along this dietary path to heal it. Invaluable!

Carmen Maier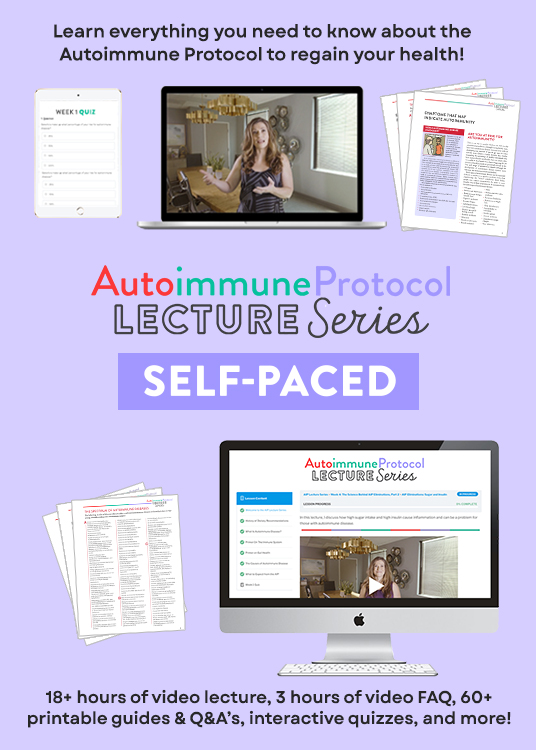 or download and listen by clicking the PodBean Player below
If you enjoy the show, please review it in iTunes!
The Paleo View (TPV), Episode 170, Histamine Intolerances
Intro (0:00)
News and Views (0:56)

Happy birthday Sarah!
How Sarah is acting like an old lady these days, and why she is making a stand for not yet being in her 40's
In addition to recording The Paleo View, Sarah's birthday celebration also included a special WOD and a hot stone massage
Stacy's life happenings include Ronda Rousey and how the internet blew up, and Adele
This week's show will be about histamine intolerances and Sarah has a feeling that many people will be self diagnosing themselves by the end of this show, and wants to provide a friendly reminder to seek a health care provider if you think you may have an issue with histamine intolerances (in this case a functional specialist, a naturopathic doctor, or someone in the alternative healthcare field)
Histamine intolerance can look like a lot of things, and a lot of things can look like histamine intolerance; and there are a lot of potential causes of them
Remember that nothing Sarah or Stacy say on the show should be taken for medical or nutritional advice

Science with Sarah (13:32)

Histamine is a normal molecule produced by our body and people are very familiar with it based on its relation to allergies or our reactions to bug bites – it is one of the ways our immune system physically isolates a toxin and tries to get rid of it
It is also one of the things that happens with foods allergies, with anaphylactic shock producing a very large histamine response
Histamine has other important roles in the body – it is part of how cells communicate with their neighbors, and is a neurotransmitter that regulates a very large number of functions in the body
Histamine intolerances, how they are triggered and what is happening on a cellular level when triggered
The root of histamine intolerance is that the production of histamine is greater than our ability to handle it, and that production can come from a few different places and our inability to handle it can also come from a few different places – but basically it boils down to having too much histamine and the body not being able to handle it
The lengthy and broad list of histamine intolerance symptoms
How some foods have histamine, which is basically considered spoilage and is something that is tested for in high levels in the food industry
Seafood is a great example of a histamine containing food, but with a huge variation – more details on this
Fermented foods, alcoholic beverages, and deli meats can also all be high in histamines
Some fruit, soy products, coffee, chocolate, green tea, pork, and spinach can all have lower levels of histamine
Finding a health professional to help you diagnose any responses you may be having to these foods
Histamine intolerance seems to be highly related to a leaky gut
The treatment is a low histamine diet, partnered with working on gut health
Eventually you would slowly start increasing high histamine containing foods

Questions & Answers (30:02)

Christina – why are no two histamine lists the same? Would a rotational diet help to avoid more sensitivities?

The limited research that is available on these lists
What a rotation diet can do if you have a very leaky gut
The challenge with the strict rotation and what happens with time
Sarah recommends the rotation diet as a second tier effort, and recommend figuring out the rotation with a really good nutritional therapy practitioner or a functional medical specialist
This is a very situational strategy

Jen – why are dried fruits and veggies high in histamine even if homemade?

What happens during the drying process and how the nutrients become concentrated

Dose dependent reactions and determining how cutting out certain nutrient dense foods impact overall health versus the cons of triggering a small reaction
Happy Thanksgiving to our listeners! Stacy encourages everyone to find a family tradition and to enjoy family time together
Sarah's Thanksgiving plans
Stacy's love for Sarah's pumpkin pie recipe
Stacy will be sharing her epic 2015 Thanksgiving menu soon
And be sure to check out this holiday recovery podcast episode if you need help after Thanksgiving
Thank you for tuning in!
Outro (52:58)