In this episode, Stacy and Sarah share their remarkable weight loss stories and are then joined by Stefani Ruper, from Paleo For Women and the Live. Love. Eat. podcast. They talk about how to overcome food addiction and use the Paleo principles towards weight loss goals. It's over 90 minutes chock full of valuable information!
Nutrivore Weekly Serving Matrix
An easy-to-use and flexible weekly checklist
to help you maximize nutrient-density.
The Weekly Serving Matrix is very helpful! I've been eating along these lines but this really helps me know where to focus vs. which foods serve a more secondary role. It's super helpful and has taken a lot of worry out of my meal planning. Thanks!

Jan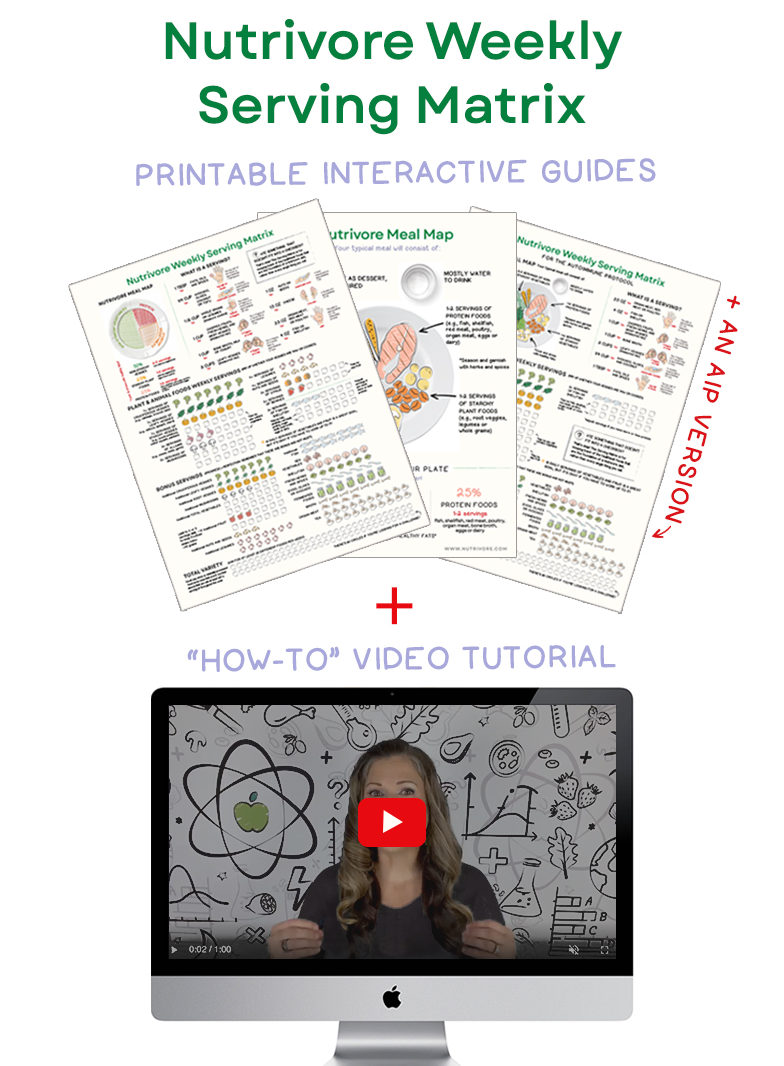 Listen in iTunes
or download and listen by clicking the PodBean player below
If you enjoy the show, please review it in iTunes!
The Paleo View (TPV), Episode 6: Weight Loss With Paleo
0:00 – Introduction
1:18 – News and Views
24:28 – Science with Sarah: Insulin and Insulin Resistance
30:26 – Questions and answers

Stefani Ruper writes at Paleo For Women, which is an excellent site that is truly one of the only sites that looks at Paleo from the female perspective. So much of the Paleo information out there is by males and only takes men into account. Stefani breaks down all the issues that women face from emotional issues, to hormonal issues, to just the simple gender differences.
33:56 – How did you overcome emotions of giving up certain foods?

Stefani's post on the overeating cycle is here

41:37 – Did you start exercising at the start of your Paleo journey?
46:28 – Did you limit portions or just eat until full?
53:06 – Is there anything you wish you knew before you began Paleo?
1:11:03 – Any warning areas in terms of food?
1:14:38 – How often did you allow yourself to eat Paleo adaptation of old foods?
1:22:47 – Can low carbs cause you to lose your period?

1:33:22 – Outro