In this episode, we invite our first ever listener guests! Meet Jeanine, a reader of The Paleo Mom, and Kate, a reader of Paleo Parents. They have questions for Stacy and Sarah about implementing the Paleo diet in their lives, especially considering their autoimmune conditions. We sincerely hope that by helping them, we can help you too!
The AIP Lecture Series
RETIREMENT SALE! SAVE 70% OFF!
I am loving this AIP course and all the information I am receiving. The amount of work you have put into this is amazing and greatly, GREATLY, appreciated. Thank you so much. Taking this course gives me the knowledge I need to understand why my body is doing what it is doing and reinforces my determination to continue along this dietary path to heal it. Invaluable!

Carmen Maier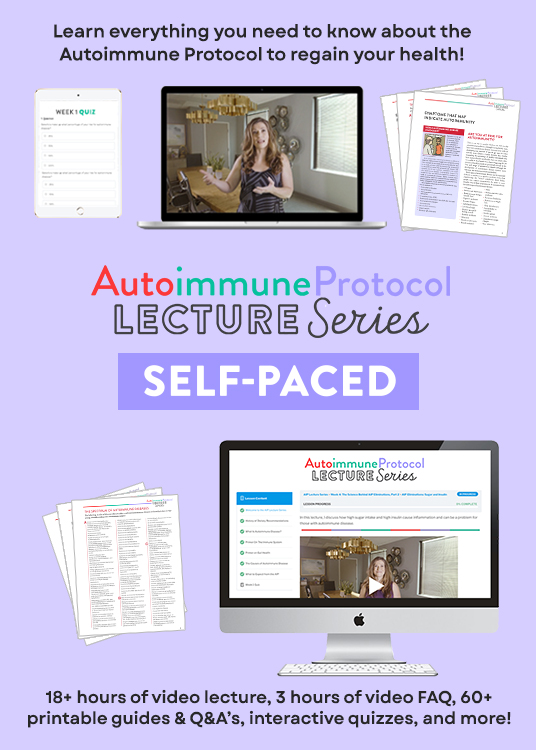 Listen in iTunes
or download and listen by clicking the PodBean player below
If you enjoy the show, please review it in iTunes!
The Paleo View (TPV), Episode 19: Live Guests
0:00 – Introduction
1:07 – News and Views

Come join the Paleo Parents Meetup if you are in the area!
And pre-order our new book, Beyond Bacon!
Come to Sarah's Seminar! The seminar is titled "Paleo Basics: Learn the science behind the Paleo diet and how to implement it in your home" and will be held at 4.0 Martial Arts in Sandy Springs on Saturday, December 22nd 3pm-5pm. Use the code "eatPaleo2013" to receive 30% off when you register at learnPaleo.com between now and Friday


10:07 – Questions and Answers

Welcome to our guests, Kate and Jeanine!
Kate has narcolepsy and sent in this link for you
Jeanine and Kate both have autoimmune diseases and are struggling to implement Paleo.

19:11 – Kate wants to get her family on board.
23:23 – Stacy on sleep apnea and Paleo
26:28 -Paleo convenience foods if you don't have energy/time to cook
28:57 – Ketogenic diets for neurological diseases
38:05 – Hormones and autoimmune disease
43:56 – Jeanine has tons of food sensitivities, which makes the AIP harder

Hormones can trigger a leaky gut and autoimmune disease
Herbal Tea-infused gelatin cubes are from Practical Paleo

50:02 – Sarah recommends thyroid hormones to support thyroid function while Jeanine heals

Hayley Mason from Food Lover's Kitchen's experience with Hashimoto's

55:06 – Stacy on a stress management soapbox
1:00:47 – Sarah on exercise with autoimmune disease
1:06:17 – Kate is overwhelmed reading labels and finding safe foods and figuring out how to prioritize on a budget

Bloggers and authors tend to have favorite products, like some of ours:

1:19:35 – Jeanine wants more information on Paleo and menopause
1:21:00 – Last thoughts

1:23:50 – Outro