In this episode, Stacy and Sarah discuss dairy and it's place in the Paleo framework. Neither of them actually consume any dairy and explain their reasons why. What do you do if you want to live a lifestyle without dairy? What do you drink and what do you eat to replace those nutrients. Can this even be done? Stacy and Sarah help you figure it all out!
Listen in iTunes
or download and listen by clicking the PodBean player below
Nutrivore Weekly Serving Matrix
An easy-to-use and flexible weekly checklist
to help you maximize nutrient-density.
The Weekly Serving Matrix is very helpful! I've been eating along these lines but this really helps me know where to focus vs. which foods serve a more secondary role. It's super helpful and has taken a lot of worry out of my meal planning. Thanks!

Jan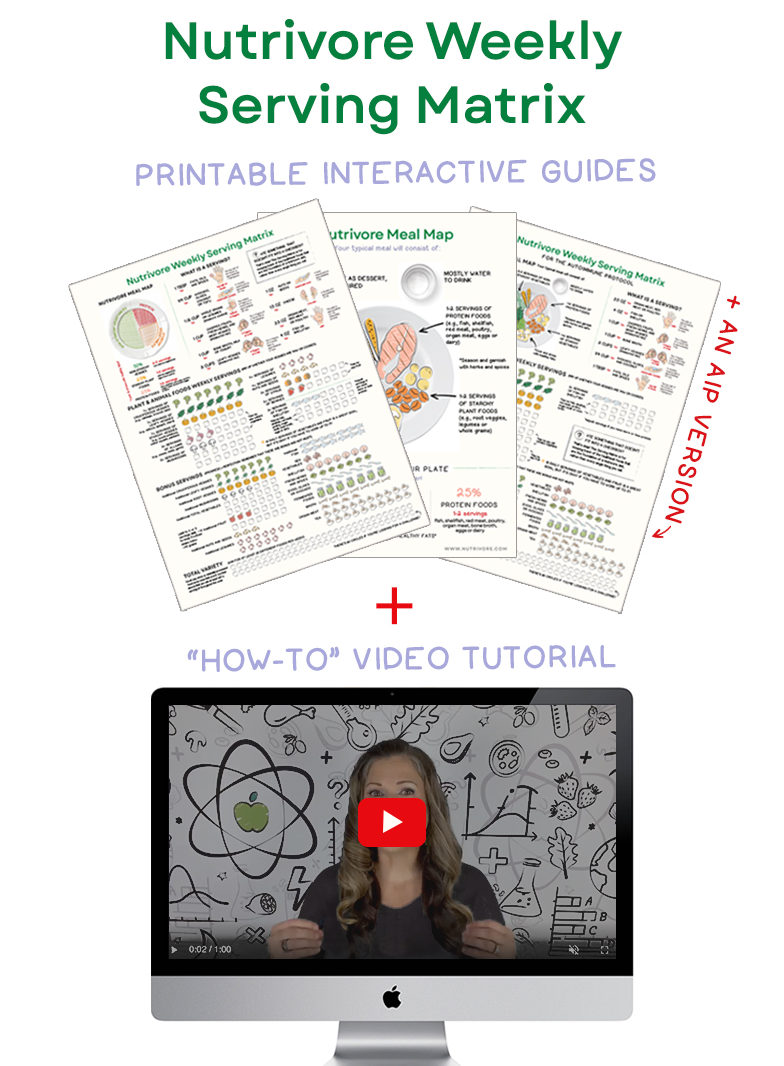 If you enjoy the show, please review it in iTunes!
The Paleo View (TPV), Episode 11: What's Up With Dairy?
0:00 – Introduction
1:18 – News and Views

Pork chops compliments of Mount Vernon Farm
Why We Gave Up the Cow by Paleo Parents
For more on the relationship between dairy and colic, read this Kelly Mom article
Epiglottis? It's that thing in your throat that is not the tonsils or the uvula.
The condition Sarah's daughter had is laryngomalacia
She discusses the issues she had converting her children off of dairy.

35:34 – Science with Sarah: What's in dairy that's potentially problematic?
48:07 – Questions and answers
1:34:36 – Outro

Become a Member for FREE!
The Paleo Mom Members' Area is resource central!  
You'll get FREE, unlimited access to dozens of quality resources, including introductory series, downloadable e-books, exclusive recipes, printables, videos and guides!
You may enjoy these related posts:
In this episode, Sarah had no internet for days and days so we've put together a …