This is one of my family's favorite meals. We ate tacos as salad or lettuce wraps long before we transitioned to Paleo (because we just like it that way!), so this is a pretty familiar presentation. I even started making my own seasoning a few years ago because the pre-packaged seasoning that I liked had MSG as an ingredient. Now, we pair them with my Paleo tortillas! Bib, boston or romaine lettuce varieties also work well as wraps.
My family serves tacos with a little toppings bar. We usually include chopped tomatoes, homemade guacamole, and sliced black olives. My husband and oldest daughter tolerate dairy well, so they will occasionally top theirs with grass-fed raw cheddar or mozzarella cheese. Other great toppings would be salsa, chopped bell peppers, chopped cucumber, or plain coconut milk yogurt or kefir. This recipe reheats well and can be easily be doubled to make two meals.
*NEW* The Gut Health Cookbook!
The Gut Health Cookbook is fantastic! Thank you for researching and creating The Gut Health Cookbook! Such wonderful recipes! I'm so excited to try them all! -Sue
The Gut Health Cookbook puts the 20 Keys to Gut Health into practice with:
180+ recipes featuring 61 gut health superfoods

Gut health food lists

Why's behind each gut health superfood
Get instant digital access for $27.99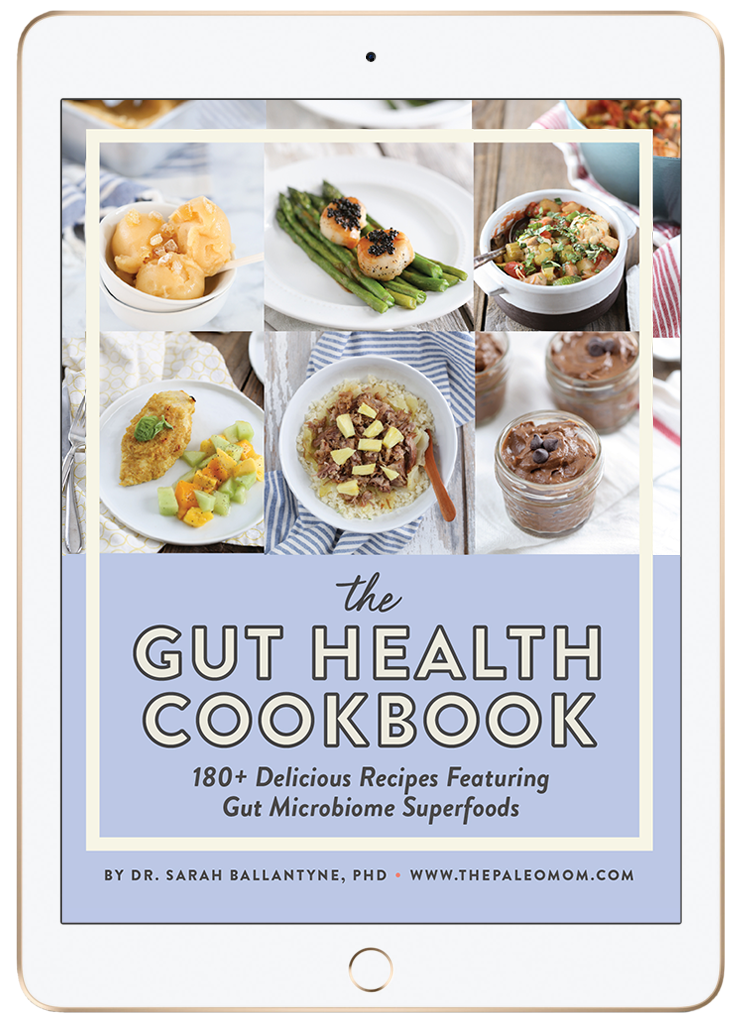 Prep time: 10 minutes
Cook time: 20 minutes
Servings: 3-4
Ingredients:
The Gut Health Guidebook!
The depth of information, practical tips, and the accessible way Dr. Sarah shows me how to apply complex science to improve my health is truly remarkable. -Wendy
The Gut Health Guidebook is the culmination of 6 years of research. This unprecedented deep dive into the gut microbiome delivers:
A new diet for gut health, built from the ground up

Essential gut microbiome superfoods

20 Keys to gut health
Get instant digital access for $27.99
1. Heat cooking fat in a skillet over medium-high heat (cast iron works well here). Add ground meat, garlic and onion. Cook, stirring frequently to break up the meat, until fully cooked, about 7-8 minutes.
2. Add spices to beef. If you meat is really dry, you might want to add 1-2 Tbsp of water. Stir to fully incorporate.
3. Turn temperature down to medium and cook another 10-12 minutes, stirring occasionally, until it smells so delicious you just can't wait another second!
4. Serve on Paleo Flour Tortillas or lettuce leaves with your favorite Paleo-friendly taco toppings. Enjoy!