This seems hardly fair, to create an entire recipe for just these little sweet potatoes. But these are such a tasty side dish to just about any meat and my kids love them (when she was a toddler, my youngest called them "yam circles"). They are a no-sugar version of the candied "yams" (which were really sweet potatoes and not technically yams) I used to make. As an option, you can cut the sweet potato into thick wedges for sweet potato fries instead!
Prep Time: 10-15 minutes
*NEW* The Gut Health Cookbook!
The Gut Health Cookbook is fantastic! Thank you for researching and creating The Gut Health Cookbook! Such wonderful recipes! I'm so excited to try them all! -Sue
The Gut Health Cookbook puts the 20 Keys to Gut Health into practice with:
180+ recipes featuring 61 gut health superfoods

Gut health food lists

Why's behind each gut health superfood
Get instant digital access for $27.99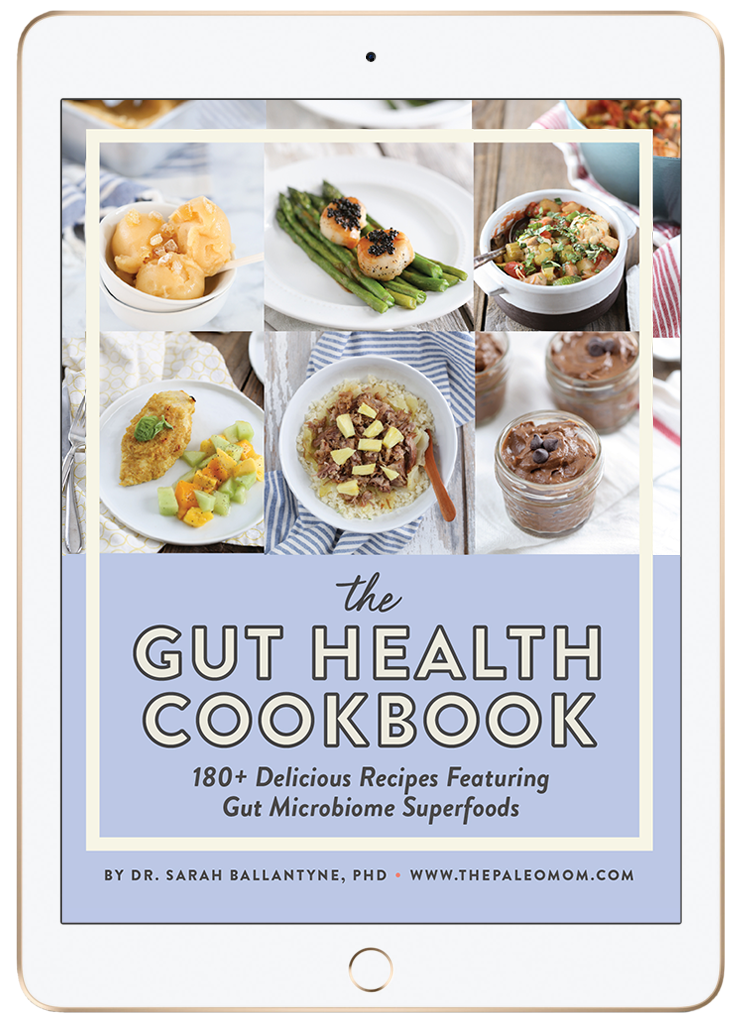 Cook Time: 40 minutes
Sereves: 4
Ingredients:
3-4 medium sweet potatoes (sometimes mislabeled as yams), peeled and cut into ½" thick circles (or semi-circles, if big around) Optional: if using young tender sweet potatoes, just give them a wash and leave the skin on.
2 Tbsp extra virgin coconut oil
2 tsp nutmeg (sub with mace for AIP)
1. Preheat oven to 350F. Melt coconut oil on low power in microwave or in a small saucepot on the stove.
2. Place sweet potatoes in a big bowl. Toss with coconut oil and nutmeg until evenly coated.
3. Arrange yam slices in a single layer on a rimmed baking sheet lined with tin foil or a silicone liner.
4. Bake for 25 minutes, then remove from oven and turn each slice over.
5. Bake another 15 minutes. Enjoy!
The Ultimate Support for Your AIP Journey!
Dr. Sarah Ballantyne has delivered an exceptional course and I highly recommend this to anyone looking to improve their health. There is something for everyone. It was extremely helpful and worth the investment. -Marie Schlichtig
The AIP Lecture Series is the ultimate Autoimmune Protocol educational experience! Learn directly from Dr. Sarah!
6-week online course
42 on-demand video lectures
dozens of printable guides
self-discovery exercises and action steps
online forum and guided discussions
support and guidance from Dr. Sarah Ballantyne!
The next session begins January 18th, 2021.
Register now to get bonus instant access to the Gut Health Fundamentals online course!