In this episode, Stacy and Sarah talk about Sarah's trip to Paleo FX and what she saw and did there!
Click here to listen in iTunes
or download and listen by clicking the PodBean Player below
Nutrivore Weekly Serving Matrix
An easy-to-use and flexible weekly checklist
to help you maximize nutrient-density.
The Weekly Serving Matrix is very helpful! I've been eating along these lines but this really helps me know where to focus vs. which foods serve a more secondary role. It's super helpful and has taken a lot of worry out of my meal planning. Thanks!

Jan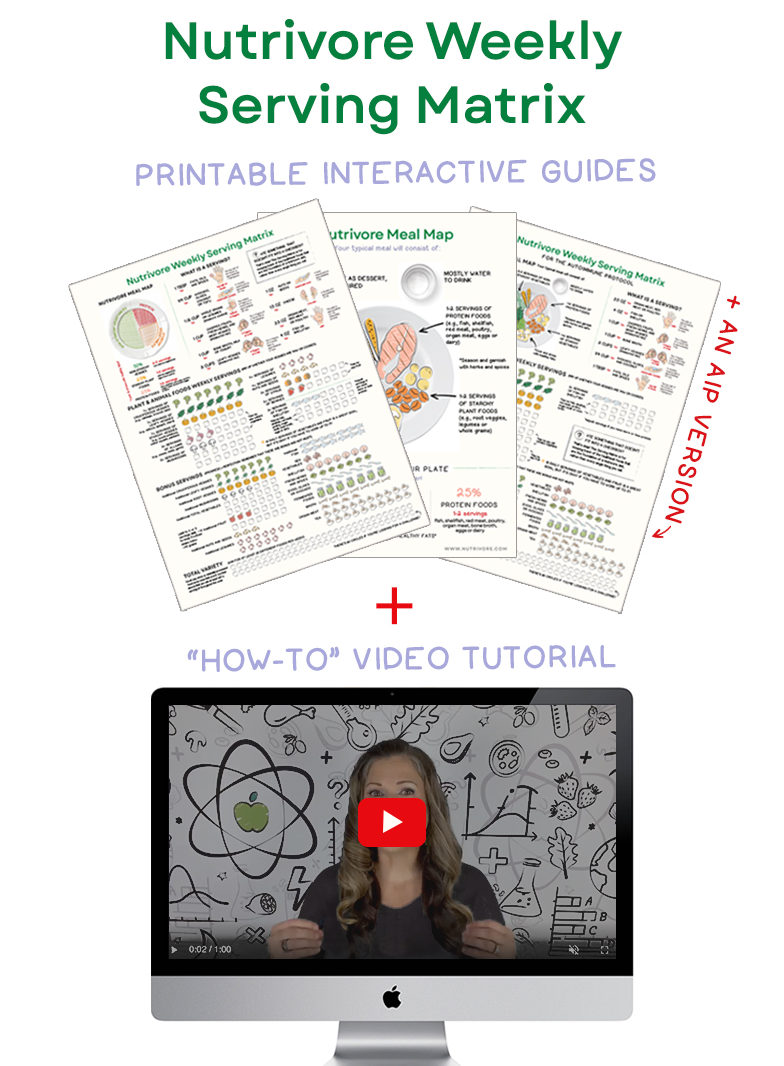 If you enjoy the show, please review it in iTunes!
The Paleo View (TPV), Episode 249: Paleo FX 2017 Recap!
Intro (

0:00

)
News and Views (

0:40

)

Welcome back from Texas, Sarah! Sorry you lost your voice! Sarah always tries to take it easy after travel because it hits her hard.
We counted wrong. This is 249, not 250. But next week will be special!
Sarah is back from Paleo FX.! We love meeting people, talking to people and finding interesting stories.
Weekly reminder that Paleo Principles is coming soon!
Stacy couldn't make it this year because we had so much going on this year, including selling our house!
This year Paleo FX wasn't about "carbs" or other controversies, but on getting back to the anthropological roots, it seemed.
Sarah feels like she didn't have to defend science as a concept this year like she has in the past. Remember: science is a process for finding truth, not a monolithic set of ideas.
The idea of Paleo FX is Paleo as implemented into practice. So getting into minutiae seems silly.
Sarah's talk was about what we know from scientific reaseach about reducing disease risk. She thought it was well received.
Paleo FX did seem to be focusing on synthesizing modern and evolutionary biology.
Several talks focused on lifestyle factors like sleep. Sarah liked hearing about it from Dan Pardi and Dr. Kirk Parsley
Next year, Paleo FX is rebranding to Health FX, a controversial decision!
Sarah and Stacy think this is part of a greater movement to make Paleo idea more mainstream and associated with just good health.
Just make sure that your conference doesn't suddenly become full of angry vegans!
Some things that Sarah loved:
Stacy was happy to see that Aimee Rose, who she met through Strongman has been at Paleo FX two years in a row!
Next week is episode 250! Exciting!

Rate and Review us! Goodbye!
Outro (53:07)

Become a Member for FREE!
The Paleo Mom Members' Area is resource central!  
You'll get FREE, unlimited access to dozens of quality resources, including introductory series, downloadable e-books, exclusive recipes, printables, videos and guides!
You may enjoy these related posts:
In this episode, Sarah talks about her trip to Austin for PaleoFX! Click here to …