In this episode, Stacy and Sarah discuss joint health and rheumatoid arthritis and why they recommend collagen for all joint issues!
Click here to listen in iTunes
LAST CHANCE to get the AIP Lecture Series!
RETIREMENT SALE! SAVE 70% OFF!
This online course is being retired on January 31st!
I am loving this AIP course and all the information I am receiving. The amount of work you have put into this is amazing and greatly, GREATLY, appreciated. Thank you so much. Taking this course gives me the knowledge I need to understand why my body is doing what it is doing and reinforces my determination to continue along this dietary path to heal it. Invaluable!

Carmen Maier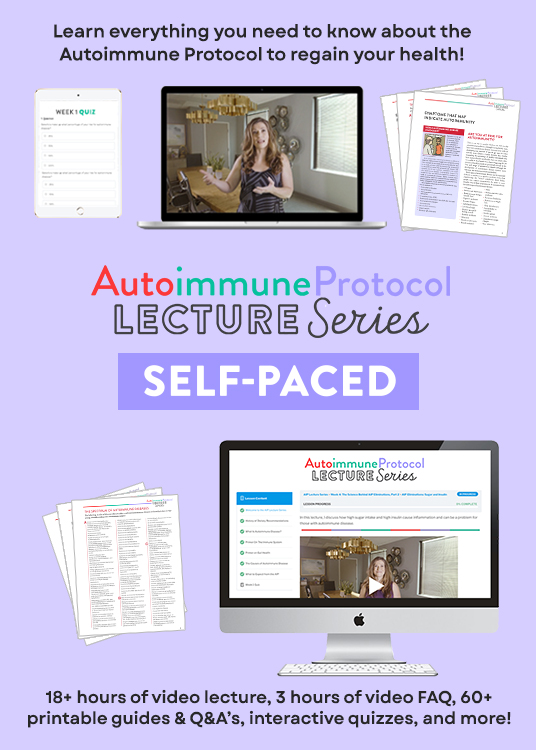 or download and listen by clicking the PodBean Player below
If you enjoy the show, please review it in iTunes!
The Paleo View (TPV), Episode 282: Joint Health, Arthritis, and Why We Eat All the Soup, Broth, and Collagen
News and Views (0:41)

Looks like a ton of you are Souping! Thanks for sharing on social media!
Stacy's IgA Deficiency post is here
Stacy is into broth and collagen because shes concerned with her joint health. Her grandmother had Arthritis and her joint pain and joint cracking started very young.
Rheumatoid Arthritis affects 1.5 million adults and it's one of the most common autoimmune diseases.
Sarah was diagnosed with it at 28. They said "It won't be debilitating for ten years!"
Joints and spines don't have a lot of blood flow, so they heal very slowly.
Arthritis is an autoimmune condition in which the immune system attacks the joints and they stiffen up
Collagen and gelatin are good for joints because they are high in glycine, the amino acid important in forming bones, skin, and cartilage.
You can incorporate broth into anything! If it simmers away then the nutrients are staying!
See Stacy's Souping post for lots of recipes plus our Broth and Stock and Bones Tutorial for how to make it right!. Also, we love these Hot Chocolate Squares from Real Food RN.
Sarah recommends Avocado as well. Especially in pudding form. She uses the Practical Paleo recipe as well as the PaleOMG recipe
Sarah says the Real Life Paleo Phased Approach is really good for transition.
And if your vitamin deficient, you might want to supplement, particularly Vitamin D. But don't overdo it!
In terms of lifestyle factors, first quit smoking!
Less sleep makes you more sensitive to pain and sleeping more decreases symptoms of arthritis! So get to bed!
Stacy recommends that you not drink caffeine in the afternoon at all for sleep quality.

Please Rate and review us!
Outro (42:46)