In this episode, we discuss reasons on what to do if you know you should be following a specific diet but can't seem to get back on board with it.
Click here to listen in iTunes
or download and listen by clicking the PodBean Player below
Nutrivore Weekly Serving Matrix
An easy-to-use and flexible weekly checklist
to help you maximize nutrient-density.
The Weekly Serving Matrix is very helpful! I've been eating along these lines but this really helps me know where to focus vs. which foods serve a more secondary role. It's super helpful and has taken a lot of worry out of my meal planning. Thanks!

Jan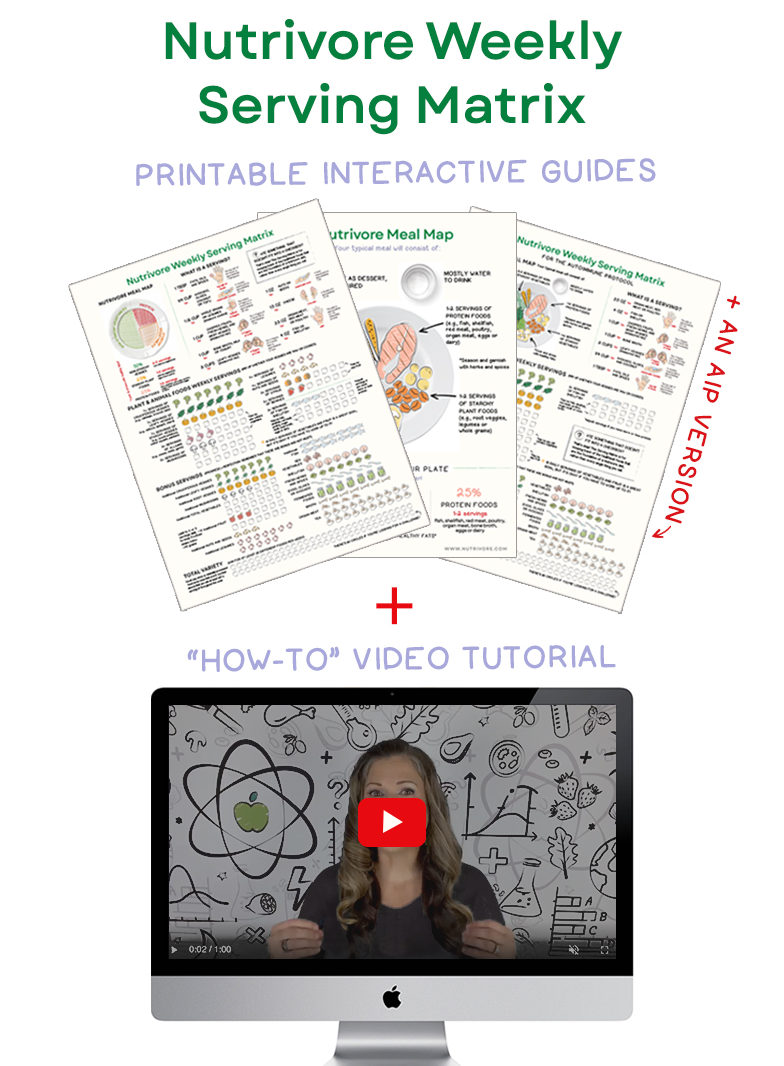 If you enjoy the show, please review it in iTunes!
The Paleo View (TPV), Episode 266: Getting Back on Track
Intro (

0:00

)
News and Views (0:41)
Stephanie asks: "Hi ladies. Long-ish time listener, and I absolutely love you both, especially your real-life-ness and authenticity. My question is along those lines. A few years ago, I was convinced of the health benefits and followed a Paleo template diet with ease; I felt wonderful and was at my best. But now – I've fallen off track. I still know in my head that I should eat a Paleo/real food only diet with earnest commitment… but I'm struggling with consistency, and a bit of "what-is-the-bleeping-point" because I'm already 30-40ish pounds overweight and none of my clothes fit anymore anyway. I guess my question is – how do you start and re-start yourselves when life gets in the way? How do I not get down on myself for re-gaining weight, and just move forward?
Rate and review us. Goodbye!
Outro (36:29)

Become a Member for FREE!
The Paleo Mom Members' Area is resource central!  
You'll get FREE, unlimited access to dozens of quality resources, including introductory series, downloadable e-books, exclusive recipes, printables, videos and guides!
You may enjoy these related posts:
In this episode, Stacy and Sarah talk about Adrenal Fatigue and how to keep your …