Looking for delicious ways to get more iodine-rich seaweed into your diet? Look no further! This delicious soup is quick to make (you can even use frozen fish if you need to) and is very nutrient-rich.
This soup is based on a traditional Japanese dashi (broth). Udon or Soba noodles are replaced by kelp noodles. If you haven't tried kelp noodles yet, they are so much fun! They have a fairly firm texture (almost crunchy, but not quite) and are super long. They have a mild flavor that I think works really well with Asian flavors (which is why they feature in my chow mein recipes as well). I buy mine from amazon but you might also find them in an Asian market. Traditional dashi stocks for noodles have rice wine or vinegar and soy sauce added for flavor. In this recipe, these are replaced with their Paleo equivalents of coconut water vinegar (also sometimes just called coconut vinegar) and coconut aminos. These are both available online and locally I can buy them at Whole Foods. You can also find kombu kelp and bonito flakes (dried fish) online, at Whole Foods, in some grocery stores and Asian markets.
*NEW* The Gut Health Cookbook!
The Gut Health Cookbook is fantastic! Thank you for researching and creating The Gut Health Cookbook! Such wonderful recipes! I'm so excited to try them all! -Sue
The Gut Health Cookbook puts the 20 Keys to Gut Health into practice with:
180+ recipes featuring 61 gut health superfoods

Gut health food lists

Why's behind each gut health superfood
Get instant digital access for $27.99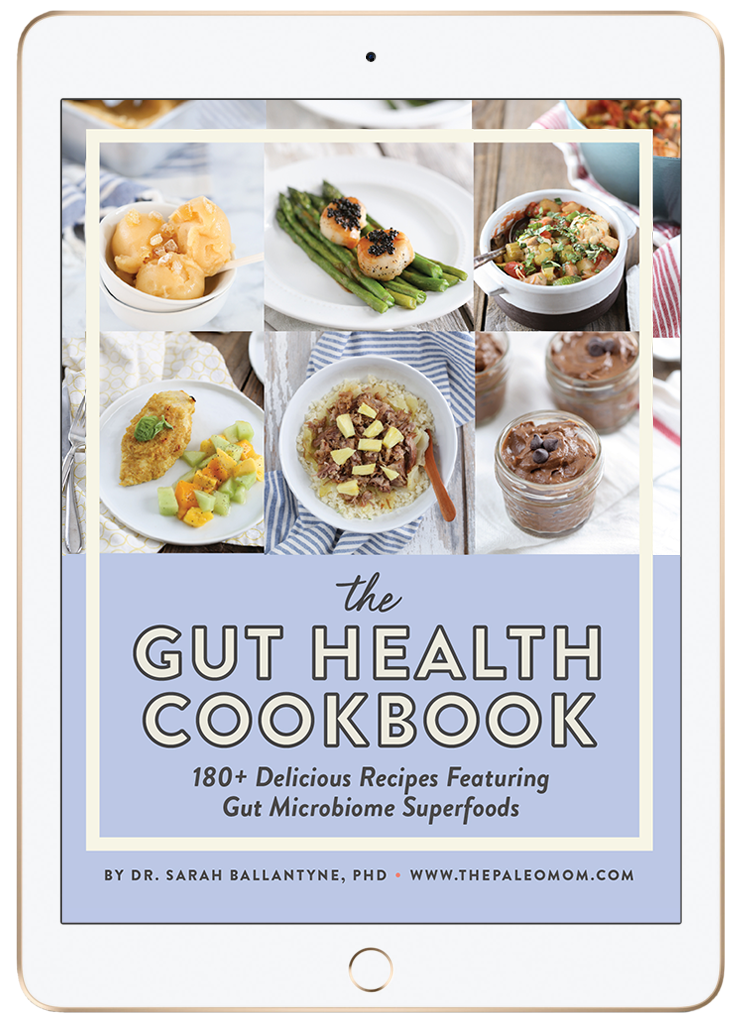 Any seafood tastes delicious in this soup and you could easily replace or supplement the whitefish with shrimp, squid, scallops or a mix of your favorites. I also like the addition of some greens to make this soup a complete meal. You can use whatever you happen to have on hand, but I think a sweeter green (like spinach, chard or bok choy) works especially well. Serves 2-3.
Ingredients:
2 pieces of kombu kelp (roughly 3" squares)
1 cup of lightly packed bonito flakes (about 1/3 oz)
4 cups water
2 6-7oz tilapia, hake or cod fillets (or any other whitefish you like)
1 lb kelp noodles
2 Tbsp coconut aminos or reduced-sodium tamari soy sauce
1 Tbsp coconut water vinegar
4 cups loosely packed greens (spinach, chard, snow peas, kale, beet greens, bok choy, nappa cabbage, etc.)
Place kombu and bonito in water in a large pot and bring to a boil over high heat. Reduce heat and simmer 10 minutes.
Meanwhile, chop greens and cut the fish into 1-2" cubes. Rinse kelp noodles as per package directions.
Pour broth through a strainer lined with cheese cloth or paper towel to remove bonito and kombu (if you have a superfine mesh strainer that would work too).
Return the broth to the heat and add the coconut aminos and coconut water vinegar.
Add the fish and simmer 5 minutes until fish is cooked through. If you are using tougher greens add them at the same time as the fish (e.g., bok choy, cabbage, snow peas, kale). For more tender greens, add them after the fish is cooked and simmer 1 minute to wilt (e.g., spinach, chard, beet greens).
Add the kelp noodles and simmer 2-3 minutes for them to soften and absorb some of the flavors of the soup. Enjoy!