A 30-day challenge can be a fantastic on-ramp into healthy eating and there's no more popular version than the Whole30 Challenge (see Transitions: All In or Baby Steps? and Who Should Do The Whole30: An Interview with Melissa Hartwig). The goal of remaining dedicated to clean, healthy eating for a whole month is to get through the toughest aspects of transition and adaptation to this new way of eating so that we're that much closer to establishing healthy lifelong habits (see Habit Formation and New Years Resolutions). Whether you're tackling a 30-day Paleo challenge like the Whole30 through your gym, as a New Year's resolution, to support a friend, or to reset your diet after falling down a slippery slope (or two or three), one major key to successfully making this just the beginning of a lifetime of health is a collection of recipes that you want to continue to enjoy over and over again, during and beyond your 30-day challenge.
This collection of my most popular Whole30-friendly recipes will help you enjoy your 30-day Paleo challenge and give you a great repertoire of tried-and-true recipes to keep coming back to next month, and the month after, and the month after that…
*NEW* The Gut Health Cookbook!
The Gut Health Cookbook is fantastic! Thank you for researching and creating The Gut Health Cookbook! Such wonderful recipes! I'm so excited to try them all! -Sue
The Gut Health Cookbook puts the 20 Keys to Gut Health into practice with:
180+ recipes featuring 61 gut health superfoods

Gut health food lists

Why's behind each gut health superfood
Get instant digital access for $27.99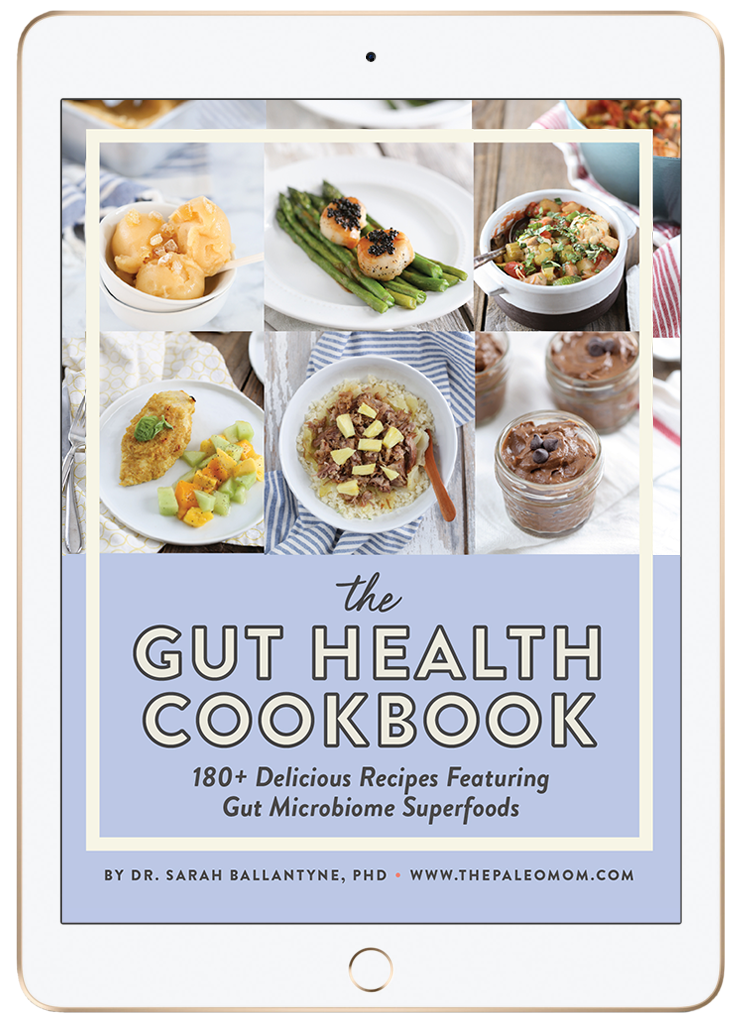 Whole30 Breakfasts
Ham and Sweet Potato Egg Muffins
American Style Breakfast Sausage
Sausage and Mushroom Frittata (make sure sausage is sugar and additive free)
The Gut Health Guidebook!
The depth of information, practical tips, and the accessible way Dr. Sarah shows me how to apply complex science to improve my health is truly remarkable. -Wendy
The Gut Health Guidebook is the culmination of 6 years of research. This unprecedented deep dive into the gut microbiome delivers:
A new diet for gut health, built from the ground up

Essential gut microbiome superfoods

20 Keys to gut health
Get instant digital access for $27.99
Whole30 Main Dishes
Pulled Pork Wraps with Lime Basil Pesto and Pickled Shallots
Greek-Seasoned Spatchcock Chicken
Nightshade-Free Plantain Curry Lasagna
Early-Bird Enrollment Is Now Open!
Dr. Sarah Ballantyne has delivered an exceptional course and I highly recommend this to anyone looking to improve their health. There is something for everyone. It was extremely helpful and worth the investment. -Marie Schlichtig
The AIP Lecture Series is the ultimate Autoimmune Protocol educational experience! Learn directly from Dr. Sarah!
6-week online course
42 on-demand video lectures
dozens of printable guides
self-discovery exercises and action steps
online forum and guided discussions
support and guidance from Dr. Sarah Ballantyne!
The next session begins January 18th, 2021.
(Early-Bird: Save 20% and get bonus access to the Gut Health Fundamentals online course!)
Tourtiere Inspired Shepherd's Pie
Barbecue Chicken with Arugula Pesto
Whole30 Side Dishes
The Autoimmune Protocol E-Book!
One of my FAVORITE books I used to start the transition to AIP!!! It's so helpful! I printed mine out and spiral bound it. Thank you for this! -Rita Davidson
The Autoimmune Protocol e-book is your up-to-date guide to jump-start your healing with the AIP today.
3oo+ pages of quick-access information on the AIP

4 weeks of meal plans with shopping lists

over 80 family-friendly recipes, all 100% AIP!
Get instant digital access for $19.99
Ginger-Garlic Cauliflower Rice
Curry Braised Kale and Cabbage
Whole30 Snacks & Treats
Beet and Kohlrabi Greens Chips
The Paleo Template E-Book!
Thank you, for pushing the best, most relevant research, for making it relatable to anyone who does not speak the language of scientific research. -Meghan
The Paleo Template e-book is your accessible, practical-focused Paleo diet and lifestyle resource.
250+ pages of quick-access information on the Paleo template

4 weeks of meal plans with shopping lists

over 90 family-friendly recipes!
Get instant digital access for $19.99