Nearly everyone has heard of (and tasted!) honey, but did you know that a number of other bee products also have proven health benefits? It's true! While honey definitely deserves the positive attention it's been getting (see Honey: The Sweet Truth About a Functional Food!), the lesser-known propolis, royal jelly, and bee pollen also deserve some time in the spotlight. And, these foods just so happen to exert many of their effects via the gut microbiota. (Need a primer on why the gut microbiome is one of the most important—and fascinating!—mediators of our health? Then check out What Is the Gut Microbiome? And Why Should We Care About It?)
The Autoimmune Protocol E-Book!
One of my FAVORITE books I used to start the transition to AIP!!! It's so helpful! I printed mine out and spiral bound it. Thank you for this! -Rita Davidson
The Autoimmune Protocol e-book is your up-to-date guide to jump-start your healing with the AIP today.
3oo+ pages of quick-access information on the AIP

4 weeks of meal plans with shopping lists

over 80 family-friendly recipes, all 100% AIP!
Get instant digital access for $19.99
Propolis
Propolis (also called "bee glue") is a substance that bees use to protect and sterilize their hives. It's made from a mixture of beeswax, bee saliva, and plant resins from buds or sap (more specifically, it's composed of about 50% resin, 30% wax, 10% essential oils, and 5% oil, and 5% other organic compounds, including resveratrol, caffeic acid, cinnamic acid, and the flavonoids pinocembrin, acacetin, chrysin, rutin, luteolin, kaempferol, apigenin, myricetin, catechin, naringenin, galangin, and quercetin!). Over 300 compounds have been identified in propolis so far, and it also contains a range of micronutrients such as vitamins B1, B2, B6, vitamin C, vitamin E, magnesium, calcium, potassium, iron, sodium, copper, zinc, manganese, and iron.
A variety of studies have shown that propolis has antiseptic, antibacterial, antifungal, anticancer, antiulcer, antioxidant, anti-inflammatory, and immune-modulating properties, which often work through the intestinal microbiota! Propolis has antifungal activity against pathogenic yeasts like Candida albicans, Candida parapsilosis, Candida tropicalis, and Candida glabrata, possibly due to its content of volatile compounds such as α-pinene, β-pinene, δ-cadinene, decanal, and phenyl-, ethyl-, and benzyl alcohol (depending on the geographical source of the propolis, the presence or absence of these compounds can vary!).
Some studies have shown that propolis can help treat giardiasis (infection with the Giardia parasite in the small intestine), with one clinical trial showing that propolis is even more effective at curing giardiasis than the conventional treatment drug (a cure rate of 52 to 60% with propolis, versus 40% for the conventional drug). Another study found that propolis can be used to treat gastric ulcers due to its anti-acid, anti-inflammatory, and anti H. pylori activities.
In mice, propolis has been shown to counteract the harmful effects of a high-fat diet on the gut microflora, including reversing the increased proportion of Firmicutes and inflammatory biomarkers associated with high-fat feeding. In one mouse study, propolis decreased blood levels of endotoxin (a type of toxin found in the outer membrane of certain bacteria, which can trigger strong immune responses and inflammation in our bodies). Propolis also reduced inflammation by lowering the expression of the TLR4 pathway. Although more research is needed in humans, this suggests that propolis might have a beneficial effect on the gut microbiome by stabilizing the microbial profile and reducing endotoxin transport out of the gut and into the blood!
In a study of rats with chemically induced colitis fed a Western-style diet (high in fat and sugar), propolis supplementation at the level of 0.3% was able to significantly improve colitis symptoms, reduce the disease activity index, improve the distal colon tissue structure, and significantly increase the gut microbial diversity, including an increase in Acidobacteria and Proteobacteria (although the Proteobacteria phylum contains some pathogens associated with IBD, such as E. coli, propolis may spur an increase in the non-pathogenic members of this group, which then out-compete the ones that contribute to the inflammatory process of gut diseases). The researchers speculate that these effects could be due to specific polyphenolic compounds found in propolis, including chrysin (which has been shown to improve inflammatory bowel diseases in mice), kaempferol (which can suppress inflammation from chemically induced colitis in mice), apigenin (which has intestinal anti-inflammatory activity), and caffeic acid (which suppresses upregulation of inflammatory markers and intestinal damage in mice). These polyphenols have generally been shown to have antimicrobial and microbiota-modulating properties.
The Gut Health Guidebook!
The depth of information, practical tips, and the accessible way Dr. Sarah shows me how to apply complex science to improve my health is truly remarkable. -Wendy
The Gut Health Guidebook is the culmination of 6 years of research. This unprecedented deep dive into the gut microbiome delivers:
A new diet for gut health, built from the ground up

Essential gut microbiome superfoods

20 Keys to gut health
Get instant digital access for $27.99
I recommend Beekeeper's Naturals Propolis Spray! With only three ingredients, this Propolis Spray is naturally antimicrobial while providing powerful antioxidants! It's super soothing on a sore throat, but can also be used as a preventative.
Get Beekeeper's Naturals Propolis Spray
Royal Jelly
Royal jelly is a white, jelly-like substance secreted by honeybee workers to feed newly hatched larvae, developing queen bees (it contains royalactin, the compound that allows a larva to transform into the queen bee), and mature queen bees (consuming royal jelly as their main food source is the main reason queen bees live over 20 times longer than other bees!). It contains about 50-60% water, 18% proteins, 15% carbohydrates, 3-6% lipids, and 1.5% mineral salts, vitamins A, C, D, and E, and 185 organic compounds, along with hormones such as testosterone, progesterone, prolactin, and estradiol. Not surprisingly, it has a long history of use in traditional Asian and ancient Egyptian medicinal practices!
Although much of the research involving royal jelly has focused on its benefits for reproductive function, brain health, anti-aging, and wound healing, it also has the potential to selectively promote the growth of probiotic bacteria in the gut while suppressing the growth of pathogens! More specifically, research has shown that royal jelly helps increase populations of Bifidobacterium animalis spp. lactis (which has been shown to boost immunity, fight infection, improve blood sugar control, reduce inflammation, and improve blood lipid profiles), Lactobacillus casei (which has anti-diabetic effects can suppress inflammation), and Lactobacillus acidophilus (which competitively excludes pathogens in the gut), while exerting antibiotic effects against Salmonella, E. coli, Micrococcus pyrogens, Proteus, Staphylococcus aureus, Klebsiella pneumoniae, Candida albicans, and Bacillus subtilis. These effects are due, at least in part, to the trans-10-hydroxy-2-decenoic acid (10-HDA) and 10-hydroxydecanoic acid present in royal jelly, which display significant antibacterial activity, as well as antimicrobial peptide called jelleins that can act against certain gram-positive pathogens. A 51-amino-acid peptide called royalisin in royal jelly has also been shown to have antibacterial activity against Staphylococcus, Streptococcus, Bacillus subtilis, Micrococcus luteus, Sarcina lutea, Clostridium, Corynebacterium, Lactobacillus helveticus, Paenibacillus larvae, and Leuconostoc.
I reccommend Beekeeper's Naturals B. LXR Brain Fuel with Royal Jelly. These little energy shots have only a few ingredients: royal jelly (500mg), bacopa monnieri plant extract (300mg), ginkgo biloba leaf extract (400mg), non-GMO vegetable glycerin, and purified water. No caffeine!
Use code PaleoMom for 15% off Beekeeper's Natural B. LXR
Bee Pollen
Bee pollen is made from pollen gathered from flowering plants and then mixed with bee saliva or nectar. If you've ever seen a honeybee up close that had its hind legs bulging with yellow sacs, those are its pollen loads—pollen collected into built-in baskets on its legs (called corbiculae). Bees bring this pollen back to their beehive, where it gets packed into honeycomb cells and serves as a protein source for the bee colony. Bee pollen contains about 250 different substances, including micronutrients (such as B vitamins, vitamin C, vitamin E, calcium, magnesium, phosphorus, and trace elements such as copper, iron, manganese, and zinc), hormone-like growth factors (such as auxins and gibberellin), amino acids, sugars, lipids, and phytochemicals (including phytosterols, carotenoids, and flavonoids).
*NEW* The Gut Health Cookbook!
The Gut Health Cookbook is fantastic! Thank you for researching and creating The Gut Health Cookbook! Such wonderful recipes! I'm so excited to try them all! -Sue
The Gut Health Cookbook puts the 20 Keys to Gut Health into practice with:
180+ recipes featuring 61 gut health superfoods

Gut health food lists

Why's behind each gut health superfood
Get instant digital access for $27.99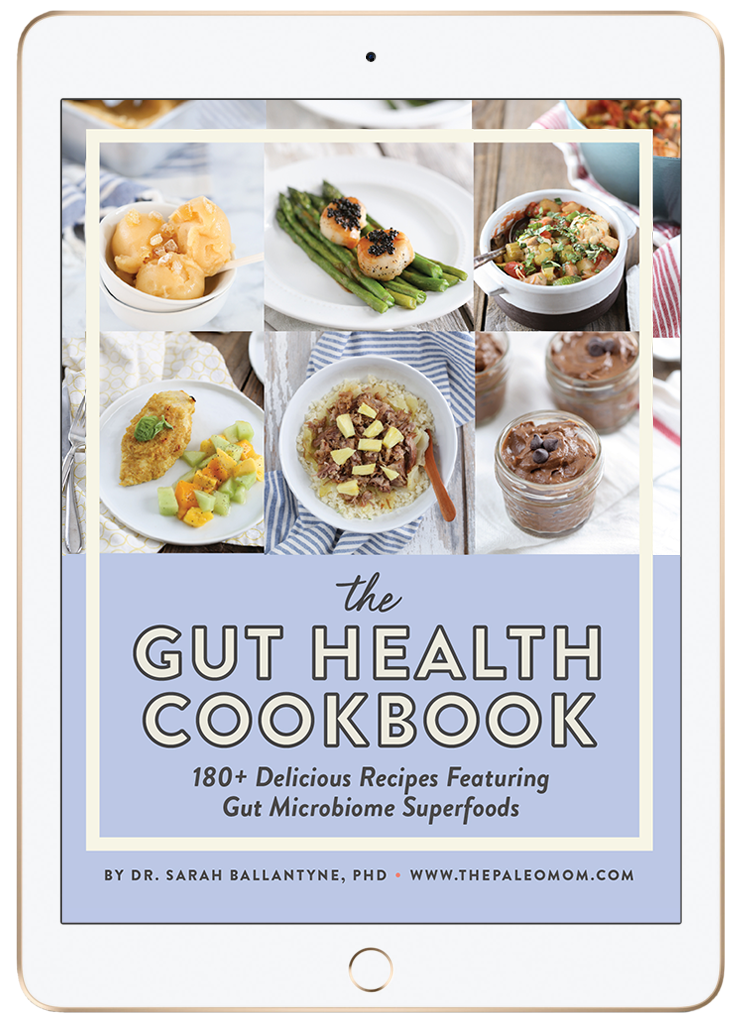 Along with being integral for the health of bee colonies, bee pollen has a longstanding reputation as a medicinal food for humans! A range of studies have demonstrated anti-inflammatory, antioxidant, liver-protective, immune-boosting, and pain-relieving activities. And, like royal jelly, bee pollen has been shown to stimulate the growth of important probiotic bacteria in our gut! Among the species tested, bee pollen was able to dramatically enhance the growth of Lactobacillus acidophilus, Bifidobacterium animalis, Lactobacillus casei, and Bifidobacterium animalis spp. lactis. Additional research has shown that bee pollen is antibacterial against Staphylococcus aureus, a pathogen.
I recommend Beekeeper's Naturals Bee Pollen! It's 100% raw, sustainably sourced, wildflower bee pollen. That's it!
Use code PaleoMom for 15% off Beekeeper's Naturals Bee Pollen
Thank you, Bees!
So, when it comes to bee products, we shouldn't stop at honey! Propolis, royal jelly, and pollen all offer unique benefits for our gut and health in general. We might even say they're the bee's knees!
And, if you want to keep things super simple with one tasty supplement that contains all of the above, I recommend Beekeeper's Naturals B. Powered! It's combines ALL the superfoods of the hive in one!
Use code PaleoMom for 15% off Beekeeper's Naturals B. Powered
Citations
Babaei S, et al. "Effects of propolis, royal jelly, honey and bee pollen on growth performance and immune system of Japanese quails." Vet Res Forum. 2016 Winter;7(1):13-20. Epub 2016 Mar 15.
The Gut Health Collection!
I love Dr. Sarah's passion for educating people and helping everyone on their journey to wellness!! -Mindy
The Gut Health Guidebook delivers a comprehensive deep dive into gut health, building a new diet for optimal health from the ground up, based on the gut microbiome.
The Gut Health Cookbook puts the scientific framework into practice with 180+ delicious recipes that each center on at least one of 61 gut health superfood ingredients.
Save $10 with the Gut Health Collection!
Cornara L, et al. "Therapeutic Properties of Bioactive Compounds from Different Honeybee Products." Front Pharmacol. 2017 Jun 28;8:412. doi: 10.3389/fphar.2017.00412. eCollection 2017.
de Aguiar SC, et al. "Antimicrobial activity of Brazilian propolis extracts against rumen bacteria in vitro." World J Microbiol Biotechnol. 2013 Oct;29(10):1951-9. doi: 10.1007/s11274-013-1361-x. Epub 2013 May 8.
Guldas M. "Effects of Royal Jelly and Bee Pollen on the Growth of Selected Probiotic Bacteria (Bf. animalis Spp. Lactis, L. acidophilus and L. casei)." Journal of Apicultural Science. 2016;60. 10.1515/jas-2016-0023.
Miyares C, et al. "[Clinical trial with a preparation based on propolis "propolisina" in human giardiasis]." Acta Gastroenterol Latinoam. 1988;18(3):195-201.
Pascoal A, et al. "Biological activities of commercial bee pollens: antimicrobial, antimutagenic, antioxidant and anti-inflammatory." Food Chem Toxicol. 2014 Jan;63:233-9. doi: 10.1016/j.fct.2013.11.010. Epub 2013 Nov 19.
Pasupuleti VR, et al. "Honey, Propolis, and Royal Jelly: A Comprehensive Review of Their Biological Actions and Health Benefits." Oxid Med Cell Longev. 2017;2017:1259510. doi: 10.1155/2017/1259510. Epub 2017 Jul 26.
Roquetto AR, et al. "Green propolis modulates gut microbiota, reduces endotoxemia and expression of TLR4 pathway in mice fed a high-fat diet." Food Res Int. 2015 Oct;76(Pt 3):796-803. doi: 10.1016/j.foodres.2015.07.026. Epub 2015 Jul 22.
Viuda-Martos M, et al. "Functional properties of honey, propolis, and royal jelly." J Food Sci. 2008 Nov;73(9):R117-24. doi: 10.1111/j.1750-3841.2008.00966.x.
Ye Z, et al. "Increased CYP4B1 mRNA is associated with the inhibition of dextran sulfate sodium-induced colitis by caffeic acid in mice." Exp Biol Med (Maywood). 2009 Jun;234(6):605-16. doi: 10.3181/0901-RM-1. Epub 2009 Mar 23.