This is a great accompaniment to any dish with Asian flavors (such as my Asian-inspired chicken wings or teriyaki-inspired poached salmon). Turnip greens can be a bit sandy, so make sure you wash them really, really, really well! Serves 4-6
Prep Time: 10 minutes
*NEW* The Gut Health Cookbook!
The Gut Health Cookbook is fantastic! Thank you for researching and creating The Gut Health Cookbook! Such wonderful recipes! I'm so excited to try them all! -Sue
The Gut Health Cookbook puts the 20 Keys to Gut Health into practice with:
180+ recipes featuring 61 gut health superfoods

Gut health food lists

Why's behind each gut health superfood
Get instant digital access for $27.99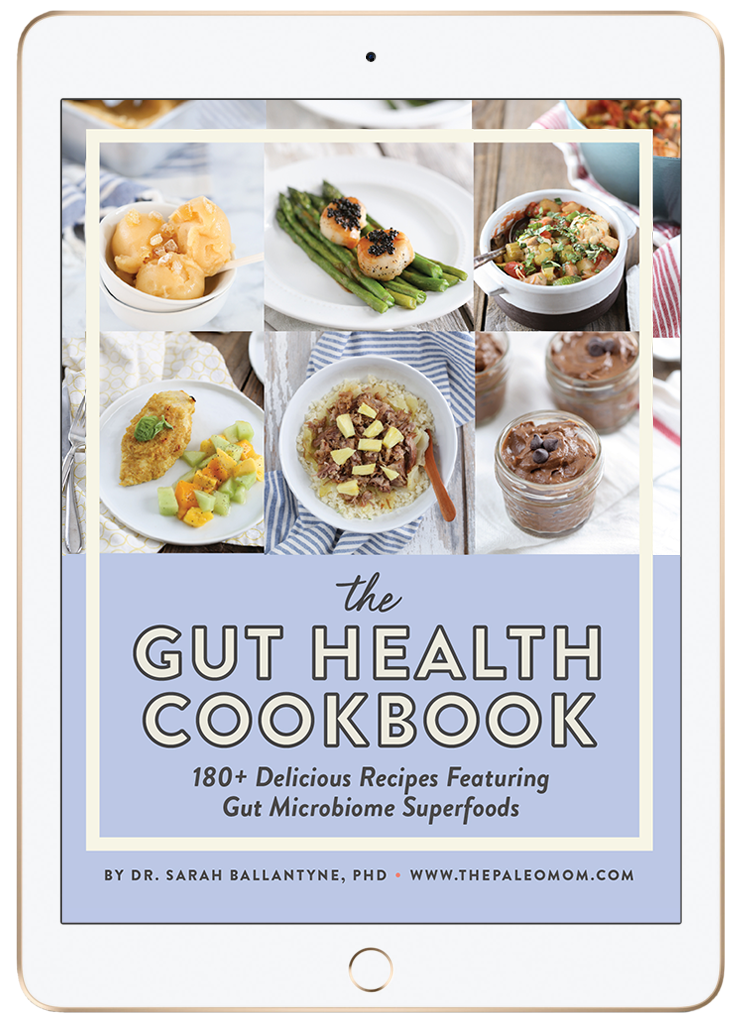 Cook Time: 15 minutes
Serves: 4-6
Ingredients:
The Ultimate Support for Your AIP Journey!
Dr. Sarah Ballantyne has delivered an exceptional course and I highly recommend this to anyone looking to improve their health. There is something for everyone. It was extremely helpful and worth the investment. -Marie Schlichtig
The AIP Lecture Series is the ultimate Autoimmune Protocol educational experience! Learn directly from Dr. Sarah!
6-week online course
42 on-demand video lectures
dozens of printable guides
self-discovery exercises and action steps
online forum and guided discussions
support and guidance from Dr. Sarah Ballantyne!
The next session begins January 18th, 2021.
(Use code AIPLS85 to save $85 and get bonus access to the Gut Health Fundamentals online course!)
Wash turnip greens really well. Slice stems and combine with the mushrooms. Chop up the green into big bite sized pieces and put aside.
Heat a wok on medium high heat. Once hot, add the coconut oil, garlic and ginger. Once fragrant (about 1-2 minutes), add the mushrooms and turnip green stems.
Cook, stirring frequently, until they start to stick (if too much water is coming out of the mushrooms, increase the heat slightly). Add the orange juice and continue to cook until the stems are starting to soften.
Add the rest of the turnip leaves and the almonds. Cook, stirring frequently, until the leaves are fully wilted.
Add the coconut aminos and sprinkle the arrowroot powder over the top. Stir well. Let the arrowroot powder thicken the juices left in the bottom of the wok for 3-4 minutes (still stirring frequently). Serve!