Kiersten is a 20 something self-proclaimed nutrition nerd with a love of real food, homemade beauty care, and natural healing. After years of digestive distress, thyroid issues, anxiety, and constant fatigue, Kiersten discovered real food and developed an intense passion to heal her body with real, nutrient dense food. She recently opened up her practice as a Nutritional Therapy Practitioner with the goal of helping others find true healing and vibrant health through real food. When she's not studying or spending time with her army man and fur babies, Kiersten shares delicious recipes and tips for how to live a real food lifestyle on her blog Vibrant Life Army Wife. Connect with Kiersten on Facebook, Instagram, Pinterest and Twitter.
No matter whether you're a football lover or you simply can't wait to see Lady Gaga rock the halftime show, if you're watching the Super Bowl, you're going to need some delicious food. And while Super Bowl munchies are notorious for being unhealthy (think fried chicken wings, chips with fake cheese dips, etc.), they certainly don't have to be. So I've rounded up 7 of my favorite finger-food-esque recipes, along with simple items you can get already prepared at your local grocery store, to fill your table with healthier, yet still equally delicious, real food options.
But what if you're going over to someone else's house for the Super Bowl this year? That's a great question! (And so am I). If you're worried about having something to eat that fits your dietary preferences/needs, I'd recommend asking the host if you could bring a couple of things with you to share. That way you'll know you can at least eat the food you bring. And what host would turn down additional food? I certainly wouldn't!
Nutrivore Weekly Serving Matrix
An easy-to-use and flexible weekly checklist
to help you maximize nutrient-density.
The Weekly Serving Matrix is very helpful! I've been eating along these lines but this really helps me know where to focus vs. which foods serve a more secondary role. It's super helpful and has taken a lot of worry out of my meal planning. Thanks!

Jan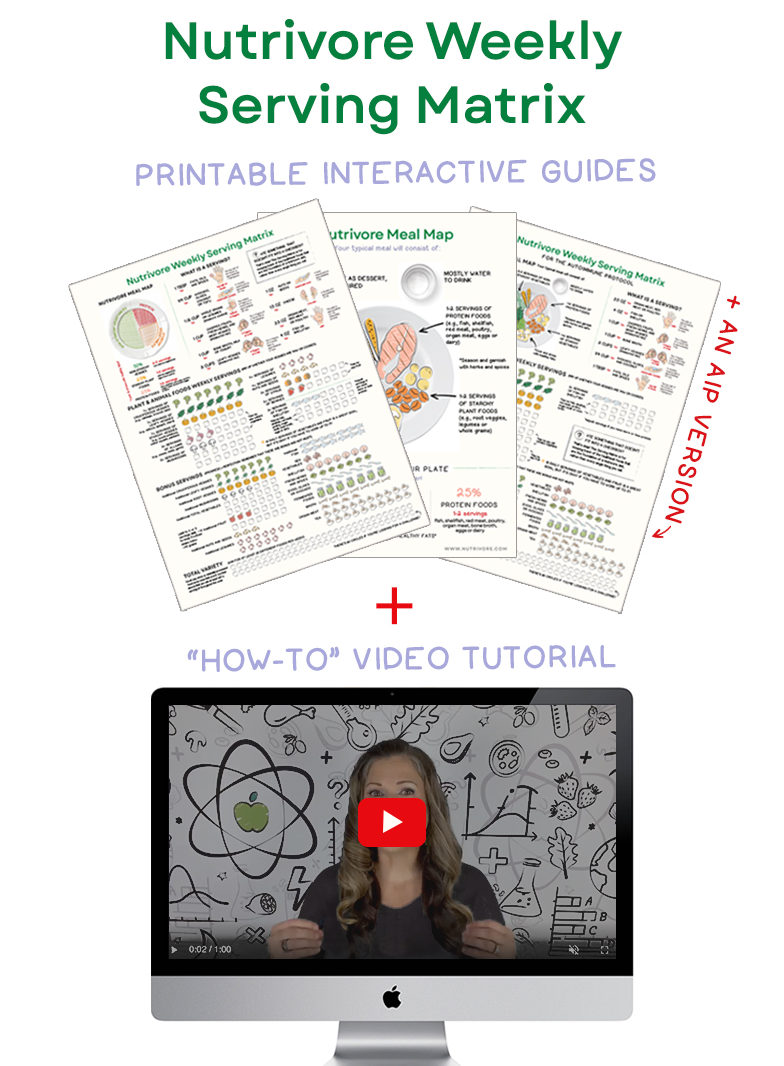 If you aren't able to bring your own food, I'd recommend sticking to the meat and veggie trays, but avoiding any dips or cheeses that are served alongside them. And sometimes gluten can hide in deli meats so check the ingredients list on any deli meats if you can. If there are grilled foods being served, ask if it would be possible to get your burger/chicken/whatever else they're serving without any sauce, and of course no bun or cheese on the burger. Simply wrap it up in some lettuce and top it with tomato, mustard, and some pickles. Skip the beer and opt for wine or gluten free hard cider (or skip the booze altogether) instead. Or better yet, bring a pitcher of my Ginger Margaritas to share (recipe below)!
And if you simply don't like to cook, but would like to contribute some healthy, real food options, here are my favorite store bought options:
Plantain chips with already prepared guacamole – you can typically find this in the produce section of most grocery stores. Just check to make sure the ingredients are clean. I particularly like the guacamole from Whole Foods and HEB.
Prepared veggie trays – just replace the included dips with some Tessemae's Creamy Ranch Dressing (found in the produce section typically) or another prepared dip of your choosing.
Cut up fruit – if you want to get fancy, buy some skewers and serve the cut fruit as little fruit skewers.
Salami and dill roll ups – simply grab some gluten free uncured salami (I like the Applegate brand), roll it around a baby dill pickle and stick a toothpick in it.
If you do like to cook, here are the recipes…
Easy Pico de Gallo & Guacamole
This recipe is really simple to pull together, which is handy if you're preparing a bunch of food for your Super Bowl festivities. Simply pulse all the pico ingredients in your food processor and then add it to the mashed avocado with lime juice and jalapeño. I like to serve this with plantains chips, but sweet potato chips and taro chips are also delicious if you can find them at your local grocery store.
This recipe was inspired by my favorite cocktail at True Food Kitchen, their "Ginger Marg" as I like to call it. Mine uses an organic ginger liqueur instead of elderflower for a more intense ginger taste, and ginger kombucha for a little probiotic goodness.
This recipe uses eggplant slices for a veggie-filled alternative to pizza crust. And topped with homemade pesto, bacon, and caramelized onions, these pizza bites add a little fancier flair to the traditional Super Bowl grub. If you include dairy in your Paleo diet, feel free to add a little high quality goat cheese, but if you'd rather keep it strict Paleo, these are just as tasty without the goat cheese.
I can't take credit for this recipe. My husband, the burger connoisseur, actually developed this recipe for me. I love adding these to our meal planning rotation because he will typically grill them for me too, which means I get a little break from the cooking! If you're planning on grilling up some burgers and dogs for your Super Bowl party, you won't disappoint with these flavorful and juicy burgers. You can also make them mini-sized using baby bella or button mushrooms and stick a toothpick in them for a fun finger-food version.
Again, I can't take credit for this recipe. If you haven't noticed a trend here, my husband does the grilling. And his ribs are amazing! They are fall-off-the-bone-tender and are full of delicious flavor! They require a little planning ahead, but the hands on time is minimal. These would be a crowd pleaser for sure!
Banana Coconut Macaroons (nut free)
Every Super Bowl party needs a little sweet treat. But that doesn't mean you need to fill your guests with a sugar bomb. These Banana Coconut Macaroons are sweetened with just bananas and are totally nut free too! I developed them to be 21 Day Sugar Detox friendly, but if you're not doing any sort of detox, you can definitely use ripe bananas instead of green tipped bananas to make them a little sweeter.
Save 70% Off the AIP Lecture Series!
Learn everything you need to know about the Autoimmune Protocol to regain your health!
I am loving this AIP course and all the information I am receiving. The amount of work you have put into this is amazing and greatly, GREATLY, appreciated. Thank you so much. Taking this course gives me the knowledge I need to understand why my body is doing what it is doing and reinforces my determination to continue along this dietary path to heal it. Invaluable!

Carmen Maier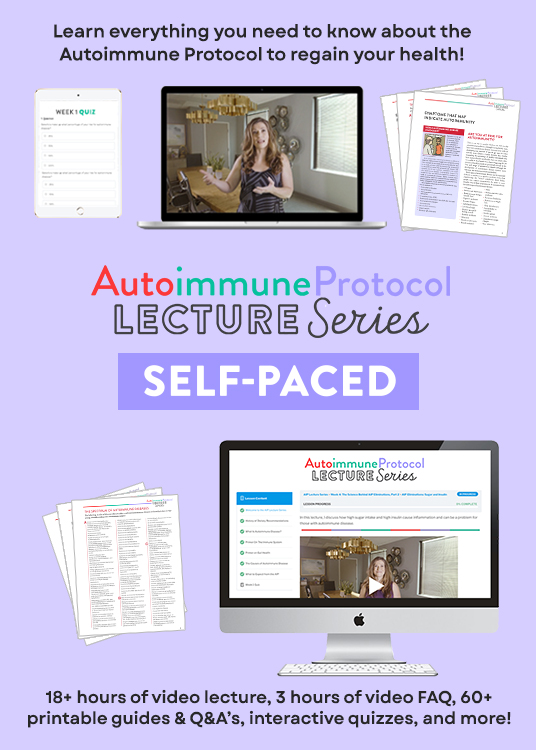 Yes, I realize that we are far from Thanksgiving, but those fall flavors make for a delicious combo any time of year. These meatballs can be prepped and baked ahead of time, and then when you're getting ready for the game to start, put them in your crockpot and top them with your favorite BBQ sauce (The Paleo Mom has a delicious AIP BBQ sauce recipe!) to keep them warm and saucy throughout the game!
No matter what team you're rooting for this Super Bowl Sunday, I hope you have a wonderful time with family, friends, and good food!
In vibrant health,
Kiersten

Become a Member for FREE!
The Paleo Mom Members' Area is resource central!  
You'll get FREE, unlimited access to dozens of quality resources, including introductory series, downloadable e-books, exclusive recipes, printables, videos and guides!
You may enjoy these related posts:
Kiersten is a 20 something self proclaimed nutrition nerd with a love for real …