Before I was diagnosed with Hashimoto's thyroiditis  three years ago, I never would have guessed how many of the symptoms—weight gain, constipation, joint pain, even another autoimmune disease—were caused by this common condition (see Grief Upon Diagnosis: Uncovering Hashimoto's Thyroiditis). I had lived my whole life with these symptoms but had simply assumed they were a result of being overweight, and that being overweight was my own fault.
Are you feeling this way?
A common conversation I have at book signings is with people frustrated that they don't yet have a diagnosis. They know that something is wrong, they've undergone many tests, they feel terrible, but they don't have a name for their disease. This is especially true of Hashimoto's thyroiditis, since thyroid symptoms are often overlooked and thorough testing isn't routinely performed. Hashimoto's thyroiditis is the most common autoimmune disease in the world, and yet one of the most underdiagnosed. A devastating statistic I first learned when writing The Paleo Approach: 45% of people later diagnosed with serious autoimmune diseases are labeled as hypochondriacs in the early stages of their autoimmune diseases.
Nutrivore Weekly Serving Matrix
An easy-to-use and flexible weekly checklist
to help you maximize nutrient-density.
The Weekly Serving Matrix is very helpful! I've been eating along these lines but this really helps me know where to focus vs. which foods serve a more secondary role. It's super helpful and has taken a lot of worry out of my meal planning. Thanks!

Jan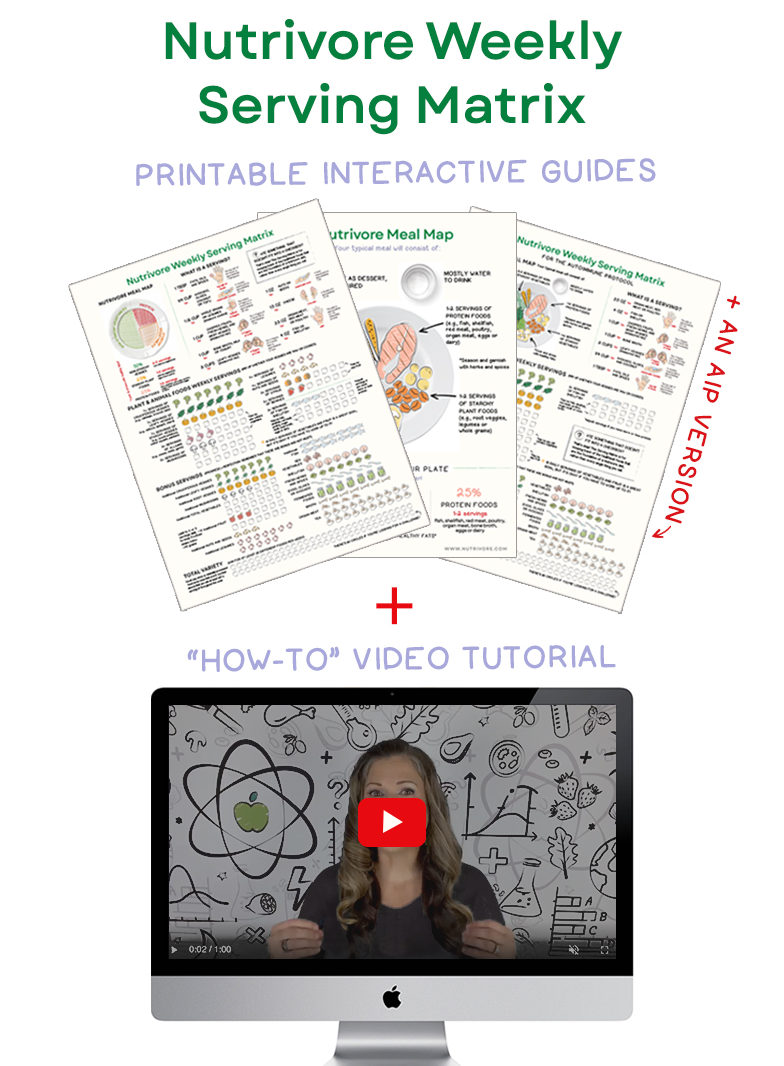 Receiving my diagnosis was devastating, but it was also a huge relief. One of the most important tools I used to get through this emotionally trying times was the support of friends who know what it's like.
Leaning On Community
Once my doctor told me I had Hashimoto's, I immediately texted my friend Mickey Trescott from Autoimmune-Wellness. My friends in the AIP community have been my greatest source of strength in treating Hashi's. In fact, we refer to it as the Hashi's Club, and the Hashi's Club has the worst initiation EVER.
I'm lucky to know people like Mickey, Angie Alt, Alaena Haber, Eileen Laired, Kate Jay, and many more who keep me on track and are there to share my grief and my triumphs.
(For more info, see The AIP Community Page.)
I recognize that my experience as an AIP blogger means I knew where to turn, and that others aren't so lucky. What if you don't have friends who know how to support you? What if you don't know where to turn, or how to ask for help?
An Excellent Online Resource for Community
The Healing Hashimoto's Summit is a great place to start.
The healing power of community simply cannot be overstated, and it's one of the reasons I support and participate in the Healing Hashimoto's Summit every year.
When you tune in, you can access the wisdom of the friends I mentioned above, plus many others! So many of the talks this year cover the issue of communicating with family and friends, and you'll also hear practical tips, find new areas of healing to explore and gain a deeper understanding of how Hashimoto's is affecting many areas of your life (and how to fix it!).
Watch the Healing Hashimoto's Summit 2017 FREE!
TODAY, my talk will be all about showing you how to "Take Your Healing Further With the AIP."
Some other amazing talks I'm really looking forward to include:
Mickey Trescott, NTP – Autoimmune Protocol Recipe Demonstrations
Angie Alt, CHC, NTC – Conquering Your Emotions About Food
Eileen Laird – Being in a Healthy Partnership with Your Diet
Alaena Haber, MS, OTR – Setting Up Your Healing Kitchen
Kate Jay, NTP, CGP – Implementing the Autoimmune Protocol with Kids
Datis Kharrazian, DHSc, DC, MS, FACN, CNS – Managing Attitude, Expectations and Family
There are so many more amazing talks and tools on offer this week. Simply head over to the page to sign up for free access. If you know you're going to be interested in more talks than you'll have time to watch, I highly recommend purchasing the package to watch on your own time.
Whatever you choose, I know this is going to be a worthwhile resource for you!

Become a Member for FREE!
The Paleo Mom Members' Area is resource central!  
You'll get FREE, unlimited access to dozens of quality resources, including introductory series, downloadable e-books, exclusive recipes, printables, videos and guides!
You may enjoy these related posts:
It took me a year-and-a-half of mysterious thyroid symptoms to get a diagnosis …